William Jackson Harper Is The Hidden Gem Of The Quantum Realm
The Good Place actor opens up about his small-but-mighty role in Ant-Man and the Wasp: Quantumania, vibing with Killmonger, and getting used to Hollywood success.
Written by Jordan Crucchiola
Photographs by Julia Johnson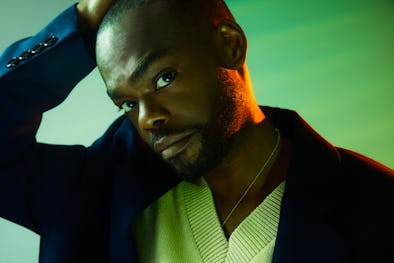 "I think I'm a lot angrier than how I come across," William Jackson Harper says in his characteristically measured way. If you've watched him in movies like We Broke Up or as Chidi Anagonye in The Good Place, you know this voice. It's a voice that's resonant, steady. It lends to Harper's ability to play characters who know something other people around him don't. His talent for dutifully carrying the burden of knowledge is on full display in his latest film, Ant-Man and the Wasp: Quantumania, and also in the promotion of the Marvel movie, which opens today.
Harper plays Quaz, a beleaguered telepath aligned with the anti-Kang rebellion. It's a new character, not featured in the comic books, whose description was called a "closely guarded secret" in first reports last fall. In person, Harper caps his rundown at, "He's a guy on the quantum level, and he's hanging out." In slightly more specific terms, Quaz is part of a colorful, scene-stealing band of Freedom Fighters that includes Jentorra the warrior and Veb the blob. The character only gets 10 minutes or so of on-screen time, but they're some of Quantumania's most fun, with (and the following is phrased blandly to avoid any spoilers) a few scene-stealing laughs and a return visit for the film's climax. Critics say they'd like to see more of him.
The thing is, asking an actor in a Marvel movie about their character, the film's plot, what fans can expect in the future, or anything even remotely along those lines is like entering a fantasy film where suddenly you're the main character, and you're lost in front of an ancient tree that houses several goblins who insist you solve their riddles in order to continue. The catch being, if you do solve the riddles and get meaningful information, everyone gets in trouble and the quest ends badly. Harper recalls an earlier conversation with a publicist about how candid one should be when discussing an MCU project. "He's like, 'I'm not trying to lose a pinky over a movie.'"
So, why not turn to literally anything else he's at liberty to discuss? Like, for example, the chasm between the very tempered perception of Harper and the reality of his inner anger. Unlike many of the characters he plays, he does not purport to be a stoic keeper of higher truths. "I just want to be a whole mess, because I am kind of a mess at times, like people are," says Harper. The actor sounds like he is only recently settling in at age 43 to a life not totally defined by the show business scramble. If he hadn't landed The Good Place, after all, the actor was ready to hang it all up and leave the profession behind for less precarious career prospects. Harper is still getting the hang of being OK.
"Most of my career was all hustle, all hand to mouth, all just like, 'Ah, f***!' And it's only been the last six, seven years where things were a little bit different," says Harper. "Now I have a little cushion. I can wait and I can say yes to certain things and no to certain things. I don't have to just gobble up every bit of work that comes my way."
Recovering from more than a decade spent in a state of scarcity is like living with a ligament injury that still acts up after it's ostensibly "healed." Even if you've been in a critically acclaimed Barry Jenkins show (The Underground Railroad), carried a season of an HBO Max series (Love Life) and another for Peacock (The Resort), or if your name is now in the credits of a huge-ass Marvel movie, unlearning that mentality is a process.
"I've never been in a tent pole kind of big-budget thing like this. It's wild," says the actor, who attended Ant-Man's juggernaut red carpet in the days leading up to our conversation at the London West Hollywood in Los Angeles. A premiere of that scale for a movie of his own was a new experience for the actor, "Seeing that for the first time, it's just f***ing bananas."
The first image of Harper as Quaz only started circulating in mid-January. If you want to put that in a larger timeline, Harper's Ant-Man performance was way past wrapped by the time he was diffusing those Fantastic Four and Reed Richards fan theories last summer, saying Marvel hadn't yet come calling. ("The way I see it, that wasn't so much a lie as it was just not volunteering all of the truth," Harper tells me about the grand MCU cover-up.) And when he was on set for a super-secret movie he couldn't share any information about during an interview from October 2021? Yes, that extremely down-low project was Quantumania.
Speaking of that other dimension he was working in, I tell Harper I couldn't watch the new Ant-Man without thinking about how small everyone would have to be the entire time. Quantumania is a delightful MCU side quest where the whole Lang/Pym/Van Dyne squad has to take on a verse-hopping ultra-baddie (Jonathan Majors' Kang the Conqueror) to save that world and their own family at the same time. The Quantum Realm is described as a universe beneath our own, and Paul Rudd's titular character has previously had to make himself imperceptibly small to access it. That means there are full-scale ground wars and battle cruiser dog fights and epic feats of derring-do, I enthuse, that wouldn't even amount to a flea circus on the scale of Earth. Harper responds with a real missed-opportunity tagline for Disney: "Yeah, I know. Just a bunch of cute little folks suffering." He has a resting serious face that opens up into a melt-you-down smile when he laughs.
"I'm playing people that have more of a veneer up, and I'm waiting to find a way to get rid of that and just be a little bit more raw."
Harper's easy, deadpan humor also fits right in with Quantumania, and is a hand-in-glove foil for Rudd. If Scott Lang is an incredulous "What! Me?!" then Harper is a perfectly sardonic "Yes. You." rejoinder. Producer Stephen Broussard says, "He's hilarious in every frame of this film, and delivers that comedy so effortlessly. I really enjoy him in this film." And, ever the shepherd of a constantly expanding cinematic universe, Broussard lets the people know Marvel sees which characters you love most. "We've kicked on a whole door on this whole other continent in the MCU, which is the Quantum Realm. We have a pretty good track record of meeting characters, and then falling in love with them and finding more stories to tell." The producer stops short of fully announcing a Quantum Realm spin-off, but he does add, "I love these characters, and absolutely I'd love to do more with them down the road."
The Good Place creator Michael Schur remains gobsmacked that it took until the actor's late 30s for everyone else to see what was so obvious to him: Harper could do anything. "The joy of him is you imagine plugging him into any scenario and it's just instantly delightful," Schur tells me. "Comedy, drama, romance, it doesn't matter. Plug him into any kind of movie and that movie is going to be more interesting than it would have been if you cast someone else."
In addition to Ant-Man, Harper also appears in a new film from Thoroughbreds writer-director Cory Finley that premiered at Sundance in January. The two know each other through theater and extremely recreational sports in New York, says Harper, who started stage acting as a kid because his mom made him do it while growing up back in Dallas, Texas. Now a longtime resident of New York City, he and Finley met in the same casual Brooklyn pick-up game that a friend of Harper's calls "Basketball for Poets."
When the director was getting ready to shoot Landscape with Invisible Hand, about how humanity copes with aliens after they settle on Earth, Finley asked Harper to come on for a "small but pivotal role" that he says arrives at the emotional climax of the movie. "He's so good at conveying thoughts and emotions in a way that you can get a very clear, precise sense of what his character is thinking, without ever needing to do a false or obvious or stock acting choice," Finley tells me. "He's just awesome."
Harper is still best known for playing guys you'd want to spend your afterlife with. For Landscape, however, Finley describes his character as fairly unsympathetic, someone who audiences would "really sort of despise" were it in the hands of "a lesser actor." And this seems to align with the kind of parts Harper says he is most interested in pursuing now. "As an artist, once you go into the same bag of tricks all the time, it's hard to break out of it," says Harper. "You find yourself unconsciously doing the same thing because you've gotten into that habit."
Even when he's playing a character who is very familiar to himself and audiences, though, Harper has a way of staving off the expected. Bell has remarked upon his skill for giving the most audacious line deliveries, and when Schur recounts the day they filmed the Jeremy Bearimy scene for Good Place, his voice turns almost giddy. "He's the kind of actor where my instinct is just get the hell out of the way," Schur tells me. "You don't want to put up too many guard rails or give him too many notes, because his instincts are so impeccable and his work ethic is so good."
But the actor says he has not yet tapped into the specific level of weird he really identifies with, and he's interested in parts that provide a conduit for the darker intensity he craves. "I think I'm playing people that have a little bit more of a veneer up, and I'm waiting to find a way to get rid of that and just be a little bit more raw," Harper says. Asked about his favorite villains (or at least villains according to some), he praises fellow MCU actor Michael B. Jordan. "I remember watching Black Panther and just really getting behind Killmonger really hard. It was like, I get it. He was wrong, but I get it." Another role he holds up as a model for the work he wants to do is Robert De Niro's volatile Johnny Boy from Martin Scorsese's Mean Streets, a human maelstrom liable to harm himself and anyone in his blast radius through a self-centered recklessness. Johnny Boy is charismatic and wild, and pathologically unable to act with any sense of self-preservation.
Such roles would run counter to the character types that have brought him stability, but Harper worked too long and too hard not to leverage his ascending success for bigger swings. "I'd like to investigate that unbridled living out loud, even though it's a super self-destructive kind of energy," says Harper. "I chose to be an actor. That's f***ing reckless. So, there is something of that in me. I present as a little bit more reserved, but I think I use acting sometimes to get that s*** out." With luck on our side, Williams professional therapy sessions will go public, and we'll get to witness him louder, weirder, and more furious than ever before.
Top image credits: Ami clothing
Photographs by Julia Johnson
Stylist: EJ Briones