Netflix's New Action Thriller Turns Jennifer Lopez Into Jason Bourne
The director of The Mother hopes to launch Lopez as the next global action star.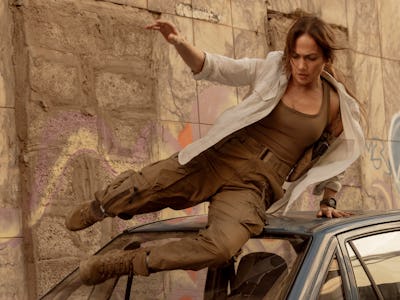 Netflix
When director Niki Caro first read Misha Green and Andrea Berloff's script for The Mother, it didn't even have a title page. But Caro still felt a connection to the material right away.
"It was wall to wall action, there was almost no dialogue, and it was one of the best things I'd ever read," Caro tells Inverse. "It had that scope, which I really loved — but also at the heart of it, it's a love letter from a mother to a child."
"It [has] the potential to be a really big global action thriller á la Bond or Bourne."
Most importantly, The Mother filled a major gap in today's movie landscape: the female-led action thriller. Previous attempts like Atomic Blonde, Salt, or Haywire, were minor hits but failed to really stick. There's no female Jason Bourne or James Bond — yet. Enter Jennifer Lopez in Mother. At least, that's Caro's hope.
"It [has] the potential to be a really big global action thriller á la Bond or Bourne," says Caro.
The Mother takes its cues from the globe-trotting actioners that typically feature brusque, beefy male leads, not unlike the Jason Bourne franchise or Netflix's own Extraction. But with Lopez in the lead role, Caro saw the makings of a real contender in The Mother; maybe even a future franchise.
"My pure focus with Jennifer in this film was, with her, to put the action in this movie right up there," Caro notes.
The Mother, which follows the story of a combat veteran who emerges from hiding after her daughter is abducted by the cartel that she double-crossed 12 years ago, definitely makes good on the close-quarters combat and breakneck chase scenes that make those franchises what they are. Lopez is deadly and dangerous in the title role. Between bone-crunching brawls that rival The Bourne Identity's iconic pen fight, and blistering interrogations ripped straight from a Liam Neeson thriller, she makes a compelling case for the future of female-led action.
Lopez — then in the midst of a much-deserved comeback — was the first star Caro thought of for The Mother. But the action film seemed like a rare challenge for the Hustlers star. The multihyphenate has dabbled in action before, but never on this scale. It would take a special aspect to sell the star on the film. What ended up strengthening the appeal of The Mother was not just its commitment to action, but its commitment to exploring a very specific aspect of womanhood: the maternal instinct.
The Mother is not the first action thriller to pair a grizzled assassin with a child that they're bound to protect. It's not even the first to throw the role of motherhood into the mix (Halle Berry's been holding that trope down for a while) but it does tackle it from a very different perspective. In the film, motherhood is "a primal protective force," and Lopez's character — known simply as Mother — embodies that force every step of the way. The Mother is driven by her need to protect her child, but don't expect many expressions of maternal warmth. Notes Caro, "She's not a nurturer; she's a mother, as a wolf is a mother to its cubs."
That causes some understandable friction between the Mother and Zoe (Lucy Paez), her estranged daughter. The intimate scenes between mother and child are just as fraught as The Mother's more heightened action sequences, and that was entirely by design. Caro was just as concerned with showcasing Lopez as a physical performer as she was in pushing the actress' dramatic range. "[I want] to remind the world how great of a dramatic actress she is," Caro says. Lopez has always been one of the most underrated actors around, despite head-turning roles in Hustlers and Selena. The Mother gives her another opportunity to flex those dramatic muscles — and to play off a great co-star in Paez.
"Every piece of action in this movie is motivated by character."
"In ​​those dramatic scenes with Lucy, the stakes are really high," Caro adds. That made the search for a young actor duly challenging, given Lopez's own screen presence. "Jennifer is such an iconic hero to so many generations of people, and Lucy's big superstar crush. But Lucy could sit across from her in a screen test and let all of that go and work with her as a child and a mother … It just felt like these two clicked in a really magic way."
That deep mother-daughter connection may be what sets The Mother apart from other would-be female-led action hits. Because as thrilling as its fight scenes are, and as terrifyingly violent as its kills are, The Mother is first and foremost a character-driven movie.
"Every piece of action in this movie is motivated by character," Caro explains, "[and] the very real motivation of a mother protecting her child." As a result, the quieter moments between the Mother and her daughter only raise the stakes throughout the film. "I think some of those scenes are as heart-stopping emotionally as the action is sort of thrilling," Caro says.
The Mother premieres on Netflix on May 12.