Star Wars TV Is Returning to What Made The Mandalorian Great
A star of an upcoming series reveals his character is extraordinary purely because of how ordinary he is.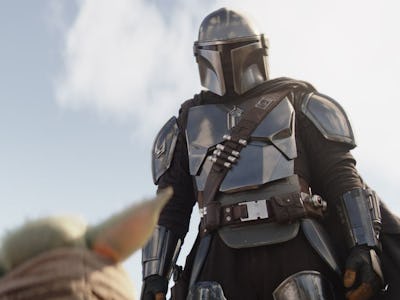 Lucasfilm
The Acolyte is one of the more mystical upcoming Disney+ series. Instead of living in the timeline of the "Mando-verse" or parallel to any film trilogy, it's actually set a century before anything we've seen in live-action, promising our first look at "the final days of the High Republic." It's the first Star Wars series to have a female showrunner, Leslye Headland, and will focus on the Jedi and Sith dynamics that have largely gone ignored in Star Wars TV.
But despite all the innovation, one aspect of The Mandalorian is carrying over to The Acolyte, and it's one of the series' greatest strengths.
In conversation with Empire, Acolyte star Manny Jacinto describes his character as "just a regular guy, trying to have a good time, who gets swept up into the High Republic world and the Jedi, whether he likes it or not." The statement has prompted many comparisons to Jacinto's previous himbo role of Jason Mendoza in The Good Place, but it actually speaks to a bigger Star Wars trend.
One of the elements that The Mandalorian introduced to Star Wars is the focus on the everyman. Sure, Din Djarin was a member of a prestigious order of warriors, but he didn't have any superpowers. He's just a regular guy, trying to protect his adopted son, who gets swept up in the Empire remnant world and the Jedi.
It seemed like that trend was fleeting as The Mandalorian became more about Grogu's emerging Jedi powers and future projects like Ahsoka focusing entirely on a Force-sensitive character searching for another Force-sensitive character. But this quote proves that this element is here to stay — even though The Acolyte centers around a Jedi master and padawan, it will also have room for the everyman.
This new era of Star Wars may have stories spanning centuries, but no matter if it's set in the distant past or unknown future, the same themes echo throughout: proving that everyone in the Star Wars universe is important, be they a Jedi knight or a mechanic on Tatooine.
The Acolyte premieres on Disney+ in 2024.
INVERSE may receive a portion of sales if you subscribe to Disney+ through the link in this article.