Everything you need to know about That '90s Show on Netflix
Say hello to a new generation of Point Place teens — plus some familiar faces.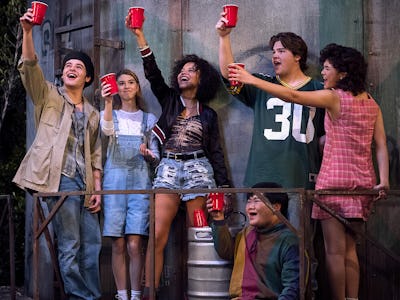 Netflix
Calling all That '70s Show fans: the basement is back! If you're looking for a nostalgia fix, the sitcom reboot, That '90s Show, is arriving on Netflix very soon. But how soon? And when exactly?
Two decades later, Red and Kitty will welcome a new set of teenagers to hang out in their house when their granddaughter spends the summer in Point Place, Wisconsin. In addition to a special guest roster of recognizable returning cast, the original That '70s Show creators also return, this time alongside their daughter, Lindsey Turner, for a show that is still about intergenerational family relationships and the coming of age — except this time, in the mid-90s.
Here's everything you need to know about the premiere of That '90s Show on Netflix, including its release date, time, cast, plot, and trailer.
When is the release date for That 90's Show?
The entirety of That 90's Show airs exclusively on Netflix starting Thursday, January 19.
When is the release time for That 90's Show?
Netflix releases new movies and TV shows at midnight Pacific, which is 3 a.m. Eastern.
How many episodes are in That 90's Show?
That 90's Show will consist of 10 episodes, which all drop at the same time on Netflix.
What is the plot for That 90's Show?
Set in the summer of 1995, Leia Forman, the daughter of That '70s Show's Eric and Donna, needs some adventure in her life. After meeting a new group of friends in town with the help of her new rebellious next-door neighbor, Gwen, Leia decides to spend her summer in Wisconsin with her grandparents, Red and Kitty, in hopes of making some unforgettable memories of her own in the same basement where her parents did all those years ago.
Who is in the cast for That 90's Show?
The cast of That '90s Show consists of newbies and old faces. Reprising their roles of Kitty and Red Forman are Debra Jo Rupp and Kurtwood Smith, with newcomer Callie Haverda starring as their granddaughter, Leia. The rest of the group of teens will feature Ashley Aufderheide as the confident Gwen, Maxwell Acee Donovan as her kindhearted brother Nate, Sam Morelos as his ambitious girlfriend Nikki, Reyn Doi as the snarky Ozzy, and Mace Coronel as Jay (the charming son of Kelso and Jackie).
Some special guests are set to appear, too, with Topher Grace coming back as Eric, Laura Prepon as Donna, Mila Kunis as Jackie, Ashton Kutcher as Kelso, and Wilmer Valderrama as Fez.
Is there a trailer for That 90's Show?
Yes, Netflix released the official trailer on December 22, 2022, and it shows plenty of teenage coming-of-age shenanigans to unfold, including drinking cheap beer out of plastic cups, having messy relationship drama, smoking reefer in the iconic basement, and making lots of '90s culture references. Plus, Red and Kitty try to pass down some parental knowledge to Eric and Donna, who now have child problems of their own — and you can guess exactly where Red tells his son to stick his foot.
Will there be a That 90's Show Season 2?
There is no official word on whether or not That '90s Show will be renewed for a second season. The decision will likely come down to how well the spinoff performs with audiences and if it captures the same feeling that made the original series so cherished.