Star Wars Is About to Bring Back Its Most Overlooked Hero
It's hard to imagine Ahsoka's spinoff series without her steadfast companion.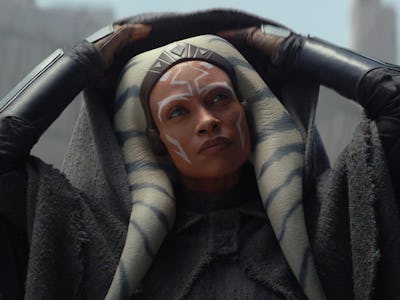 Ahsoka is shaping up to be the ultimate Star Wars show for a specific kind of fan: cartoon fans. The upcoming live-action series is already confirmed to include Rebels characters like Ezra Bridger, Hera Syndulla, Sabine Wren, Chopper, and Thrawn. (And Ahsoka herself debuted in Clone Wars.) But we're still missing one key hero: Commander Rex.
Now, a new report claims to confirm that Rex will show up in Ahsoka as well, played by Temuera Morrison. If you're wondering how the actor originally cast as Jango Fett in Attack of the Clones could be playing some guy named Rex, you've come to the right place. Here's what you need to know, and what it means for the next big Star Wars show.
Who is Commander Rex in Star Wars?
Commander Rex a clone of Jango Fett and a leader in the Republic's army who served as the captain of the 501st Legion. He reported directly to Anakin Skywalker, which put him in frequent contact with Anakin's Padawan, Ahsoka. Together, Rex and Ahsoka uncovered multiple plots together and fought side by side, despite the growing conflict — and even after Ahsoka was framed for a crime she didn't commit and pushed out of the Jedi Order.
When Emperor Palpatine pulled the trigger on Order 66, Ahsoka was able to use the Force to disable Rex's inhibitor chip. This allowed him to reject the command to murder all Jedi and turn against the newfound Empire.
After the Clone Wars, Rex led a quieter life with two fellow clones, Gregor and Wolffe. He turns up again in Rebels, reuniting with a slightly older and wiser Ahsoka on a new set of adventures. Rumor has it, Rex was even at the Battle of Endor, though that's more of a fan theory than anything approaching Star Wars canon.
Is Rex in Ahsoka?
So could Rex appear in Ahsoka? The series takes place roughly seven years after the Battle of Endor, so the timeline fits. Recently, the entertainment blog OneTakeNews reported that Temuera Morrison is officially confirmed to play Rex in Ahsoka. And on Reddit, user TDR1411 points to a suspicious statement made by Morrison at the Australian convention Supanova as further evidence.
Morrison has also proven he can do far more than play Jango. Beyond playing Boba Fett (a clone raised as Jango's son) in The Mandalorian and Book of Boba Fett, the actor also appeared in Obi-Wan Kenobi as a destitute beggar clone. With so many clones potentially still out there, he could literally show up anywhere in the current Mando-verse timeline — though Rex is undeniably the most exciting option.
So while Rex could appear in Ahsoka, he may be considerably aged up. Even when he was living a quiet life with his brothers, he was ready to fight alongside his old ally again. Now that he's more than a decade older, will he be willing to fight again? Knowing his love for both the Republic and Ahsoka, there doesn't seem like there could be much that could stop him.
Ahsoka premieres August 2023 on Disney+.