DC's New Superman Movie Hits a Major Milestone, But is There Trouble Ahead?
The future of the project might be safe ... for now.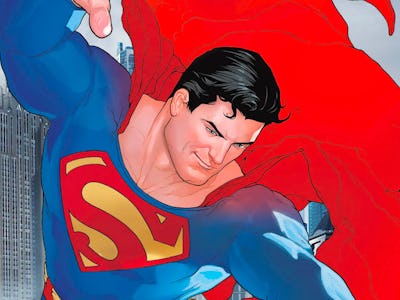 DC Studios co-chief James Gunn has been pretty selective in what he chooses to share about Superman: Legacy. The film is set to kickstart a new era of DC films, and with Gunn set to write and direct, it's got a bright future ahead of it. But said future could be stalled by an impending hiatus in Hollywood: since May 2, the Writers Guild of America have been striking for fairer wages and protection against the rise of AI. The strike halted work for all WGA members, which means that any script in development under any of the major production studios has indefinitely paused — and that may include Superman: Legacy.
Gunn hasn't shared a Legacy update in a while: he confirmed that pre-production had begun back in April. Many worried that the writers strike might have stalled production before Gunn had the chance to finish the script. Fortunately, recent reports claim that the writer-director completed his first draft of Legacy before the strike went into effect.
According to The Wrap, Gunn turned in his Superman: Legacy script just days before the WGA strike began. In a way, that's great news, as the project could potentially continue with other aspects of production without Gunn present. That said, it's only a first draft, not a finished product. Even productions with completed scripts, like HBO's House of the Dragon, will likely suffer without a writer around to revise and offer input on set. Given Gunn's commitment to the writers strike, it may be some time before Legacy can make any headway.
Per industry reporter Jeff Sneider, Gunn won't be working on Legacy at all while the strike continues. "[They don't think that] James Gunn will cross the picket line even as an executive," Sneider noted on The Hot Mic podcast. Co-chief Peter Safran will apparently take on some of Gunn's responsibilities on an executive level, but that still leaves a major vacuum where Legacy is concerned.
It's important to note that Gunn has yet to confirm any of this officially. But even he did finish the Legacy script before the strike began, production won't get very far until the Alliance of Motion Picture and Television Producers (AMPTP) can reach an agreement with the WGA. The Directors Guild may also be taking similar action in the future: negotiations for a new contract are on the horizon, and if those negotiations sour, Hollywood could shut down entirely.
With so much on the line already, Superman: Legacy is just the tip of the iceberg.