Succession Season 4 trailer reveals release date and a Roy civil war
It's heartening. We are heartened by it.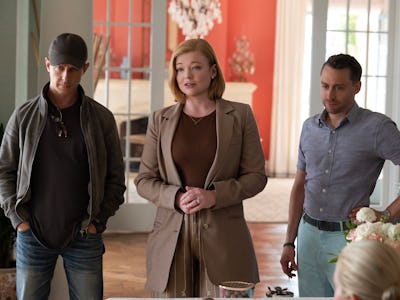 Succession predicted the "rich people are terrible but also interesting" trend that gave us 2022's biggest hits Triangle of Sadness, The Menu, and Glass Onion. It also gave us countless classic memes, and it looks like Season 4 of the hit HBO series isn't going to stop anytime soon. In fact, the action is about to heat up now that there's a rift between the Roys.
Season 3 ended with Logan making a deal that cuts out his kids, and now in Season 4 Connor, Shiv, Kendall, and Roman are all trying to make their own way without L to the OG. In the Season 4 teaser trailer, we see just where these complex loyalties lie.
The teaser trailer is mainly focused on establishing where characters stand in relation to each other. In one corner is Logan, in another are Kendall, Shiv, and Roman. Connor is there too, but as always he's more of a moral support character (though it does look like he and Willa will finally tie the knot.) In between lie Greg and Tom, the Rosencrantz and Guildenstern of the Succession cast, who have somehow found themselves in Logan's good books while still balancing relationships with their family.
Just what lies ahead for the Roy family? Will relationships be patched, or will betrayals of the past ultimately lead to unforgivable actions? Considering the shock endings of the past three seasons, it'll probably be very difficult to tell what will happen next. But in Season 4, stakes are higher than they ever have been. To quote Tom, "Every move is crucial, like Israel-Palestine, Greg, but harder. And much more important."
Succession Season 4 premieres March 26 on HBO.