Succession's Final Season is Making the Same Mistake as Game of Thrones
At least Bran won't be CEO.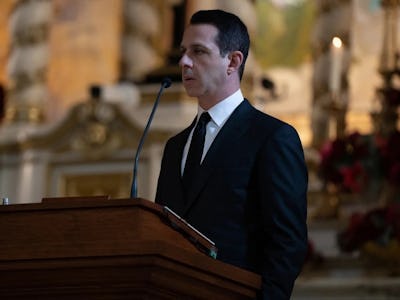 HBO
Succession and Game of Thrones may be set in wildly different fantasy universes — one with dragons, and one where news media still makes money — but they still share a few similarities. They're both about warring for control, they both garnered comparisons to classic Shakespeare plays, and they both aired in the prestigious Sunday 9:00 pm timeslot. But as Succession reaches its final episode, the comparisons are getting more apt, and even the cast members see the connection.
In HBO's official Succession podcast, star Jeremy Strong spoke with host Kara Swisher to discuss the heartbreaking penultimate episode, "Church and State." It depicts Logan Roy's massive funeral service, and how his family eulogizes him. After Roman breaks down and Logan's brother Ewan delivers a speech that casts Logan in a mixed light, it's up to Kendall to do his dad justice.
"It's kind of like a Dracarys moment for Kendall," he said. "Starting from the end of episode six, really, I think he can see the endgame. A lot of things happen in the ninth episode. Him feeling blamed for the election and his culpability in making this kind of Faustian bargain, really, he's compromised himself utterly, and he knows it. I think he's in turmoil. The real moral jeopardy that we see in the previous episode."
The reference to "Dracarys," the word Daenerys Targaryen uses to order her dragons to breathe fire, is interesting. It's used throughout Game of Thrones, and in almost every instance, she's using her trump card to punctuate a monumental success. Strong is presumably saying that, in this moment, Kendall is rising to the challenge and becoming the ultimate version of himself, one willing to fight to the end and triumph.
But the Daenerys comparison is double-edged. In Game of Thrones' final season, she attacks King's Landing with her dragons in one of the series' most harrowing scenes. Her final "Dracarys" was an evil one, a terrifying act that killed countless innocent people and secured her downfall by the show's end.
Kendall probably isn't going to kill thousands of people, but his "Dracarys" moment could be either a stirring triumph... or a short-sighted self-own of epic proportions. Daenerys' turn to villainy was telegraphed throughout Thrones, but fans objected to the final season abruptly taking her to the extreme. Will Succession make the same mistake? We'll find out on Sunday.
Succession is streaming on Max.