A Big Star Wars "Crossover" Might Be Coming — Do We Need One?
We've already seen crossovers. Don't make them more than they need to be.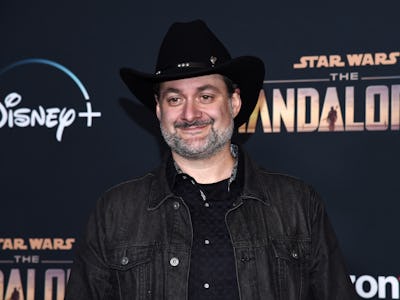 Amanda Edwards/WireImage/Getty Images
Dave Filoni was once the niche animation mastermind crafting complex Star Wars plots in The Clone Wars, but now he's co-showrunning the tentpole series The Mandalorian alongside Jon Favreau. His brainchild, Ahsoka Tano, leapt from animation to live-action in The Mandalorian Season 2, and soon she'll have her own spinoff on Disney+ alongside several other new series.
Will all of these shows collide in an Arrowverse-style crossover event? A new quote from Filoni suggests just that, but would that even change anything?
In conversation with The Wrap, Filoni was asked about a statement Kathleen Kennedy made in 2020, when she said that all the contemporary Star Wars series would "culminate in a climactic story event." In response, Filoni said, "I think that the reality of there being a big event in this time period is very real, is all I would say to that."
But although he's cagey about the possibility of a crossover, does he even need to be? Crossovers are what have given Star Wars TV such a wide reach. The Mandalorian set the stage for The Book of Boba Fett and Ahsoka, and Din Djarin then appeared in the former. When Ahsoka launches, it would be more surprising if we didn't see Mando drop by as a guest. Crossovers are baked into the Star Wars formula now, because they help spinoffs get off the ground.
Maybe Filoni shouldn't be throwing around vague allusions, but this quote is getting spun out of proportion. There's no need for a giant crossover in the Star Wars TV universe, because it's already full of crossovers. Going bigger with a multi-series-encompassing "event" to peak interest made sense for the Arrowverse, but this is Star Wars. The fact that it's Star Wars is enough to get viewers to watch. You don't need to gild the space lily.
The Inverse Analysis — When Luke Skywalker, Ahsoka Tano, and Din Djarin all appeared in The Book of Boba Fett, it didn't and wasn't advertised as a massive crossover. It was just another episode. Maybe we'll see more extensive collaborations in the future, but if so, they need to fit the needs of the story instead of just cramming characters together for the sake of generating headlines and selling merchandise. Crossovers are a tool, not a goal to strive for like Filoni and Kennedy's statements imply.
Star Wars television may take many forms, but most of the characters co-exist in the same timeline. When they co-exist in the same scene too, that's not a "climactic story event." It's just teamwork.
The Mandalorian Season 3 is now streaming on Disney+.