At Star Wars Celebration, the prequels have become the main event
"They're very underrated and incredibly creative," Troy Alders, art director for Lucasfilm, tells Inverse.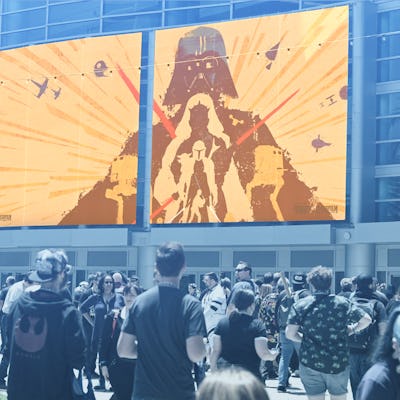 Getty/Max Fleishman for Inverse
If Star Wars is a Christ allegory, this was the nativity scene.
At the midpoint of Star Wars Celebration, a four-day conference devoted to that galaxy far, far away, attendees gather for a panel devoted to the 20-year anniversary of Episode II: Attack of the Clones. But before the cast and crew can take the stage, fans clamber onto the platform for a pre-show "pose-off."
They pose as "a youngling after Order 66," "Jango Fett," and even a pair who described their poses as "You were my brother, Anakin!" and "I HATE YOU!" from the duel on Mustafar in Episode III: Revenge of the Sith.
Then, a man and woman take the stage. He falls to his knees with a shirt draped over his head. Opposite him, she lies on her back, eyes closed, one hand held to her pregnant stomach.
The crowd holds its breath as the emcee places a microphone on the man's hidden face. He announces his pose as "Count Dooku." Before the emcee can even make his way to the woman, the crowd grows wild. They know exactly who she is: Padmé Amidala.
Pregnant Padmé won the pose-off, and her victory may be bigger than just a pre-panel contest.
Star Wars Celebration was the latest sign of a major cultural shift. After years of being the ugly stepchild of the Skywalker Saga, the prequels have found their way to a nostalgic sweet spot.
Despite presentations dedicated to everything from The Mandalorian to Indiana Jones 5, the undeniable highlight of the event was a panel devoted to what was once considered the worst Star Wars movie of all time. The bulk of the Anakins no longer donned helmets but were cloaked in Jedi robes with Padawan braids, and Obi-Wans manifested themselves in Ewan McGregor form, not Sir Alec Guinness.
If it wasn't apparent already, we're living in the Prequels Renaissance.
But how did we get here? Through a mix of nostalgia, memes, and sheer force of will, a new generation of Star Wars fans and creators have resurrected the prequels, transforming them from cinematic punching bags to the main event. After a three-year hiatus, Star Wars Celebration 2022 in Anaheim, California, was their Easter Sunday.
Collective nostalgia
The Attack of the Clones anniversary panel began by dimming the lights and projecting Episode II's official trailer onto the big screen. The audience's roars rivaled (or even surpassed) those earned by a trailer for The Mandalorian Season 3 revealed exclusively at Celebration two days prior. It was the closest anyone that week came to traveling back in time.
Panel host Ashley Eckstein (Ahsoka Tano in various Star Wars cartoons) introduced a jam-packed list of talent, ranging from Star Wars standbys like Anthony Daniels (C-3P0) and Temuera Morrison (Jango Fett) to behind-the-scenes legends like Doug Chiang (art department head) and Matthew Wood (supervising sound editor).
One thing became instantly clear. While it may have taken the fandom a couple of decades to come around to the prequels, for the people who made those movies, there was never any doubt. Twenty years later, fans have finally figured out what the cast and crew of the prequels always knew.
Morrison and Daniel Logan (young Boba Fett in Episode II), seem to walk straight off their old film set on the Star Wars Celebration stage. No longer are Morrison and Logan the poster clones of a failure. Now, they're the wholesome father-son duo behind the greatest bounty hunter in the Star Wars universe.
"Tem really became my father."
Onstage, they refer to each other as "Dad" and "Son" as Morrison recalls driving through New Zealand trying to cast his on-screen clone child.
"We were racing through New Zealand, and I noticed a cop car chasing us," Morrison says. "He pulled us over all, 'Do you know how fast you were going?' and I said, 'Do you know who this is? This is Robin Gurland and she's casting Star Wars. This is your lucky day, Officer. I could get you a part in this movie.' And he still gave us a ticket!"
For Logan, having a Star Wars dad filled a role in his life he never had before. "I love him," he says. "I can call him anytime. I didn't grow up with a father, I was adopted later in life. But Tem really became my father."
Even for those working behind the scenes, the prequels were always more than their critical reception — they were a technical achievement. Attack of the Clones was one of the first movies filmed entirely in digital, and the sound and special effects teams were determined to stay on the cutting edge.
Speaking to a rapt crowd, Visual Effects Supervisor John Knoll explains the unique approach every department had to take thanks to the digital cameras.
"We discovered you could see things more clearly with the digital cameras, even though technically it was lower resolution," he says. "Everybody had to fine-tune the craft. The art department had to put more attention to the fine details on the set pieces."
Though the elements were cutting-edge at the time, nobody can argue the prequels' computer-generated effects have aged well. But some argue it adds to the nostalgic charm of the films. Despite all odds, the once high-tech CGI of these movies has given them a timeless aesthetic quite unlike anything else.
"I love the prequels," says Troy Alders, the current art director for Lucasfilm, who was originally hired to work on Episode I: The Phantom Menace. "It's freaky to look back and think how long ago that was. It seems like yesterday."
"I'm part of the prequel generation."
I stumble upon Alders and Hez Chorba (senior creative director for the Star Wars brand) chatting in an empty ballroom. I'd arrived early for what was supposed to be open portfolio critiques for aspiring artists. Instead, I found a pair of Star Wars luminaries.
Alders is currently working on The High Republic, a recent Lucasfilm initiative of books, comics, and audio dramas set hundreds of years before the prequels. He tells me that it feels a bit like deja vu working on a project that's not currently getting much love from the mainstream fandom.
"They're very underrated and incredibly creative," Alders says.
He's talking about the prequels, but the statement works for the High Republic, too. Though they may be set centuries before, the prequels set the standard for what a story set in franchise past really can do.
A resurgence in the Force
On the show floor, the sentiment was the same. A new generation of Star Wars fans have taken the reins of the fandom from their Gen X parents and decided that, actually, the prequels are great.
"My dad introduced me to Star Wars," Megan Pendleton tells Inverse. "He's not a huge fan of the prequels, but he respects them. I love them; I'm part of the prequel generation."
In between interruptions from other fans asking to snap pictures of her interactive Lego Star Wars dress, Pendleton defends the prequels. "They definitely don't deserve all the hate it got, but now we're hoping that another generation will love the sequel."
"My very first Star Wars movie was Spaceballs."
As a 24-year-old, I'm somewhere on the cusp of the prequel generation. At age 7, I consumed the entire Star Wars franchise in the weeks before Revenge of the Sith hit theaters. Ahead of Star Wars Celebration, I worried this might make me a pariah. Instead, I was welcomed as just one more puzzle piece in this rich fandom.
Walking back from "The Mandalorian Experience," I run into Valkyrie Aanderson and their mom, Kristine. Valkyrie was cosplaying as Sabine Wren, a beloved Mandalorian character from the Rebels animated series. Kristine was fittingly dressed as Sabine's mom, Ursa.
Kristine grew up in the dark ages of Star Wars, a lengthy gap from 1983 to 1999 when Lucasfilm debated and dawdled over how to bring the franchise back to the big screen.
"My very first Star Wars movie was Spaceballs," she says. "My second was Phantom Menace. I cosplayed as Darth Maul for the opening. When I met my partner, he showed me A New Hope and I went, That's like Spaceballs!"
For Valkyrie, a 14-year-old who was a self-described "tiny baby" when the Disney-produced sequel trilogy began, the prequels are a hilarious-but-adorable artifact from the past.
"They are amazing meme fodder," they say, earnestly. "One of the main ways I fell in love with Star Wars was Rebels and the prequel memes. Me and my friends would sit at the lunch table and just compare prequel memes."
Though many 20-somethings (myself included) have a childhood connection to the series, the Gen Xers who see the prequels as a flawed revival after a long drought and the Gen Zers who love them ironically are just as critical to this resurgence. It takes all kinds to resurrect the trilogy that introduced the world to Jar-Jar Binks.
The next generation
Kristina Coffin says she's witnessed the future of Star Wars fandom firsthand.
During Star Wars Celebration, she wandered the plaza outside the convention center as Omega, the young Jango Fett clone who escapes Kamino in The Bad Batch, a newer animated series set right after Revenge of the Sith.
"The children who come up to me and call me Omega just make my heart melt," Coffin tells Inverse. "It is the sweetest moment to make a child smile."
The future of Star Wars is its past. For a franchise built on nostalgia since day one, this shouldn't be a surprise, and as the decades pass, the window for what exactly counts as nostalgia has shifted dramatically.
But it's more than that. Star Wars is one of the few fandoms that not only grows along with you but evolves to bring in new generations of fans. Those kids will find an entirely new part of Star Wars to make their own, just like the prequels. Who knows, one day, fans may fill convention halls and proclaim that Episode IX: The Rise of Skywalker is actually a masterpiece, too.
The Force flows through all of us, even if it takes different forms.