Star Trek's Biggest Crossover Ever Was Just Revealed — And It Looks Perfect
In Strange New Worlds Season 2, the gang's all here: including Captain Kirk, and...Mariner, and Boimler from Lower Decks!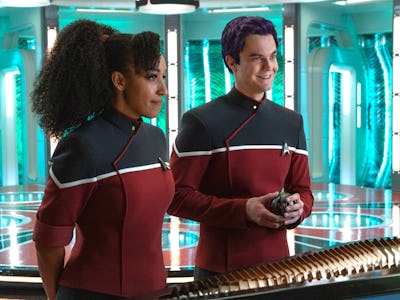 Paramount+
It's happening! After three years of fan speculation, the animated world of Star Trek: Lower Decks will collide with the live-action Trek canon. Although USS Cerritos ensigns Beckett Mariner and Brad Boimler reside in the 2380s, they'll be heading back to 2259 very soon. At long last, the biggest Star Trek crossover is at hand: Strange New Worlds Season 2 will have its classic Trek party crashed by Lower Decks.
Released on May 24, a new trailer for Strange New Worlds Season 2 reveals a big look at the upcoming season, including more of Paul Wesley's Captain Kirk — and some very good updates for Spock and Chapel shippers. But for fans of the newer shows, the biggest reveal here is easily our first look at Tawny Newsome and Jack Quaid in live-action as their normally animated Lower Decks characters, Mariner and Boimler.
Rocking his signature purple hair, Jack Quaid (Boimler) looks perfect. When Spock wishes him "live long and prosper," Boimler responds with the correct amount of goofy nervousness, saying, "You also live, um..." Although the lower deckers are chronologically closer to the Picard timeline, their vibe is clearly suited for the jaunty feeling of Strange New Worlds. (Not to mention, Lower Decks showrunner Mike McMahan punched up a few Strange New Worlds scripts in Season 1.)
Tawny Newsome also looks perfect as Mariner, the self-described "Kirk-like maverick" who (like Boimler) knows a lot about Starfleet history and is essentially a big in-universe fan of the entire canon. In the trailer, Uhura (Celia Rose Gooding) narrates about the low probability of everyone on the Enterprise crew being together until Mariner drops in with the perfect punchline – "Surprise!"
We still don't know how Mariner and Boimler will end up on the SNW version of the USS Enterprise. It literally is a surprise at this point. Some fans have guessed the whole thing will take place in a holodeck program in the future, but considering Jonathan Frakes is directing the episode that seems very unlikely. Frakes infamously appeared alongside Marina Sirtis in the finale of Enterprise in 2005, which put an episode of that series on a 24th-century holodeck. Later, Frakes deeply regretted that episode.
So surely the Lower Decks/Strange New Worlds crossover won't use the same conceit. Which, probably means time travel. And if that's the case, Lower Decks is about to be part of the backstory of The Original Series. Because if Spock remembers Boimler, does that mean... everyone else in TOS does, too?
Star Trek: Strange New Worlds hits Paramount+ on June 15, 2023.