Netflix's New Time-Travel Romance Embraces the Weirdest Parts of the Genre
A Time Called You is so much more than its time traveling premise — for better and worse.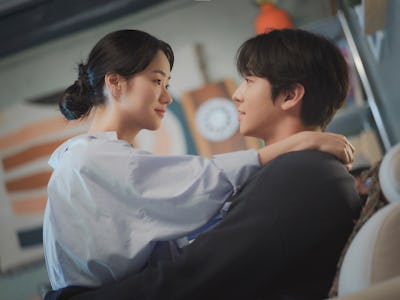 Netflix
South Korean dramas — particularly the romantic ones — love to play with time travel. It's been a staple of the industry for decades, from the classic film Il Mare to the hilarious Familiar Wife. As delightful as these past attempts have been, there are only so many ways to create a time loop. It'd be easy to assume that the time-tripping subgenre is finally running out of ideas — but Netflix's latest K-drama, A Time Called You, is proof that there's still endless content to mine.
A Time Called You is not your standard time travel romance by any means. As an adaptation of the hit Taiwanese drama Someday or One Day, it's got a huge reputation to live up to, and an ambitious story to remix. But it sets itself apart with a healthy dose of the melodrama that's defined many a K-romance, and the idyllic, bittersweet visuals that its predecessors have perfected.
It all starts with a flashback to a music shop in 1988, where a painfully shy high school student (Jeon Yeo-been) works in her downtime. She's shocked when two of her cute classmates, the equally-bashful In-gyu (Little Women's Kang Hoon) and school heartthrob Si-heon (Ahn Hyo-seop, Business Proposal), come in to chat. The makings of an earnest love triangle begin to materialize right away: In-gyu clearly has a crush on this girl, and Si-heon is working tirelessly to set him up with her. Unfortunately, she's only got eyes for Si-heon — but more on that later.
When the series jumps forward in time to the present day, it's not to that same girl all grown up, but to a woman who looks a lot like her, Han Jun-hee. She's a successful career woman that seems to have it all together, but a closer look reveals a harrowing heartbreak beneath her cool façade. It's been exactly a year since her boyfriend Yeon-jun disappeared in a plane crash over the Pacific. She's harboring major guilt over his death: the couple was trying to make it long distance while Jun-hee took a cushy one-year job overseas. Yeon-jun was flying to surprise her for her birthday when he disappeared, which sours any celebrations she has planned. (Enough melodrama for you yet?)
While Yeon-jun's family and friends are ready to accept the fact that he's gone, Jun-hee is still struggling to let him go. It doesn't help that she's been getting mysterious gifts from strangers — gifts she once received from him! — and catching flashes of Yeon-jun lookalikes on the subway. Either way, she'd give anything to see Yeon-jun at least once more. So when she stumbles across a photo of the high school kids from 1988, one of whom bears an uncanny resemblance to Yeon-jun, it feels like an unmistakable nudge from fate.
As Jun-hee begins to investigate the photo, it becomes clear that those flashbacks aren't glimpses of her past at all, but a parallel timeline populated by some very familiar faces. She has no memory of the events that took place in '88 — nor should she, since she wasn't even born yet. Things get even weirder when she learns that her doppelgänger, Kwon Min-ju, was killed shortly after the mysterious photo was taken. It's enough to make anyone's head swim, and that's all before Jun-hee wakes up in Min-ju's body in 1988.
A Time Called You takes it sweet time explaining how any of this is possible, but the science behind this time-tripping body swap falls somewhere between Being John Malkovich and Big (or its spiritual sequel, Little) on the gonzo scale. The series is, admittedly, juggling a lot. While she occupies Min-ju's body, Jun-hee has so much more to grapple with than her boyfriend's disappearance. When she finds herself face-to-face with his lookalike Si-heon, she's determined to uncover the connection between them.
Min-ju also has plenty of problems to contend with herself. Apart from a reluctant romance with In-gyu and a tumultuous home life, she's also living on borrowed time. Watching Jun-hee "stand up" for Min-ju, and work to prevent her murder, is one of the drama's defining highlights. Her budding rapport with Si-heon and In-gyu, under cherry blossom trees and in the aisles of quaint record shops, invoke the innocence and nostalgia of Korea's best coming-of-age dramas.
Love triangles and misunderstandings have always been a staple in K-dramas, and this one in particular is packed with as many as possible. The personal connections in A Time Called You are the very thing that keep its story afloat, even if its time loop gets a bit harder to follow as time goes by. Of course, the central premise is really just a means to an end. No one tunes into a time travel mystery to understand its unique brand of science, but to see how that science complicates lives and offers second chances.
On that front at least, A Time Called You succeeds. It may dip too much into the melodrama just when it needs to get serious, but it executes familiar tropes in a fresh, compelling way. It knows how to parse its mystery through Netflix's addictive format. Even when its winding mystery starts to get frustrating, you may find yourself bingeing the series just to get answers.
A Time Called You is currently streaming on Netflix.