Polite Society breaks the mold for the coming-of-age movie
Nida Manzoor's feature directorial debut kicks ass.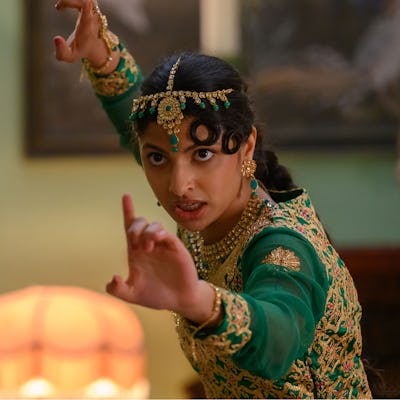 Millennials have a wide range of problems, but the most fundamental is the universal bill of goods their parents sold them about their "bright" futures.
This is a generation brought up to believe they could grow up to be whatever they wanted, and to whom "practicality" and "possibility" are uncut gibberish. Nida Manzoor's first feature film, Polite Society, gives a glimpse at the messaging the incumbent Gen Z is being raised on: Your dreams are absurd, you're a ninny for following them, and please clean up the mess you made when you kicked your sister through her bedroom door.
Polite Society is a lovely, oddball little film, a fresh take on the themes Garth Jennings brought to his sophomore feature, Son of Rambow, a youth-in-revolt movie likewise obsessed by movies. Here, Ria Khan (Priya Kansara) takes her schooling one listless day at a time, armored in the stubborn teenage certainty that she'll get to the other side of secondary education and dive headfirst into her dream career as a stunt woman. Ria idolizes real-life stuntwoman Eunice Huthart, whose credits date back to the mid-to-late 1990s (Goldeneye, The Fifth Element, and Titanic), and routinely emails Eunice for advice to no response. Silence is no deterrent. Ria puts in work, even when "work" means "plummeting mid-air to the ground like Wile E. Coyote running off a cliff."
Nobody said whupping ass on screen is an easy career path, but Ria has the best possible booster in her corner: Her big sister Lena (Ritu Arya), an art school dropout who wallows in her failure by chainsmoking and savaging whole roasted ducks on the sidewalk in plain view of prying eyes. The girls' relationship is symbiotic: When Ria is too bruised from a practice session, she activates Lena as her Mickey Goldmill; when Lena's pity parties go overlong, Ria drags her out of bed for impromptu dance parties.
Then the worst thing that can happen to bonded sisters happens: Lena meets a hot guy, Salim (Akshay Khanna), at an Eid shindig. Salim is exceptionally single, a successful OB, and renowned in utero interventionist. (He saves pregnant moms and their babies from medical complications, and again, he is hot.)
Polite Society spins its plot from that tension. Ria's world is built on a foundation of Lena's support, with her best friends Clara (Seraphina Beh) and Alba (Ella Bruccoleri) and kung fu movies coming in a close second and third. But when Lena has a swift courtship with and engagement to Salim, it feels like armageddon to Ria. Granted, Ria's 16. Anything could mean armageddon to her, because being 16 means that every day has a non-zero chance of upending life as she knows it.
Manzoor finds sweet-natured drama in the siblings' inevitable separation, and her sharp writing layers the film with meaning. It isn't just Lena's departure that's breaking Ria's brain, but the subtext: If Lena can't realize her dream of being an artist, then neither will Ria fulfill her dream of being a stunt woman. Even in the eyes of an encouraging source, the girls' dreams are dim. Lots of folks try at both; not many succeed. But Manzoor packs Polite Society with high school coming-of-age comedy tropes, as well as a dose of brash fantasy. We can guess how Ria's story will end based on the film's genre; the fistful of excessive fight scenes are a big clue, too.
Each major character knows kung fu. When Ria is sufficiently pissed off, or sufficiently pisses off, say, Lena, her classroom nemesis Kovacs (Shona Babayemi), or Salim's nefarious mother, Raheela (Nimra Bucha), a Street Fighter-style title card pops up on the screen, introducing each combatant-to-be. Then they scrap. Polite Society's rough-around-the-edges action makes perfect sense: Manzoor's characters aren't trained martial artists. They're just people.
Their energy is infectious, Manzoor's enthusiasm palpable, and Polite Society a gem on the back of their joy.
The way each character fights tends to match their personality. Kovacs brawls like a bare knuckle boxer; Lena wrecks up the place like a wrestler in a hardcore match. Only Raheela dominates with practiced grace, because she's Raheela, the most powerful person in the film socially, economically, and in one other field best left for audiences to discover themselves. But Polite Society keeps each fight sequence light and lively, fresh and fun.
The construction itself is the opposite: Manzoor's choreographers and stunt coordinators make the action hit hard. We know we're watching characters as far from martial mastery as possible duke it out, but we also know we're happy not to be on the receiving end of the beatings that Polite Society stages.
For this to work, the film straddles that capricious liminal space between real and unreal. One can argue that martial arts movies are unreal because who actually gets into a street fight with bands of thugs and defeats them all singlehandedly? Polite Society does that, but the fights are between noncombatants, too. The film makes Ria's goal Sisyphean while also letting her live out her dream, as if Manzoor's intention for her protagonist is an indulgent generosity. It's hard being in the stunt business.
Polite Society lets Ria experience that for herself from the points of truth as well as fiction — a tricky balance to hold. But the film pulls off this marvelous feat by the spirit Manzoor injects into her screenplay, and her cast into their performances. Kansara is a wonderful revelation; Arya shows off a self-doubting side absent from her contributions to The Umbrella Academy; Bucha chews the scenery best of all, reveling in Raheela's supervillainy in scene after scene. Their energy is infectious, Manzoor's enthusiasm palpable, and Polite Society a gem on the back of their joy.
Polite Society premiered at Sundance on Janaury 21.