Michael Jai White Did Magic Tricks With Dark Knight Co-Star Heath Ledger
The action-icon star of Spawn, Black Dynamite, and Outlaw Johnny Black reveals his secret obsession: magic.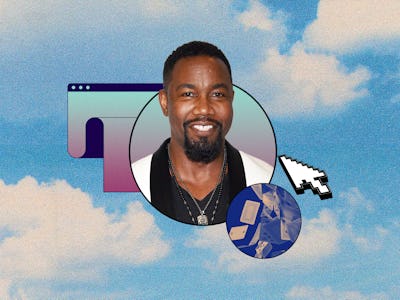 Inverse; Getty Images
"How about a magic trick?"
With five simple words, Heath Ledger's Joker made movie history and launched a million memes (and one very comprehensive oral history). But behind the scenes on The Dark Knight, doing magic tricks was just another day in the life for Ledger and his fellow actor, Michael Jai White, a self-taught magician who performs tricks both on and off the set.
"Heath Ledger was into the sleight-of-hand stuff and we would trade tricks on set all the time," White tells Inverse.
In Dark Knight, White plays Gambol, an arrogant, well-dressed crime boss who runs afoul of Gotham City's Clown Prince of Crime. But the Brooklyn-born actor is better known for his leading roles in the pioneering superhero franchise Spawn, the pitch-perfect Blaxploitation parody Black Dynamite, and now, Outlaw Johnny Black, a Western pastiche which he co-wrote, directed, and stars in.
"Audiences have been telling me over and over that they've never seen a movie like this," White boasts about his latest film, adding that his new "faith-based Western Blaxploitation romantic comedy-drama" even convinced one producer to reconnect with their estranged mother.
But we're not here to talk about Outlaw Johnny Black (though you can read more about the film and White's plans for a Blaxploitation Cinematic Universe here). No, we're here to talk about Michael Jai White's love for close-up magic. So pick a card and let's dive in.
Geeking Out is an Inverse series in which celebrities tell us about their nerdy and niche interests, hobbies, or collections.
I hear you're a proficient magician. What is it about magic that speaks to you?
It was the psychology of it. You have to really understand how people think to misdirect them. That's a good basis for directing because you always want to be ahead of what the audience is thinking so you can manipulate them. There's a sleight of hand that's always going on. You have to be able to evolve in your storytelling methods because a lot of the movies are the same stories over and over. You have to tell them differently to get the effect that you want.
How did you first get into magic?
I started out with card tricks as my kids were getting older. When I would leave to do a movie in another country or city, I'd go to the magic shops in that town and develop a new trick. My kids always looked forward to me coming back home because I'd always have new magic for them.
Usually, it's something that I would unveil at dinner. We'd be at a restaurant, and I'd be doing sleight-of-hand stuff. Sometimes I'd have to have some setup stuff. A few times, I shut the whole restaurant down because people were noticing what the guy at Table 3 was doing. I used to joke with my wife, "At this rate, I'm going to be flying with doves. I gotta keep stepping my program up!"
Do you have any advice for people who want to get into magic themselves?
Be organic, be original. The cool thing is, once you get the basics down, you can personalize your tricks. I always like to act like I've messed up, to add to the misdirection. I would just encourage people to find their own personality and make tricks their own.
Do you have to practice often, and are your kids still amazed as you're evolving with this hobby?
It's always good to have a few things under your belt. It's like the technique is with you all the time. The higher-level stuff takes practice, but the ability to make something vanish will always stay with you. You can travel with innocuous things that people think are real, like a soda can, or gag pencils and things like that. They seem organic to the situation, so you're always ready. Coin tricks are always good.
You saying "pencil" just made me think about The Dark Knight and that scene with the Joker. Did you have any input in that scene?
I'll tell you one thing that was really interesting is that Heath Ledger, very much like me, was into the sleight-of-hand stuff and we would trade tricks on set all the time. We would go back and forth quite a bit. That was a bit of fun that we used to have.
What is the best trick that you've ever accomplished?
Well, magicians would know this as "floating." Knowing how to float things, that's probably one of my best tricks, because I got it to a place where you can't see the setups. I could be drinking something from a straw, put it down, and make the straw just float into my hand. There are things like that that'll really freak you out if you don't know how to set them up.
Is it like wire — or can you not reveal the secret?
[Laughs] No, I can't tell.
This interview was conducted in accordance to the guidelines of the SAG-AFTRA and WGA strikes.
Outlaw Johnny Black rides into theaters on September 15.