Marvel Might Not Need Jonathan Majors As Much As We Thought
Can the MCU move on without Kang?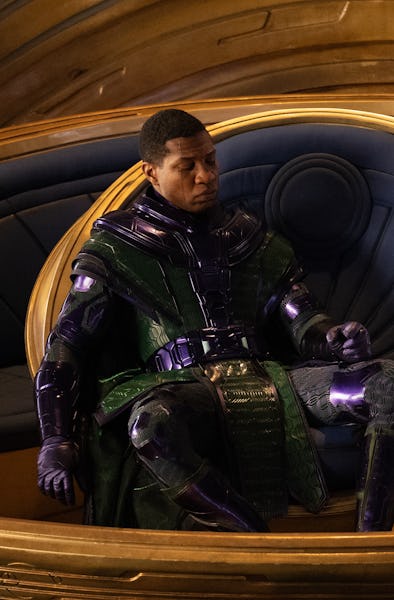 Marvel Studios
Until very recently, things were finally looking up for Marvel's Cinematic Universe. Sure, audiences the world over were battling franchise fatigue, forcing Marvel Studios to rethink its release strategy over the next few years — but the MCU also had a perfect villain in Jonathan Majors' Kang, a villain that would serve as an antagonist well into Phases 5 and 6. But after Majors himself was arrested on charges of domestic violence in March, Marvel is facing an entirely different kind of scrutiny.
This is a controversy unlike any Marvel has faced before. While the studio has worked with offenders in the past — and happily glossed over accusations involving actors like William Hurt and Josh Brolin — Majors' own case is too recent to ignore. The allegations of abuse aren't a murky topic of his past; they're happening now, right at the beginning of what might have been a multi-year partnership with Marvel.
If there were any time for Marvel to take a stand against domestic violence, it'd be now. But some fans are worried about a course correction: with Majors' Kang and all his variants poised as the next Big Bad in Marvel's Cinematic Universe, many fear that Marvel has built too much around the actor to back down now. According to sources close to Marvel, though, Majors wasn't always the new face of the MCU — and it might not be too difficult for Marvel to make a change.
Vanity Fair scribe and Marvel insider Joanna Robinson addressed the Kang controversy on The Ringer's The Big Picture podcast. Though Majors is now the big focus of the MCU, it was only after Quantumania that Kevin Feige and co. decided to beef up his role in the larger narrative.
"I was told by someone who works for Marvel, it was not the plan to make Kang the center of everything until they saw the dailies from Quantumania and after his performance in Loki, which was so strong they were like, 'This is it. This is our way forward,'" Robinson explained. "I would argue they have never hung so much of a franchise on one actor, as they tried to hang it on Jonathan Majors."
In the past, the MCU obviously focused more on the heroes than the villains — with the exception of Josh Brolin's Thanos, who was arguably the biggest presence in Marvel's Phase 3. Pinning the next MCU saga on a sympathetic, omnipresent villain would have brought their past strategy with Thanos to another level, but Majors' fall from grace has put the studio "in the bind."
While Robinson has heard "conflicting stories" about Marvel's plans moving forward, this does prove that things might not be as dire as some believed. Before Majors wowed Marvel execs with his performances in Loki and Quantumania, it doesn't seem like they had any strong plan for the Multiverse Saga. Allowing Kang to guide a now-rudderless MCU into a multiversal war does seem like the most logical way forward — but if Marvel's braintrust could redirect the future of the franchise after one performance, there's nothing stopping them from pivoting to a different conflict that doesn't involve Kang.
The slate for Phase 6 is still relatively thin: Fantastic Four and Kang Dynasty are the only films scheduled for 2025, followed by Avengers: Secret Wars in 2026. Though Kang is set to next appear in Loki Season 2 this October, there could be any number of projects between the two Avengers films that could build up a different antagonist in the same way Marvel would have built up Kang. The connection between Kang Dynasty and Secret Wars has always been murky anyway — at least for fans who know the comic storylines like the back of their hand. Whatever Marvel's plans for the future were, at least we know they aren't written in stone.