Dave Filoni Just Confirmed that Star Wars Is Becoming Marvel
Star Wars has always been similar to the MCU, but now they're almost mirror images.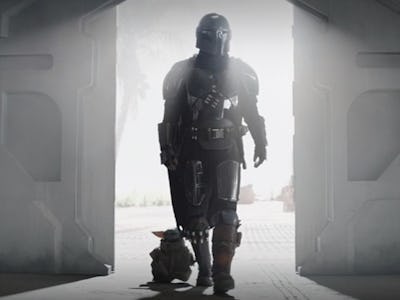 Lucasfilm
The Mandalorian was a strange addition to the Star Wars universe. For the longest time, the franchise was focused on movies, with books and comics as optional side stories. Even when animated series joined the fold, they weren't required to understand the sequel trilogy.
But The Mandalorian, Star Wars' first live-action TV series, wasn't supplementary material — it was essential viewing. It showed Force healing powers mere days before they were used in The Rise of Skywalker, and now there's speculation Grogu could appear in Star Wars movies set decades in the future. As The Mandalorian bathes in the Star Wars spotlight, the "Mandoverse" is starting to look a lot like its sibling franchise, the Marvel Cinematic Universe.
In conversation with EW, Mandalorian co-showrunners Jon Favreau and Dave Filoni discussed their plans for the newly dubbed "Mandoverse." Filoni reflected on his long past working in Star Wars after The Clone Wars and Rebels, and used that experience to predict the future of Star Wars.
"I think for a long time, as I've learned to work in this galaxy, it's a long play," Filoni said. "And if things go right, you get to do more of your story. Things I think have broken in a good way for us, and people have enjoyed the characters that we've been making. So certain opportunities came up the further we went along."
Those "certain opportunities" seem to be taking the form of both spinoffs — The Book of Boba Fett and the upcoming Ahsoka — and an upcoming movie that will wrap up the Mandoverse as we know it. While details on the film are still vague, EW suggests it could be an Avengers-style crossover that sees the Mandoverse characters meet up for one final job. If so, Disney's two biggest franchises are going to become even harder to tell apart.
The "long play" comment suggests the master plan for this new slice of the Star Wars galaxy is much more forward-looking than the story threads we've seen so far. But with the Mandoverse's post-Return of the Jedi timeline, there's a lot of opportunity to expand on characters who weren't given the room to breathe in the original trilogy.
"We're in the right area code," Filoni said. "We are definitely in the right space. I think it's going to be a clamoring of characters saying, 'How do I get in this picture?' And that's what Jon and I have been figuring out."
Though Star Wars isn't Marvel, its style of planning ahead and crossing over characters may come in handy as The Mandalorian evolves into a whole era of Star Wars that expands upon old ground. And don't be surprised if, a few years from now, we're talking about entering The Mandalorian Phase 2.
The Mandalorian is streaming on Disney+.