When Does The Last of Us Episode 9 Come Out? The Season Finale Is Almost Here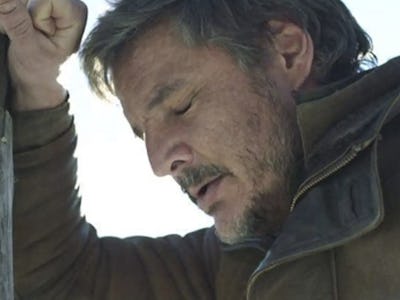 HBO
Ellie and Joel's heroic journey comes to a head in the Season 1 finale of The Last of Us. As you can imagine, it's never quite that simple for the show's central duo, and Episode 9 promises to go out with a bang.
From the onset, the main pair's quest has been to safely deliver Ellie to the Fireflies, so that they may study her immunity at a research facility in hopes of developing a vaccine for the fungal infection that destroyed civilization. Following all of the dangerous obstacles Ellie and Joel went through along the way, they will no doubt feel a sense of duty to see this through to the end as they approach Salt Lake City. Most importantly, the grand finale of Last of Us Season 1 will answer what is probably the biggest burning fan question: Will HBO stick to the original video game's brutal ending?
But until there, here's everything you need to know about The Last of Us Episode 9, including what time it comes out so you can watch as soon as the finale is released.
When is the release date for The Last of Us Episode 9?
Episode 9 of The Last of Us lands on HBO and HBO Max on Sunday, March 12, 2023.
What is the release time for The Last of Us Episode 9?
The Last of Us airs at 9 p.m. Eastern on HBO and HBO Max on Sunday.
What is the plot of The Last of Us Episode 9?
The season finale of The Last of Us, titled "Look for the Light," will see Joel and Ellie finally arrive at the location of the Fireflies research facility in Salt Lake City — but not without a few surprises along the way. The episode will also feature a flashback to Ellie's mom that wasn't in the original game.
What is the runtime for The Last of Us Episode 9?
The runtime for Episode 9 is slated to be 43 minutes.
Is there a trailer for The Last of Us Episode 9?
Yes, HBO released a preview for The Last of Us Episode 9, and it shows Ellie and Joel arriving in Salt Lake City only to be ambushed with an explosive. From there, we see shots of Joel running around looking concerned, as well as Ellie saying, "We finish what we started."
The promo also features a sneak peek at a pregnant woman running through a forest and bracing herself for the Infected rapidly crawling toward her. Fans of the video game will recognize her as Ashley Johnson, the original voice and motion capture actor for Ellie.
What happened in The Last of Us Episode 8?
Episode 8 of The Last of Us, titled "When We Are In Need," introduced a new villain in David, the leader of a group of survivors living in an abandoned ski lodge. At first, Ellie thinks she can trust David, especially after he offers her some medicine for Joel and explains his optimistic outlook on life. But it soon becomes clear that David is up to no good.
Not only is he secretly feeding his followers the human meat of their dead friends and family, but he also tries to turn Ellie into his child bride. Meanwhile, the community is hellbent on murdering Joel to get revenge after he took out one of their own back in Episode 6 out of self-defense. The story ends as these things typically do in The Last of Us, with pretty much everyone dead (especially David) and Ellie even more traumatized than before.
Joel and Ellie reunite and move on. As for what will happen to the rest of David's followers, we'll probably never know, but with no food, no leader, and their home burned down, it's not looking good.