The Last of Us Episode 4 trailer teases the entrance of Melanie Lynskey's character
Next stop: Kansas City (or what's left of it, anyway).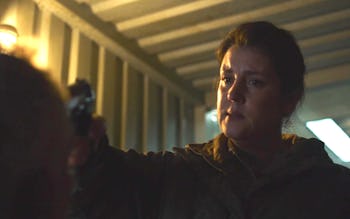 You can put away the tissues — for now. After last week's beautiful, sob-worthy, internet-adored knockout episode that was Bill and Frank's tragic love story, The Last of Us Episode 4 gets the HBO series back underway with the central journey of Ellie and Joel.
Heading out from Bill and Frank's with a new set of wheels, Joel and Ellie are now on a quest to find Joel's brother, Tommy, who might know the location of the Fireflies facility out west that Ellie needs to get to. But before they can get to Wyoming, the duo get caught up while passing through Kansas City, where a new ruthless character awaits them.
Below, everything you need to know heading into The Last of Us Episode 4, including its release date, plot, trailer, and more.
When is the release date for The Last of Us Episode 4?
Episode 4 of The Last of Us lands on HBO and HBO Max on Sunday, February 5, 2023.
What is the release time for The Last of Us Episode 4?
The Last of Us airs at 9 p.m. Eastern on HBO and HBO Max each week on Sunday.
How many episodes are left in The Last of Us?
The Last of Us Season 1 features nine episodes in total, which means we're nearing the midway point with five episodes left in the season.
What is the plot of The Last of Us Episode 4?
Episode 4 of The Last of Us, called "Please Hold My Hand" will see Joel and Ellie head out on a road trip toward Wyoming in their new truck. However, when the duo get turned around, they run into a massive roadblock in what used to be the Kansas City QZ, where the metropolitan area is now overrun by a hostile group of survivors led by a merciless revolutionary leader, named Kathleen.
The runtime for this installment is slated to be 50 minutes long.
Who is in the cast for The Last of Us?
The Last of Us stars Pedro Pascal as Joel Miller and Bella Ramsey as Ellie Williams, with a stellar cast supporting them as the series' central duo. The show features Melanie Lynskey as Kathleen, Lamar Johnson as Henry, Keivonn Woodard as Sam, Nick Offerman as Bill, Murray Bartlett as Frank, Anna Torv as Tess, Gabriel Luna as Tommy, Graham Greene as Marlon, Elain Miles as Florence, Nico Parker as Sarah, Merle Dandridge as Marlene, and Storm Reid as Riley Abel. Troy Baker, Ashley Johnson, and Jeffery Pierce, the video game voice actors for Joel, Ellie, and Tommy, respectively, will also make appearances this season.
Is there a trailer for The Last of Us Episode 4?
Yes, HBO released a preview for The Last of Us Episode 4, and it teases the entrance of Melanie Lynskey's mysterious character, Kathleen, a character not in the original video game. The promo also shows Ellie and Joel bickering in the car as they try to navigate using maps, only to mistakenly end up in Kansas City. There, Joel refuses to help an injured person in the street and instead speeds away in the car, later driving over some spikes and eventually crashing. We then see quick flashes of Kathleen interrogating someone, militia personnel breaking down a door, Ellie running in between abandoned cars, Joel fighting, and Joel telling Ellie they will get through this.
What happened in The Last of Us Episode 3?
Episode 3 of The Last of Us, titled "Long, Long Time," surprised audiences — both familiar with the video game and not — with a touchingly devastating queer love story.
Leading up to that saga, the episode first begins with Ellie and Joel resting in the woods, with Joel stacking rocks by a river, likely a makeshift memorial for Tess. Joel is still acting very cold toward Ellie and she tells him to not blame her for what happened in Boston, as none of this is her fault. Joel nods in acknowledgement.
Getting on their way, Joel brings them to an abandoned roadside general store, where he stored supplies years ago. As he tries to locate his things, Ellie wanders off into a backroom of the store, where she finds a hatch down to the basement. Inside, she scores a box of tampons but is quickly startled when she hears a sound coming from behind her. She shines her flashlight to see the face of an Infected stuck and buried underneath a pile of rubble. Inspecting the still-living creature, Ellie eventually stabs it with her knife, taking out her first Infected.
Back on the desolate road with supplies as Joel leads Ellie to Bill and Frank — which Tess requested before she sacrificed herself in Episode 2 — Ellie is impressed by a crashed airplane in a field and Joel answers some of her questions about the origins of the outbreak. Further down the trail, she sees a pile of skeletons by the side of the road, which Joel explains belonged to innocent survivors who were executed by FEDRA when the nearby QZs were too full. The episode then flashes back to said survivors being led out of their town by FEDRA soldiers in 2003, not long after the outbreak began. Below ground, a man (Bill) is hiding out in his doomsday bunker filled with weapons, supplies, and TVs with security camera footage from around town. Once everyone has left without discovering him, he goes on a shopping spree around town, gathering all of the supplies he needs to be self-sufficient.
A few years, Bill is surviving on his own in a gated and protected area that he built, when he is alerted that someone has fallen into the trap hole he set up outside of his fence. Rifle in hand, Bill discovers it's a man, named Frank, who is on his way from Baltimore toward the Boston QZ. Having not eaten in days, Frank asks if Bill has any food to spare. After some back and forth, Bill warily agrees.
Inside Bill's house, Frank is shocked by the sense of normalcy, especially as Bill awkwardly gives him a luxurious cooked meal and a glass of wine. Frank notes that the wine Bill chose pairs perfectly with the meal. After eating, Frank says he'll be on his way, but first, he goes to the piano in the other room. He pulls out some sheet music and starts roughly playing Lisa Ronstadt's "Long, Long Time." Bill is visibly uncomfortable. He tells Frank to stop and puts the sheet music away. At Frank's request, Bill then sits down and starts beautifully playing and singing the song. Clearly impacted by Bill's emotional rendition, Frank asks who the girl he's singing about is, and Bill says there is no girl — Frank says he knows. The two then tenderly share a kiss. A single tear rolls down Frank's face, and they agree to head to the bedroom. In the bedroom, Bill reveals that his only previous experience was with a girl many years ago, and it's clear he is nervous. Frank meets Bill's apprehension with compassion and tells him that he'll stay for a few more days if they do this, joking that he doesn't have intercourse for lunches, even really great ones.
Years later, Bill and Frank are still living together — and now arguing. Frank wants to beautify some of the neighborhood so it's not such a Bill-type "psycho bunker where 9/11 was an inside job." This exchange showcases the personality differences between Frank and Bill, especially politically, but also how they are similar, as Frank explains, in that they show their love by paying attention to things. Bill eventually agrees, and Frank says he wants to spruce the place up for when they have friends over. Bill tells him they will never have friends because there are no friends to be had in their world. Frank storms off telling him he has actually been talking to a nice woman over the radio, to Bill's frustration.
Soon after, Frank and Bill host Joel and Tess for a nice lunch — with Bill refusing to take his weapon off the table. Frank and Tess hit it off and jovially talk about the prospects of working together with smuggling. They head inside for a house tour, leaving Bill and Joel silently sitting outside together. The two hardened men are clearly suspicious of each other, which they both mutually respect. Bill says he doesn't want their help, but Joel soberly tells him that eventually all of the security defenses will need repairs and only he and Tess can provide the supplies Bill and Frank will need to survive and keep safe. Before leaving, Joel warns Bill about raiders. Bill says they will be fine.
One day, after making Bill go for a run with him around the neighborhood, Frank leads Bill to a surprise he has in the backyard. Uncovering Bill's eyes, he reveals a patch of strawberries he's growing from seeds he got from Tess. In a quietly heartwarming moment, the couple giggles in delight as they enjoy the rare taste of fresh strawberries together. Later, Frank awakes one night to the sounds of explosions. He runs outside to find Bill shooting at a group of raiders trying to break into their neighborhood, but their defenses seem to be working. Bill gets shot and Frank helps him inside and onto the dining room table. Bill, thinking he isn't going to make it, frantically tells Frank to call Joel, but Frank, mending to his wound, tells him everything is going to be okay.
Jumping to 10 years later, in 2020, we see Bill and Frank clearly aged. Frank is suffering from a severe health problem that has caused him to lose most of his mobility. He has taken up painting as a hobby — though he has problems with steady brushstrokes these days — and now uses a wheelchair. Bill serves as his loving caregiver, tending to him and making sure he takes his pills every day. One morning, Bill wakes up to Frank in his wheelchair beside the bed, which took him all night to get into on his own. Accepting that there is no way to cure his illness, Frank tells Bill that this is going to be his last day. Frank requests that they spend his last day going to the boutique down the road together, picking out outfits, and getting married. Then, after a nice dinner, Bill will crush all of the pills and mix them into Frank's glass of wine, so that that he can later go to bed and fall asleep in Bill's arms. Bill is very upset, but he agrees to Frank's wishes.
After dinner, Bill brings in an opened bottle of wine and pours their glasses, dumping a small bag of crushed pills into Frank's drink. Frank downs his drink. Bill surprisingly does the same, which tips Frank off. He asks if there were already pills in the bottle of wine, to which Bill replies, enough to euthanize a horse. Frank is mad at Bill for making this decision, but Bill tells him there is no more reason for him to live without Frank there with him. Then they go to their bedroom together and the scene fades to black.
The episode leaps forward back to Joel and Ellie arriving at the gates of Bill and Frank's, where Joel knows the security code to get in. At the house, everything is quiet. The door to Frank and Bill's bedroom is locked, and Ellie finds a suicide note from Bill on the table, which is addressed to Joel and has a car key attached to it. The heart-wrenching note advises not going into the bedroom, where the window has been left open to prevent the house from smelling. Bill also wrote that Joel should take all of his supplies and weapons in order to keep Tess safe, which has an effect on Joel. Since he can't just hand off Ellie to Bill and Frank, the note clearly also convinces Joel that he must be the one to protect and bring Ellie to safety.
Inside Bill's garage, Joel finds plenty of weapons and a truck with supplies to charge the battery. Back inside the house, Ellie tries to bring up and likely apologize for what happened to Tess, but Joel stops her. He tells Ellie that if they are going to be around each other, there is a new set of rules that she must follow from now on: never bring up Tess, never talk about her condition, and follow everything he says when he says it. Joel tells Ellie that he has a brother out in Wyoming he is going to bring her to, as he is a former Firefly and might know where the facility to take her to is.
The duo take showers and freshen up before they hit the road. Before leaving, Ellie finds a pistol in a desk drawer and sneaks it into her backpack. Inside the truck, Ellie is excited because she has never been inside a car before. As they pull away from the gate, Ellie opens the glove compartment and finds a cassette, which she pops into the stereo, ignoring Joel's command not to. Fittingly, the song that plays is Lisa Ronstadt's "Long, Long Time." The camera then pulls out from a shot of the open window in Bill and Frank's bedroom, with a portrait of Bill, painted by Frank, hanging on the wall.
Will there be a The Last of Us Season 2?
Yes! After only two episodes, a second season of The Last of Us was officially confirmed by HBO following the buzzy show's formidable weekly viewership numbers. And with The Last of Us Part I and Part II (and maybe a Part III on the way), there is plenty of video game fodder available to adapt for Season 2 and beyond.