John Wick 4's Coolest Cinematic Trick Borrows From a Classic Film Legend
Editor Anne V. Coates' work lives on in the fabric of cinema.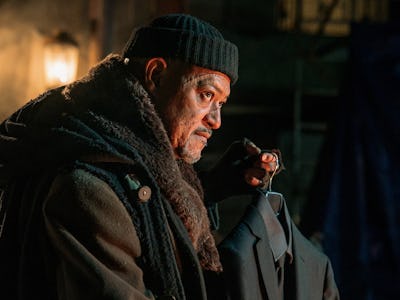 Lionsgate
Early in the John Wick: Chapter 4, our titular hero (Keanu Reeves) is still hiding within the Bowery King's lair. As he bloodies his knuckles punching at a wooden block in a room filled with candles, the Bowery King (Laurence Fishburne) enters holding a new slick black suit for Wick. He hands the suit over, pulls out a match, strikes it, and then blows it out. The film then cuts to an orange desert horizon. This is a clear — and striking — homage by editor Nathan Orloff to one of the most famous jump cuts in cinema history.
In David Lean's Lawrence of Arabia, when Army officer T.E. Lawrence (Peter O'Toole) is given an assignment in the desert, he strikes a match to light a cigarette for British diplomat Mr. Dryden (Claude Rains), holding it until it nearly burns his fingers. He then blows it out and the film cuts to the orange horizon of the desert and holds there as the sun rises. In the original script, this cut was written as a dissolve, but editor Anne V. Coates has said in interviews that she was inspired to cut directly by the films of French New Wave directors like Jean-Luc Godard and Claude Chabrol. Steven Spielberg would later cite seeing this cut as one of the most significant moments in his journey towards becoming a filmmaker.
Before inspiring generations with this daring cut, editor Anne V. Coates began her long career as an assistant film editor at Pinewood Studios in the 1940s working on films like The Red Shoes. After winning an Oscar for her game-changing work on Lawrence of Arabia, Coates would go on to receive four more nominations and received a Lifetime Achievement Honorary Award in 2017, a year before she died at the age of 92. While she is best remembered today for this iconic jump cut, her filmography stretches over eight decades and includes everything from Oscar contenders to seedy erotic thrillers.
After receiving a second Oscar nomination for the historical drama Becket starring Peter O'Toole and Richard Burton, Coates continued to work mostly in England. This did not stop her from working with one of the most singular directors in American cinema: David Lynch. She received her third Oscar nomination for her work on his second film The Elephant Man, where she collaborated closely with Lynch and producer Mel Brooks on the initial reveal of John Merrick (John Hurt). This gentle editing allowed the film to feel more like the compassionate drama they intended, rather than the horror film many would expect from Lynch's follow-up to his cult film Eraserhead.
Her natural understanding of rhythm led her to working on many thrillers, including Clint Eastwood's In the Line of Fire, for which she received her fourth Oscar nomination. A few years later she would receive her fifth and final Oscar nomination for her work on Steven Soderberg's Out of Sight, which straddled the line between crime thriller and romantic comedy. Although she almost turned the project because it was going to be edited with the computer-based Avid editing system, Coates took the system with ease and her playful love of experimentation proved a perfect match with the director and the material. The film, which stars George Clooney as a bank robber and Jennifer Lopez as a U.S. Marshal, is often listed as one of the sexiest films of all time, with Clooney and Lopez's natural chemistry amped up by Coates' divine hand.
A few years later, Coates would edit what she would call the sexiest film she ever worked on: Adrian Lyne's Unfaithful. Although she didn't receive an Oscar nomination for her work on this erotic thriller, many reviews wrote in depth about one pivotal scene in which Diane Lane's character Connie reminisces about her illicit fling with rare-book dealer Paul (Olivier Martinez). While Connie takes the train home, Coates masterfully cuts from the subtle emotions on her face to flashbacks of the life-altering tryst. Lane eventually received a nomination for Best Actress for her performance in the film.
Although semi-retired at the time, Coates ended her career with one final erotic project: Sam Taylor-Johnson's adaptation of the bestselling phenomena Fifty Shades of Grey by E. L. James. Working along with editors Debra Neil-Fisher and Lisa Gunning, Coates thought the film could have been raunchier, but also found it creatively interesting to try to adapt this story — about a college student named Ana (Johnson) who begins a sadomasochistic relationship with a steely business magnate named Christian Grey (Jamie Dornan) — and keep it at an R-rating.
Coates' career might have ended on a film that sits questionably among the classics she's edited, but her work lives on — not just in the many films she cut, but in the very fabric of cinema, as we see in Orloff's homage. It's just one of many homages that John Wick: Chapter 4 makes to movie classics — the film once again nods to silent comedies, and piles in references to everything from Westerns to video games — but it's arguably the most memorable.
John Wick: Chapter 4 is playing in theaters now.