A Hitchcock Classic is Getting a Remake — But Park Chan-Wook Already Did It Better
Justice for Decision to Leave.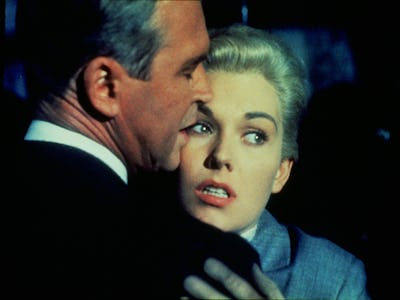 Paramount Pictures
Paramount Pictures has been digging deep into their bankable IP lately. Whether it's a long-awaited legacy sequel like Top Gun: Maverick or the new Gladiator film, or a franchise that's gotten a new lease on life like Scream, everything's fair game. And rightfully so: these are tricky times for longstanding film studios. Nothing should be off-limits if it keeps cinema alive, right?
Well, you'd think.
But there are some projects that shouldn't really be touched, like Alfred Hitchcock's Vertigo. The 1958 film was originally distributed by Paramount, and now the studio have seen fit to acquire a remake. Per Deadline, the Vertigo remake will be written by Peaky Blinders creator Steven Knight. John Davis and John Fox, of Davis Entertainment, will produce the film with Team Downey's Robert and Susan Downey. Additionally, Robert Downey Jr. may be eyeing the lead role, previously occupied by James Stewart.
It's been a few years since Downey parted with his most memorable role as Tony Stark, and aside from a not-so-great return with Dolittle in 2020, the actor has mostly been producing. He's set to appear in Christopher Nolan's Oppenheimer in 2023, his first, well … "prestige" role in a long time. It's still hard to imagine Downey portraying anyone but Tony Stark, and even harder to imagine his take on the character most associated with Stewart. Still, Downey has brought his own flair to an "iconic" character once before, with Guy Ritchie's Sherlock Holmes duology — so who knows what he might bring to Vertigo? Maybe this will be the beginning of a new era for the actor.
But then there's the matter of Park Chan-wook's inadvertent tribute to Vertigo, Decision to Leave. The Palme d'Or winner breathed new life into the noir, though neither the film nor its director got the appreciation they really deserved this past awards season. The film — which followed a police detective whose obsession with a beautiful murder suspect becomes his downfall — wasn't a straightforward remake of Vertigo, but an homage, which may be the reason behind its success. Apart from some broad story beats, cinematographic throwbacks, and shared themes, Decision to Leave was its own film. That kept it from being trapped too long in the shadow of Vertigo, which would inevitably happen to a remake.
Ironically, Downey and Park are even working together on The Sympathizer, for A24 and HBO. Have they chatted about their mutual appreciation for Vertigo? Will Downey pick Park's brain about deconstructing a Hitchockian noir? Maybe, maybe not.
Paramount's attempt at a reboot may be unnecessary, but it may surprise us, too. For better or worse, this proves one thing: we'll never be free of the past.