Guardians 3's Post-Credits Scene Secretly Sets Up a Major Avengers Event
One legendary character will return, and potentially kick off the next big crossover.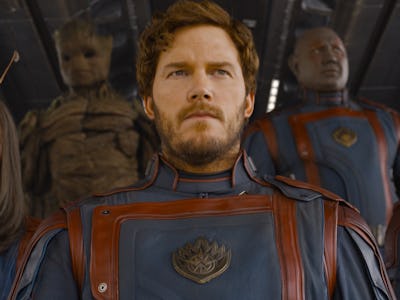 Marvel Studios
Like it or not, Peter Quill (Chris Pratt), aka "The Legendary Star-Lord," is returning for more adventures after Guardians of the Galaxy Vol 3. The film was touted as the end for its rag-tag group, but the finale featured in the film wasn't nearly as definitive as we were led to believe. Writer-director James Gunn did effectively bring the story of the Guardians to a close, but in a way that allowed a new team to go on in their place.
The Guardians as we know them are disbanded by the end of Vol. 3, leaving founding members to pursue their own adventures elsewhere. Star-Lord is striking out on his own by returning to his native Earth and reuniting with his grandfather, Jason Quill (Gregg Henry). Vol. 3's final title card then confirms that Star-Lord will be back, possibly in a solo adventure.
One has to wonder what more there is for Star-Lord to do in Marvel's Cinematic Universe. Until recently, his journey was the most prominent in the Guardians series. Vol. 3 wrapped that journey in a way that leaves plenty to the imagination, but pretty much closed the door on the character. If you're familiar with the comics, though, Star-Lord's adventures are far from finished. His MCU return could borrow from one particular comic storyline, and help expand the universe in a few major ways.
"The Legendary Star-Lord" isn't just a cheeky nod to the outlaw's obsession with infamy; it's also the name of a solo comic series. In 2014, writer Sam Humphries and artist Paco Medina created Legendary Star-Lord, the character's first headliner. While the series ran for just 12 issues, it was instrumental in establishing Star-Lord as an individual in the wider galaxy, not just as a member of the Guardians.
Legendary Star-Lord was half-space western, half-riff on Indiana Jones. Across the series, Star-Lord hunts for treasure, fights cosmic foes, and faces his estranged dad for the first time. He also crossed paths with other familiar faces, like Kitty Pryde of the X-Men. Legendary Star-Lord kicked off an unlikely romance between the two, and while it didn't last, they did team up again in 2015's Secret Wars.
Marvel Studios will adapt Secret Wars for an Avengers film in 2025, and there's a lot of work to be done to set up that massive event. Legendary Star-Lord was a crucial stepping stone to Secret Wars in the comics, and the same could now be true for the MCU.
Whether it's a Disney+ series or a theatrical film, Star-Lord's solo adventure could also introduce Kitty Pryde. Mutants have slowly been emerging from the shadows — and Deadpool 3 will certainly expand their reach — so Legendary Star-Lord could help further the MCU's mutant agenda. Phase 5 is already built out, but it may not be set in stone. While it's more likely that a Legendary Star-Lord series won't take place until Phase 6 at the earliest, Star-Lord could return for his own adventure sooner or later. And maybe, just maybe, he'll bring in some reinforcements from the comics.