Guardians 3's Most Unlikely Character Change is a Nod to Tragic Real-Life History
Cosmo the Spacedog's gender swap wasn't arbitrary.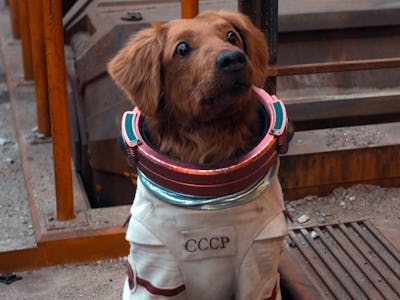 Marvel Studios
Maria Bakalova is no stranger to stealing a show, and Guardians of the Galaxy Vol. 3 is the scene of her latest heist. Bakalova has already lent her voice to Cosmo the Spacedog on several occasions, but Vol. 3 allows her — and her endearing character — to shine all the brighter. Cosmo offers some much-needed levity to an uncharacteristically dark film, but there's one specific aspect to Cosmo that some Marvel fans are taking issue with.
Cosmo the Spacedog is male in the comics and is frequently called a "good boy." Within Marvel's Cinematic Universe, however, Cosmo is female. In Guardians of the Galaxy Vol. 3, she's called a "good dog." It doesn't seem like a notable change, especially because Bakalova nails the role. But swapping the gender of a telekinetic canine is a bit too much for some fans to accept and, in the wake of Vol. 3, a few Marvel fans have taken to Twitter to air their grievances with Guardians director James Gunn.
Gunn has always been open to Twitter discourse, so when fans asked why Cosmo the Spacedog was made female in the MCU, Gunn was quick to provide some context. "Cosmo is based on Laika, the Russian dog, who was a female," Gunn explained. Laika was one of the first animals in space, orbiting the Earth in Sputnik 2. Her gender was crucial to the mission's success, as female canines are smaller and, as Soviet research suggested, more docile than their male counterparts.
Though she went on to become a legend, Laika's journey was short-lived. Sputnik 2 was dangerously cramped, and scientists back on Earth had no way of regulating the temperature. Soviet officials hoped Laika would be able to survive in orbit for at least a week, but she died of overheating a few hours after launch. The USSR kept up a charade for several days, leading the public to believe that Laika was alive and well. The New York Times even speculated that Laika could return to Earth unscathed. But after a week, Soviet officials broke the news of her death, and Sputnik 2 continued its orbit for five months.
Gender-swapping Cosmo was Gunn's tribute to Laika, as one would not exist without the other. It's appropriate for Vol. 3, which grapples with the dubious practice of animal testing. Still, some Twitter users took issue with the change to Marvel canon — unless, as one user wrote, "they state its a multiverse thing."
Gunn apparently assuaged their concerns, declaring, "It's always a multiverse thing. That's what the MCU is — a different version of Earth 616."
Cosmo is far from the first character to undergo a change within the MCU. She's not even the first Guardian: Mantis, Drax, and the High Evolutionary had their comic book origins tweaked. No one can predict what Marvel fans are going to take issue with, but it's nice to see directors engage and hold their own in the face of all the discourse, especially when doing so gives everyone a chance to learn a little history.