Marvel TV Just Changed Its Release Model — Here's Why That's Concerning
Echo is coming soon. Does Disney believe in it?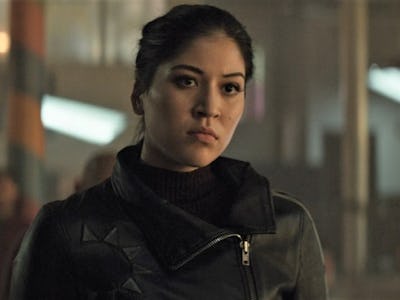 Marvel Studios
Hawkeye may feel like it aired a lifetime ago, but its influence is still very much alive in the Marvel Cinematic Universe. The holiday-themed series not only brought Wilton Fisk (and therefore Daredevil) into MCU canon and introduced an Avengers-themed Broadway musical, but it gave us an entirely new hero: Maya Lopez, aka Echo, the deaf athlete who started as the leader of the Tracksuit Mafia and later turned on Fisk after she learned of his involvement in her father's death.
Echo was promised her own self-titled series, and we're finally starting to learn more about it. But news of its release date has puzzled fans and set a new precedent for Marvel television. It could be seen as good news, but there are also some concerning elements.
Marvel tweeted the official release dates for two of its upcoming series: Loki, premiering October 6, and Echo, which will be available to stream in its entirety on November 29. This is a new move for Disney+. Though the binge model of dropping all episodes at once is standard on other streaming services, Disney has always stuck to weekly releases.
By dropping all the episodes simultaneously, some fans assume Marvel is expressing a lack of faith in the series. Weekly releases require a lot of fan investment to keep viewers coming back, and by forgoing this schedule, Marvel executives may be signaling that they don't think Echo could achieve that level of loyalty.
But the decision could also mean something else entirely. Disney+ has never really experimented with the binge model for high-profile Marvel releases, so maybe Echo is simply the guinea pig. If its approach goes well, we may see future series dumped on the service, even if they're popular. If it works for Stranger Things, why couldn't it work for Marvel?
The deciding factor will simply be how fans react. If the binge model still makes fans turn out and support Echo, then it doesn't really matter how it is released (or, to some degree, how good it is). Even if Marvel doesn't have faith in it, fans can still love it.
Echo premieres on Disney+ on November 29, 2023.