The 25 Best TV Reboots of All Time, Ranked
From The Trick to Star Trek.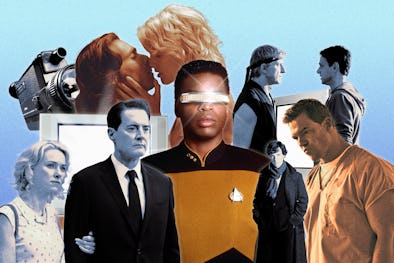 Dewey Saunders/Inverse; Getty Images, CBS, Netflix, Sony Pictures
One of the greatest comforts of TV is that you know it will last forever. Long after a show airs, it will live on in syndication, in reruns, or on a streaming service or our dusty collection of DVDs. But nothing beats the magic of watching a TV show for the first time. So it's no wonder that Hollywood has done its darndest to re-create both of those feelings.
The plethora of TV reboots is just a symptom of our IP-obsessed landscape, but that doesn't mean there aren't good shows to be found within those many reboots and remakes of beloved classics. Twin Peaks: The Return continued David Lynch's surreal story in the most beguiling of ways. Cobra Kai managed to turn a classic '80s villain into a hero. And we've been boldly going in various Star Trek shows for decades now.
With the help of our favorite writers, we've compiled the best of the best TV reboots. Here are Inverse's 25 top TV reboots of all time.
25. The Twilight Zone (2019)
There's flexibility in the anthology format that allows it to transcend time and space. Such is the case for Rod Serling's Twilight Zone, one of the most iconic American TV series of all time. The show debuted in 1959, telling its self-contained stories of suspense, horror, and wonder to rapt audiences across 156 episodes in its initial run. Since then, the speculative fiction franchise has supported two movies (one TV, one theatrical), and a further three TV show iterations.
The most recent premiered on CBS All-Access (now Paramount+) in 2019, bringing the show firmly into the 21st century under modern horror master Jordan Peele's eye and narration. This uneven reboot was canceled after two seasons, and that's a shame. In a world that can feel like it is changing every day (and not often for the better), we need The Twilight Zone and its tales that provoke, challenge, and articulate the horrifying status quo now more than ever. — Kayti Burt
24. Veronica Mars (Hulu)
Veronica Mars has had a particularly strange life since it was axed in 2007. The series first came back as a Kickstarter-funded movie in 2014, and while that movie had its pleasures, it mainly existed to please the many fans who paid for it. When the series returned for a fourth season on Hulu, however, things got a whole lot more prickly. This season, which features some elements of the original but also plenty of new players, follows this former teenage detective as she investigates a series of bombings in her hometown. The ending will always be divisive, but part of what has always made Veronica Mars great is its bold, powerful storytelling choices. Keith and Veronica, and the witty rapport that the two share, will always anchor Veronica Mars, but everything else is up for grabs. — Joe Allen
23. Lost in Space (Netflix)
This was a reboot that should not have worked on any level. In fact, before the 2018 Netflix version of Lost in Space, there had been two previous attempts to turn the 1965 camp TV show into something more serious (the 1998 movie and an unaired 2004 TV movie called The Robinsons). It seemed that before Matt Sazama and Burk Sharpless took on the project, a "realistic" Lost in Space was doomed. And yet, the series is utterly perfect. Like the BSG reboot, this Lost in Space reinvents the entire show. And yet, it retains the tone of the more earnest black-and-white first season in 1965. Come to see Parker Posey stealing the show, but stay for the robot and the utterly uplifting family saga. — Ryan Britt
22. Arrow (The CW)
Oliver Queen warned his enemies that they failed their city, but Arrow was a triumph. Spawned in the aftermath of the Superman saga Smallville and stylistically inspired by Christopher Nolan's Batman trilogy, Arrow reimagined DC Comics' B-tier archer, the Green Arrow, into TV's premier superhero in a time when vampire romances ruled the YA space. Arrow, which starred Stephen Amell in the lead role for eight seasons, evolved from a gritty superhero drama to the centerpiece of a shared TV universe, with equally popular spin-offs The Flash and Legends of Tomorrow and unforgettable crossover specials never thought possible. The Marvel Cinematic Universe changed movies forever in the summer of 2012 with the release of The Avengers. But in the fall of that same year, Arrow hit the bullseye. TV — and superhero fandom — has never been the same. — Eric Francisco
21. The Tick (Amazon)
Before Amazon took superhero content to daring and disgusting directions with The Boys and Invincible, it was already dabbling in the genre with The Tick. This supremely underrated reboot took what was always basically a superhero parody and transported him into a TV-MA world full of violence, grotesque gags, and cursing. While still goofy and surreal, the reboot also explored more adult themes like mental illness and grief. The two-season show — which deserved at least four or five more installments — is bolstered by career-best performances from Peter Serafinowicz, Griffin Newman, Jack Earle Haley, and Yara Martinez. — Mónica Marie Zorrilla
20. Hanna (Amazon)
Hanna is a 2011 movie that tells the tale of a genetically modified girl and her hyper-vigilant father who keeps her hidden from the dangers of modern-day society. After all, there's a government operative that wants to use her as a super spy in modern warfare.
Eight years later, creator David Farr expanded his film concept as an Amazon original series. Hanna the show fleshed out the father-daughter bond between Hanna (played here by Esmee Creed-Miles) and Erik (Joel Kinnaman), which acts as the emotional foundation of the whole story. Further context is also given to Marissa (Mireille Enos), the government operative with questionable ties to Hanna.
Basically, we should all be grateful Farr took another swing at this concept. The street-level action sequences are riveting and the international locales are jaw-dropping. Hanna is heartfelt as a teenager's coming-of-age journey; it's also a gritty edge-of-your-seat spy thriller. Who said you can't have both? — Aaron Pruner
19. The X-Files
After its premiere in 1993, The X-Files became a phenomenon. The investigations of conspiracy theorist Fox Mulder (David Duchovny) and medical doctor Dana Scully (Gillian Anderson) became appointment viewing. The duo's undeniable chemistry added an extra layer of fun that combined with monster-of-the-week mayhem and an overarching alien conspiracy to create an instant classic.
Although the original run ended with a whimper, the 2016 reboot seemed cause for celebration. Its new conspiracy for the online age and prescient pandemic plot have aged better over the years than its unseemly violation of Scully's bodily autonomy. It hit its stride again in the second reboot season thanks to an influx of new creative talent who infused it with the same kind of wit and weirdness viewers loved about the original. While the reboot remains controversial, it proves that any time spent with Mulder and Scully is time well spent. — Marya Gates
18. The Mighty Ducks: Game Changers
The Mighty Ducks: Game Changers feels like the last word in unnecessary Disney+ reboots. With only Emilio Estevez on board to return in a main role, how would the series restore the nostalgic '90s feel of the original movies? The answer: by rejecting the nostalgia altogether.
It's clear this show was made for the fans of the original to watch with their kids, but it plays to the kids way more than the adults. The genius move of this series is the casting. There's Lauren Graham as the new underdog coach and hockey mom, Letterkenny's Dylan Playfair as a rival coach, and a new crop of genius young talent. Keep an eye out for Maxwell Simkins, who captures an energy as the protagonist's best friend that can only be described as Chris Pratt crossed with Chris Farley. — Dais Johnston
17. Chilling Adventures of Sabrina (Netflix)
Sabrina Spellman, a character from Archie Comics, has had many on-screen incarnations, but none more iconic than Melissa Joan Hart's bubbly Sabrina, who stumbled her way through the horrors of adolescence and then college as a half-witch from 1996 to 2003. In 2018, Netflix ambitiously rebooted the teen witch in The Chilling Adventures of Sabrina, a darker adaptation that still manages to hold onto its sense of humor.
Chilling doesn't always know what to do with its main character (expertly embodied by Mad Men's Kiernan Shipka), but the gorgeously crafted world of blood and magic — if you're gonna go dark, go dark academia! — brings the vibes. The ensemble nature of the story allows for supporting characters like Aunt Hilda (Lucy Davis), Aunt Zelda (Miranda Otto), cousin Amos (Chance Perdomo), and classmate Prudence (Tati Gabrielle) to occasionally steal the show. Hart's Sabrina will always be a T.G.I.F. legend, but Shipka's Sabrina knows how to dance with destiny. — Kayti Burt
16. Highlander: The Series
The original Highlander focused on Connor McLeod (an ageless immortal who can only die when beheaded) and his mission to make sure the murderous immortal Kurgan didn't become "the one." Highlander: The Series kept this mythology — and the banging theme song by Queen — but created a new lead character in Duncan McLeod. The series easily moved between drama, romance, and comedy as it followed Duncan's attempt to live a "normal" life, while also fending off a new enemy immortal-of-the-week each episode.
Along with the weekly baddies, Highlander: The Series also added a bevy of memorable recurring characters and the concept of Watchers (mortal historians who record the lives and activities of the immortals). All of this gave Duncan a much richer characterization and emotional stakes than the films ever allowed Connor. — Marya Gates
15. She-Ra and the Princesses of Power (Netflix)
She-Ra and the Princesses of Power took a time machine from cable TV in the '80s to Netflix in 2018, resulting in a cartoon that sets the original's radiant neon aesthetics into overdrive. This visual deluge of sparkle, princess crowns, and cotton candy clouds could be a deterrent for those who still don't respect animation as a medium worthy of dignification and critique, but She-Ra proves the girly glitter haters wrong with an episodic storyline as grand as it is quietly complex. High-octane, rainbow-hued action sequences are paired with soft moments of contemplation and nuanced relationship progression between friends, enemies-to-friends, and even enemies-to-lovers.
She-Ra is a groundbreaking family-friendly reboot because it doesn't sacrifice reverence and passion for the original series for a modern, vibrant coat of paint. It also introduces more racial and ethnic diversity, an autistic character, and even sapphic romances (yes, plural). 2018's She-Ra may still look like an '80s Mattel Barbie in a red cape, but this iteration of the supergirl is equal parts twinkly and tough. — Mónica Marie Zorrilla
14. Voltron: Legendary Defender (Netflix)
In 2016, a cornerstone of Gen-X nostalgia was revived with flying colors in Netflix's Voltron Legendary Defender. Avatar: The Last Airbender and The Legend of Korra veterans Joaquim Dos Santos and Lauren Montgomery wholly reimagined the technicolor "Defenders of the Universe" of yesteryear from heroic pilots to affable underdog heroes whose bonds are forged in battle against the evil King Zarkon. With whip-smart humor, complex characters, an imaginative sci-fi universe, and dazzling visual designs that blur the lines separating Western animation from Japanese anime, Voltron Legendary Defender single-handedly raised the bar for animation reboots. It's no surprise even more '80s and '90s cartoons followed in its wake and encouraged everyone else to put the time and energy into crafting stories audiences will remember for a lifetime. — Eric Francisco
13. Dororo
Anyone outside of anime historians might not be aware of Dororo, the 1960s ronin fantasy from Astro Boy creator Osamu Tezuka. But even without any knowledge of the original manga or the black-and-white 1969 anime series it spawned, it's hard to deny how awesome the 2019 remake is. Set during the Sengoku period, Dororo follows a warrior named Hyakkimaru who is born cursed without limbs or facial features. Raised by a doctor who fits him with prosthetics, Hyakkimaru discovers that slaying demons helps him to regain his lost body parts. Along the way, he meets a child named Dororo, who decides to join him in his quest.
Dororo is a surprisingly bloody, brutal, and dark story for one created in the 1960s, especially one whose title character looks like a cute lunchbox mascot. But the new Dororo series manages to be a thrilling and moving take on the "lone wolf and the cub" story, featuring a guy who has swords for arms. — Hoai-Tran Bui
12. Hunter X Hunter
The best reboots are a rediscovery, a new angle to the familiar. This 2011 reboot of Hunter X Hunter (an adaptation of Yoshihiro Togashi's original manga about a young boy who sets out to find his father and becomes a famed explorer along the way) is in direct conversation with the 1999 version. Where the earlier anime is slowly paced and hindered by its abrupt end (caused by adapting an incomplete text), the 2011 reboot picks up the pace and speeds to an established ending. Narrative arcs lead to satisfying conclusions, and each character gets the depth and complexity they deserve. It's darker and more stylized. It can be hauntingly violent and surprisingly tender. Ultimately, Hunter X Hunter is the perfect reboot, soaring to heights the previous version could only dream of. — Jael Peralta
11. Sherlock (BBC)
Sherlock may go down in history as a cautionary tale for showrunners not knowing how to wrap up a series, but at the start, it was a pillar of early 2010s fandom. Starring a pre-Hobbit Martin Freeman and a pre-Marvel Benedict Cumberbatch, Doctor Who writers Steven Moffat and Mark Gatiss brought the classic Sherlock Holmes mysteries into the 21st century. The first few seasons are incredible feats, but by Season 4, the plot goes to some truly unhinged places (that includes finally introducing a good female character and then killing her off, introducing a creepy long-lost sibling, and a plane full of dead people). But the show's incredible start makes up for its terrible ending — especially in Andrew Scott's portrayal of Moriarty, one of the best villains of the decade. — Dais Johnston
10. Jack Reacher (Amazon)
Fans of Lee Child's Jack Reacher book series had serious problems with Tom Cruise's portrayal of the character. Jack Reacher is supposed to be a big guy, taciturn and ex-military. His size, around 6-foot-5, makes him unmissable. But his quiet nature — always watching, rarely speaking — allows him to blend into the background. Cruise's star power and lack of vertical ability just clashed with the character as written.
Alan Richter fit the bill perfectly in Amazon's Reacher. Adapted from the first Reacher book, The Killing Floor, the show captures the character's patient energy before things explode — and nails the explosions pretty well, too. Drawn to the small town of Margrave, Texas, because of his love of an old blues musician, Reacher quickly finds himself up to his shoulders in murder and corruption, and those are pretty big shoulders. — David Grossman
9. DuckTales
If we were writing about bad reboots, Velma would be front and center. The unfunny, meanspirited update of Scooby-Doo openly disdained both its source material and its audience, making the ostensible comedy a punishing chore to watch. Velma was especially disappointing because the formula for updating a beloved but hokey cartoon was right in front of it thanks to DuckTales, which diversified its cast and sharpened its sense of humor while not losing sight of the sense of adventure established by its late '80s predecessor. DuckTales understood and appreciated why fans loved its source material, but it also understood what was missing and didn't hesitate to tinker accordingly. It's bigger and bolder but still instantly recognizable, a gold standard in dragging an old property into a new age. It's a shame other creators didn't watch it. — Mark Hill
8. Cobra Kai (Netflix)
On May 2, 2018, Cobra Kai delivered a crane kick to the entertainment industry — but most people wouldn't notice for two years. The Karate Kid reboot launched as a YouTube Red original. But by 2020, YouTube Red was no more. So Cobra Kai made the jump to Netflix, where it became an overnight hit.
Cobra Kai ticks almost all the boxes for a great reboot: It brings back legacy characters, introduces new protagonists, and (most importantly) redefines the original. In Karate Kid, Johnny Lawrence is the undeniable villain, an Aryan jock who bullies new kid Daniel LaRusso. Cobra Kai flips that dynamic, turning Johnny into an underdog hero and Daniel into the jerk — before bringing them together to fight a bigger threat.
Cobra Kai will end with Season 6, but the Karate Kid Cinematic Universe shows no signs of stopping. The show's legacy may be relaunching a franchise that outlives even the original Lawrence-LaRusso feud. — Jake Kleinman
7. Samurai Jack Season 5
If your answer to the question "Is there any way to improve Samurai Jack?" is "absolutely not," well, you're not wrong. But what if I told you the answer was: give Jack a love interest?
Eleven years after the beloved cartoon ended, visionary animator Genndy Tartakovsky returned for Samurai Jack Season 5. Set 50 years after the finale, this grittier reboot reveals a version of the time-traveling samurai now unable to age. Jack is haunted by his many losses, and endless battles with the demon king Aku have driven him to madness.
Samurai Jack Season 5 features the stunning animation and epic fight scenes you'd expect, all cranked up to 11. That's especially true in the first few episodes, where Tartakovsky choreographs battles more epic and frenzied than anything before. The reboot never forgets what made the original series so great, but it's not afraid to pull away a few layers to reveal what's been exposed by the passage of time. — Allyson Johnson
6. Fullmetal Alchemist: Brotherhood
Imagine if 20 years from now, after an artificial intelligence based on George R.R. Martin's brain finally finishes "A Song of Ice and Fire," HBO filmed a new version of Game of Thrones that followed the source material to a tee and (miraculously) made everyone happy. That's basically the premise of Fullmetal Alchemist: Brotherhood.
Where the original Fullmetal Alchemist anime about a pair of brothers searching for the Philosopher's Stone had to make up its own ending after racing past the manga, Brotherhood has the luxury of knowing how the story would end. Combine that with kinetic fight sequences full of science-fiction and combat choreography and impressive worldbuilding and you have one of the best reboots of all time, anime or otherwise. — Allyson Johnson
5. Fargo (FX)
How do you turn one of the greatest crime films into a TV show without making it feel like a lazy cash grab? If you're Noah Hawley, you take all the same ingredients that made Joel and Ethan Coen's Fargo so unique and use them to create entirely new meals. Indeed, FX's Fargo has all the black comedy, hammy Midwest accents, and unflinching violence as its 1996 parent film, and it's used those elements to tell some of the most engrossing ensemble crime stories of the past 10 years. The series does so while also packing in more than a few nods to the Coen Brothers' other work, including No Country for Old Men and, most hilariously of all, The Big Lebowski. Fargo has, consequently, emerged as both a stunningly well-made crime series and a loving tribute to the artists responsible for its existence. — Alex Welch
4. Doctor Who
Doctor Who is one of the greatest TV reboots of all time, in the purest sense of the word, because it managed to turn a pop culture joke into a pop culture behemoth. Revived in 2005 by Russell T. Davies, Doctor Who had been off the air for 16 years (nine, if you count the widely hated TV movie) and had long been considered the U.K.'s national embarrassment — a creaky, cheesy, and cheap sci-fi series that paled in comparison to its more prestigious American counterparts.
But the 2005 revival reintroduced the Doctor to the modern TV age as Christopher Eccleston's world-weary survivor. He was followed by David Tennant's dashing adventurer, Matt Smith's childish trickster, Peter Capaldi's troubled antihero, and, most recently, Jodie Whittaker's bubbly explorer. Though it's had its highs and lows, the Doctor Who revival managed to restore the series to its former glory, and carve out a space for itself as a singularly hopeful show in an increasingly crowded sci-fi landscape. — Hoai-Tran Bui
3. Twin Peaks: The Return
Expectations surrounding Twin Peaks: The Return were high, to say the least. Coming 26 years after David Lynch and Mark Frost's original TV series was cut short in 1991, fans hoped The Return would provide the closure they'd long been denied. The limited series did just that — in fittingly subversive fashion.
Directed by Lynch, The Return is a headfirst dive into the dreamy surreality of a world that never feels the need to explain itself. Across its 18 installments, the miniseries features some of the most original and haunting images ever seen on television before culminating in an ending that defies all expectations. It's a conclusion that, in true Twin Peaks fashion, only grows sadder and scarier the more you think about it — like a dream that you just can't seem to shake. — Alex Welch
2. Battlestar Galactica
After a successful run as a producer on Star Trek: The Next Generation and Deep Space Nine, Ronald D. Moore partnered with David Eick to resurrect a 1978 sci-fi TV show that most people barely remembered. With a dash of Blade Runner and an impressive amount of original world-building, they constructed an entirely new version of Galactica. The result became not only one of the best reboots of all time, but one of the best science fiction shows, period. Haters will say that everything falls apart in the third season, but even if that's true, it barely matters. Bad Battlestar is still better than good versions of most other things. — Ryan Britt
1. Star Trek: The Next Generation
Star Trek: The Next Generation is the greatest reboot, not because it's the best or most perfect show of all time but because it did what Star Trek always does at its best. It strove to be more than it was, yet never forgot what makes it unique. It doesn't matter if it doesn't reach its ultimate goal, the effort yields its own rewards. — Jesse Earl
👉 Read Jesse's full essay on Star Trek: The Next Generation 💫