Amazon Keeps Selling Out Of These Weird & Fascinating Products With Near-Perfect Reviews
From better brownie pans to a pillow with 200,000 reviews.
Written by Rachel Bar-Gadda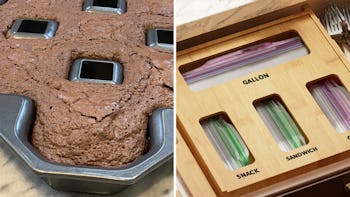 Amazon
We may receive a portion of sales if you purchase a product through a link in this article.
The word "weird" gets a bad rap, but some of the weirdest products are actually low-key gems that can solve a variety of issues or satisfy a craving you didn't even know you had. If you've ever wondered: Why can't there be more crispy corners when you bake brownies? Keep scrolling to find the strangest, coolest brownie pan designed with three times as many corners. Maybe you're frustrated with constantly dropping crumbs in between appliances; say hello to a stove gap cover you can cut to size.
Prepare to see "weird" in a whole new light. These are among the weirdest, most fascinating products with near-perfect reviews that Amazon can't keep in stock.
This article was originally published on