Ahsoka's Release Date May Be Sooner Than You Think
A look at Disney+'s fall schedule reveals some likely possibilities.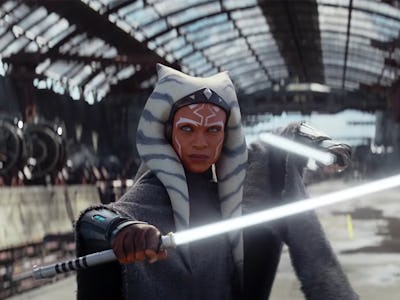 Lucasfilm
We're only a few months away from the premiere of Ahsoka, yet the show has no firm release date. Thanks to the teaser trailer, we know the series will premiere in August, but just when is unclear. Several sites have claimed the date is August 31, but those claims appear unfounded.
So just when can we expect Ahsoka? A possible release date can be found by looking at Disney+'s fall schedule. Disney has never scheduled a Star Wars live-action show and a Marvel live-action show at the same time. Both franchises are huge tentpoles, so avoiding overlap makes good sense.
Ahsoka's August release date is sandwiched between two Marvel series: Secret Invasion, which begins on June 21 and ends on July 26, and Loki Season 2, which begins on October 6. If Ahsoka airs on Wednesdays like most other Star Wars series, it could start as early as August 2 and end as late as October 4 without bumping into a Marvel show.
Ahsoka is eight episodes long, and there's been no indication that we'll get more than one episode a week. So, using a little advanced calculus, Ahsoka will take up eight weeks on Disney+'s schedule. If we count back from October 4, the latest possible release date to avoid an overlap with Loki Season 2 is August 16.
That only allows two days between the finale of Ahsoka and the premiere of Loki, which isn't a lot of time for the hot takes to simmer and anticipation for Loki to build. If Ahsoka ends the week before to space the shows out a little more evenly, it would end on September 27 and premiere on August 9. Alternatively, if the series starts the week after Secret Invasion ends, the premiere date would be August 2.
August 9 makes the most sense for two reasons. First, it provides a good buffer on both sides of Secret Invasion and Loki. Second, it's the closest possibility to a date with sentimental significance: August 15 is the 15th anniversary of The Clone Wars, the animated movie where Ahsoka made her debut.
We're making educated guesses here; the release date for Ahsoka is ultimately still a mystery, especially if Disney+ decides to experiment with changing its usual Wednesday release schedule. Still, it's improbable Ahsoka will release on August 31. It's likely coming earlier, and we're putting our chips on August 9. If we're right, this is a little good news for fans who have been waiting since the series was announced in December 2020.
Ahsoka is premiering on Disney+ in August 2023.
INVERSE may receive a portion of sales if you subscribe to Disney+ through the link in this article.