Star Wars' Lightsaber Fights Are About to Return to What Made Them Great
Ahsoka just brought on a stylish combat expert to liven things up.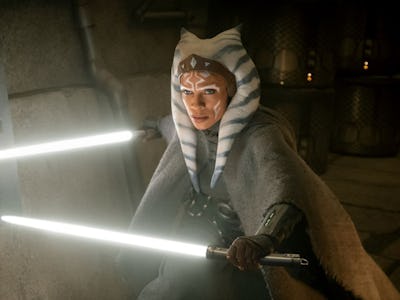 Lucasfilm
Ahsoka is bringing back much of what makes Star Wars popular with fans, from Rebels characters like Hera and Sabine, infamous Legends villain Grand Admiral Thrawn, and plenty of lightsabers. But another familiar Star Wars figure has returned behind the scenes, and their presence is great news for prequel fans. Yes, they do exist.
Ahsoka Tano is known for her dual-wielding combat style, called Jar'Kai in the canon. It requires a lot of training both in-universe and on set, but Ahsoka actress Rosario Dawson was prepared. "There was definitely a moment a few months into the training where I just felt it land in my body in a way," she told Entertainment Weekly's Dagobah Dispatch podcast. "I remember when it clicked in where I really felt grounded in her and some of the stuff started feeling more familiar and seamless. That's when I really felt like I locked into Ahsoka."
That "click" wasn't achieved alone. Dawson credits Ahsoka's stunt coordinator Ming Qiu, who worked with her and Natasha Liu Bordizzo, who will also be wielding a lightsaber as Sabine Wren. Qiu is no stranger to Star Wars. She was a stunt double for Ming-Na Wen in The Mandalorian, but her most prominent role was actually in Obi-Wan Kenobi.
Qiu played Jedi Master Minas Velti in the first moments of Obi-Wan Kenobi, the Jedi who tries to protect the younglings from Anakin's rampage. It was a small role, but one that showed off her skill as a wushu master capable of showing off engaging lightsaber combat.
Qiu's involvement in Ahsoka means we'll likely see more prequels-era-style lightsaber combat. The Mandalorian, Disney+'s flagship Star Wars show, has lacked that exciting element. We've seen a lightsaber against a Beskar spear, we've seen Luke Skywalker knock Moff Gideon's troops around with his Force powers, and we've seen Din Djarin clumsily wield the Darksaber, but there hasn't been a straight-up lightsaber fight that can stand alongside the duel on Mustafar in Revenge of the Sith. The Mandalorian doesn't need lightsabers, but these near misses felt like teases.
Obi-Wan Kenobi, to be fair, ended in a brutal duel, but that was the climax of the series. Ming Qiu's involvement in Ahsoka, and the very premise of the show, suggest that we'll be awash in lightsaber wielders looking for battles, like the prequel movies featured. Ahsoka and her allies will have lightsabers. Ray Stevenson's mysterious new villain has a lightsaber. The formula writes itself.
Ahsoka is plucking several elements from Star Wars' past, and flowing lightsaber battles that harken back to the elaborate fights of the prequels appear to be no exception. Those were often the highlights of their movies, and now Star Wars can look back and grab them while moving on from what didn't work about the prequels, which was pretty much everything else.
Ahsoka premieres on Disney+ in August 2023.