New Marvel Show Will Repeat WandaVision's Best Idea, Set Photo Reveals
A confusing image — and a new title — promises a similar tone for the upcoming spinoff.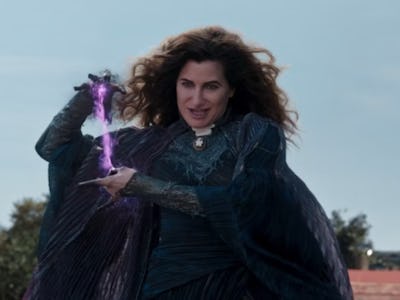 Marvel Studios
Saying Agatha: Coven of Chaos is a mysterious show would be a massive understatement. The WandaVision spinoff following nefarious witch Agatha Harkness has undergone a title change, a release date change, and multiple confusing leaks, and that's not stopping now. While the series is not slated for release until next year, a new picture from the set throws a wrench in the works — but also reassures fans that WandaVision's influence is still sticking around.
Coven of Chaos star Aubrey Plaza threw fans for a loop when she posted an Instagram story featuring her Coven of Chaos chair back. Chair backs are the fabric backrest on those classic director's chairs, and they're often customized with the show title and taken from the set as a souvenir.
Plaza's chair back, however, didn't read "Agatha: Coven of Chaos." Instead, it read "The Darkhold Diaries," in reference to the book featured in WandaVision and Doctor Strange in the Multiverse of Madness.
So could this be another title change? Probably not, after all the Darkhold was destroyed at the end of Doctor Strange in the Multiverse of Madness, so it's unlikely it'll play a big role in this series.
A closer look at the logo reveals it bears a striking resemblance to the logo of the iconic early 2000s Disney film The Princess Diaries, down to the tiny "Marvel Studios" in the Disney font up top. It's not the first time a chair back has referenced another famous female-led story.
All the way back in January, fellow Coven of Chaos star Joe Locke shared his own Instagram story of a chair back, this one reading "Agnes of Westview." It seemed innocuous at first, but when you compare it with the logo of 2021 murder mystery series Mare of Easttown, it's obvious it too is a parody.
It's possible that these are in fact titles, but will be episode titles instead of the series title, much like how WandaVision used multiple title sequences that fit the classic TV parodies throughout the season. Maybe this spinoff simply broadened the scope of its premise to parody all sorts of media, not just classic sitcoms.
But even if these parodies are just an on-set joke, it's great news for fans of WandaVision. It means that the sense of parody and homage hasn't left, and Coven of Chaos will carry on WandaVision's legacy, though definitely with some more chaos.
Agatha: Coven of Chaos will premiere on Disney+ in 2024.