Adam Brody Lets The Muscle Suit Do The Work
From the beginning, Adam Brody's always made it look easy. Here, the Shazam 2 star riffs on the franchise's future, making his peace with The O.C., and the lessons he's learned since then.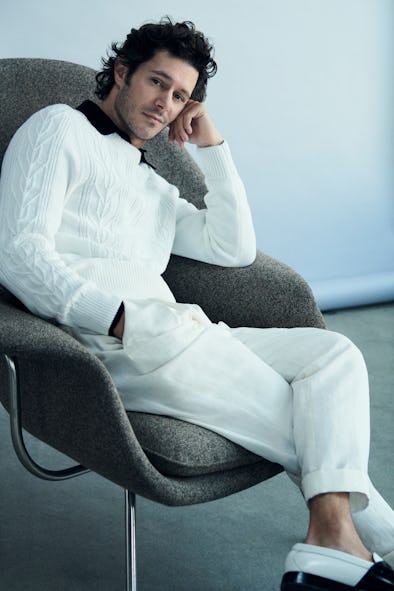 For Adam Brody, it all starts with Batman. "I remember taking a leak and, on my parents' toilet tank, was the folded calendar section for the LA Times, and it's Michael Keaton as Batman," he says. "The image stayed with me as much as the poster for RoboCop in the video store." He was 9 years old when Tim Burton's Batman came out. From there, he started reading the early '90s comic books: Batman, X-Men, and Marvel stuff too. "Death of Superman was big around that era. They killed Superman. That was a big deal. And the death of Robin was big for me. Then I also was around at the launch of the Image comics, so Spawn was huge." Later, around age 20, Brody graduated to graphic novels, like Watchmen, while still reading some monthly Spider-Man stuff.
So when it comes to spending time in the DC Universe, as superhero Freddy in the Shazam! franchise (part two, Shazam! Fury of the Gods, is out Friday), Brody is right at home. "I feel like I sort of have it in my bones," he tells me.
Talking about comic books and superheroes, Brody sounds a little like Seth Cohen, the nerdy, lovelorn dreamboat he played on The O.C., who reads The Amazing Adventures of Kavalier and Clay in the first season. But, when I interviewed the actor a few years ago, he had no real interest in revisiting the beloved teen dramedy. He was promoting an indie film he'd recently shot, The Kid Detective, in which he played a former child prodigy grappling with his lost potential. It seemed like an inversion of the public image he'd developed on The O.C., but, at the time, Brody confessed he could only remember rewatching the pilot and the final episode, just to show a friend how much the series evolved over its four-year run.
Today, Brody seems more comfortable with who he used to be. The 43-year-old is visiting New York from Los Angeles, where he lives with his wife, actor Leighton Meester, and their 7-year-old daughter and 2-year-old son. As we slide into a corner table at the Whitby Hotel in Midtown, he's very much the Adam Brody that millennials grew up with on their television screens every Thursday night, but he has a thoughtful, almost meditative presence about him. He's open about his career and the performances of his that he doesn't think are great. He's even managed to watch a few episodes of The O.C.'s first season in the couple of years since we last spoke.
"I think once you've put a decade or two between you and the thing, and have another body of work that you feel like could speak for you as much as that, then it's a little more comfortable to talk about. When you're trying to establish yourself past that and try to transcend it, then you don't want to harp on it every time," Brody says. He pauses. "I know I was certainly that way. And I'm still a little that way. I don't want it to take over every interview I do because I want to talk about new stuff that's interesting to me."
"I wanted the cloak and dagger, CIA, there's a stack of nondisclosure agreements and we're going to train you every day, and this is super top secret, and here's our 10-year plan. But it was pretty casual."
And there's quite a bit of new stuff to discuss. Brody is in what some might call a career renaissance, thanks to starring roles in the critically acclaimed FX divorce dramedy Fleishman Is in Trouble and the Shazam! franchise. In Fury of the Gods, Brody plays the adult, superhero form of Freddy Freeman, the physically disabled, comic book-obsessed foster brother of Zachary Levi's Billy Batson. Freddy's origin story is pretty simple: In the first installment, Billy — who changes into the superhero Shazam when he utters the phrase, "Shazam!" — shares his powers with his foster siblings, transforming young Freddy (as played by Jack Dylan Grazer) into Brody's handsome, swole alter ego.
When some actors join a superhero film, their lives become confidential, to the point that journalists asking questions about their work can feel like they're uncovering government secrets. But for Fury of the Gods, not so much. "I wanted the cloak and dagger, CIA, there's a stack of nondisclosure agreements and we're going to train you every day, and this is super top secret, and here's our 10-year plan," says Brody. "But it was pretty casual. The truth of the matter is, they fit you in a muscle suit, and that does, pun intended, all the heavy lifting. So as long as you're not too bloated, your muscles are going to look fine."
Brody describes shooting Fury of the Gods as "a lot more fun, a lot more pleasant" than the first Shazam! "The first one, they had been filming for a while when [the adults] came in." The foster kids in the film don't gain their powers until the final battle sequence, so he, Meagan Good, Michelle Borth, Ross Butler, and D.J. Cotrona weren't around for the majority of shooting. "It was an icy cold shoot, and, I mean, these are such mundane details, but literally the suits were a lot less comfortable the first time around. We were kind of coming in in the end and slotted in, saying a few lines... I didn't feel as much a part of it," Brody explains.
This time around, he and the other Shazam! adults have a bigger part to play, and they were all acquainted with each other and the director, David F. Sandberg. "It was a breezy, fun shoot. On these big sets, the budget's bigger, so I had the thrill of just being on even larger sets," he explains. "I'm not in big stuff that often, so just the scope of it was fun. I felt like I had a little more room to play and a little more authority to do so."
Shazam! is naturally a more laid-back story in the DC cinematic cosmos, intended as a side dish to the meat-and-potatoes storylines that revolve around Superman, Batman, and Wonder Woman. But Brody's casual nature around Fury of the Gods might have something to do with the fact that this film was in the can before new DC Studios heads James Gunn and Peter Safran publicly laid out a plan to reboot the universe — one that had grown disjointed, and plagued with a few flops — by streamlining the films, television series, and video games into a single, Marvel-style universe. Brody says that, "as a fan," he's excited about the prospect of DC rebuilding with Gunn and Safran at the helm. But he's characteristically clear-eyed when it comes to superhero Freddy's potential involvement in DC's future. "I mean, it's pretty simple: I think if [Fury of the Gods] makes a lot of money, we'll do more. And if it doesn't, they won't."
Brody's equally candid and contemplative about his own career. He broke out by starring on an immensely popular teen soap, and 15 years after the fourth and final season aired, he's aware that it's still where most people know him from — that he can't escape the ghost of Seth Cohen. Wisely, and to much recent success, he's used that to his advantage. "I've calmed down a lot," he says. "I feel like I have so much more confidence, dare I say, a little gravitas and, you know what I mean? With some age, with some seniority, and with the idea that I don't have to do much. Less can very often be more." Brody's actively chosen to play with audiences' expectations, portraying a disillusioned alcoholic in the 2019 thriller Ready or Not and then a grizzled former teen detective in 2020's The Kid Detective.
The latter film is actually what inspired Fleishman Is in Trouble creator Taffy Brodesser-Akner to cast him in her series, as another character named Seth. Fleishman's Seth is the charming, womanizing jerk who's best friends with Jesse Eisenberg's newly-divorced dad Dr. Toby Fleishman. Brodessor-Akner wanted someone who could play a bro who was too smart to fully dismiss. "What I know about Adam is his intelligence," she says. "He was the first person that occurred to me." Because studios tend to question casting preferences, Brodesser-Akner wanted proof, and she came upon The Kid Detective. She loved how Brody handled the subversion of his character's history of being a beloved boy. She says people rave to her about Brody's performance in Fleishman. "People always say what a revelation he is. I don't know why he wasn't in everything." She wanted to do a Fleishman episode that focused entirely on Brody's character. "All I was thinking about was what I could do with him as a standalone star."
What Brody brings to the role is what he's brought to every role since we first met him: a kind of humor where the joke isn't in the line or the mugging but in the ease. "Look, the truth of the matter is any really good actor is very funny," says Brody. But according to his co-star Eisenberg, Brody's understated humor is uniquely suited to a show like Fleishman, which sometimes required sacrificing funny jokes so they wouldn't undermine the reality of the drama. As Eisenberg puts it: "Adam is a great comic actor because he never compromises what is real about his character to serve a joke."
Brody traces his strain of gallows humor back to Vince Vaughn's performance in Swingers, which he rediscovered as a young, struggling actor. "I was like, 'Oh, my life is glamorous. My shitty Hollywood apartment is the coolest apartment in the world,'" he recalls. "And so I was consciously trying to study his delivery, and that's where I got the idea of, oh, improvising's a very hip thing to do."
I ask if Brody ever considered improv or sketch comedy. "No, never," he says. He's enjoyed chances to work with Nick Kroll and John Mulaney, but he sees himself as part of a different Hollywood family tree. "I came to LA to try and be in Scream or American Pie, you know what I mean? Or Can't Hardly Wait, or all the high school ensembles." He pauses. "I suppose I could go to Groundlings," he says, and then he laughs. "I'm not going to."
I remind Brody that he actually did book Scream, the fourth film in the franchise, and the last directed by Wes Craven before Matt Bettinelli-Olpin and Tyler Gillett — the duo who directed Brody in Ready or Not — took over the helm.
"It was very anticlimactic for me, to be honest," Brody admits. In the film, he plays Deputy Ross Hoss, who's partnered with Anthony Anderson's Deputy Anthony Perkins. Brody has about two scenes before he and Anderson are murdered outside their car by Ghostface. "I really liked working with Anthony. But, for me, it was a thing of… I was cast last. It was literally Bob Weinstein going, 'I got two more parts in here, give me two more celebrities.'" (The former Miramax Co. co-chairman could not be reached for comment on celebrity ensemble casting.)
Brody remembers being thrilled to be in the vicinity of Wes Craven, even though their one interaction left something to be desired. "This is fair because, like I said, I don't even think he hired me, but I think I tried to throw in an improv or something, and he's like, 'This is the one scene that Kevin Williamson wrote, so let's just leave it.' [...] I don't remember what I was trying to improv, but it probably was weak. So yeah, on the one hand, it's cool. But on the other hand, it actually doesn't feel like I'm in a Scream movie or a franchise. And so, it's kind of, it was a job."
To some actors, "it was a job" might be code for failure or disillusionment. But, after over 20 years in the industry, and especially after becoming a father, Brody finds "there's a joy and a happiness in just having a job and providing." He adds the appropriate caveats about how fortunate he is to have such a fun, cushy, well-paid job. But thinking about acting as a job, Brody says, "frees me up a little bit from self-obsessing over my image, if you will, and gives me a stronger reason just to get to work one way or another."
Top image credits: Canali sweater and pants, Filippa K shirt, G.H. Bass shoes
Photographs by Matthew Brookes
Styling by EJ Briones
Set Designer: Jan Appleton
Grooming: Kim Verbeck
Production: Camp Productions
Talent Bookings: Special Projects
Video: Samuel Schultz
Photo Director: Alex Pollack
SVP Fashion: Tiffany Reid
SVP Creative: Karen Hibbert