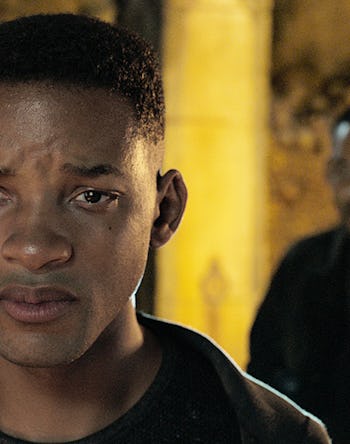 Inverse Codex
Gemini Man release date, cast, plot, and box office of the Will Smith sci-fi film
Ang Lee's latest movie pits Will Smith against his greatest enemy yet... Will Smith. Here's everything we know.
This article about the film Gemini Man was originally published on September 30, 2019 and updated on June 6, 2021 following the movie's release. Read on for the original article, with some new changes to reflect the latest updates on this topic.
Forget the Avengers. Forget the Skywalkers. The biggest action-packed spectacle of 2019 was Gemini Man. Starring Will Smith and Will Smith (more on that in a bit), the latest movie from Oscar-winning director Ang Lee and Paramount Pictures tells the story of the world's greatest assassin who finally meets his match — a younger clone of himself.
To pull this off, Paramount worked with WETA, the special effects workshop co-founded by Peter Jackson, to create a perfect digital copy of Will Smith that's just as believable as the real thing — and 30 years younger. It's an unprecedented step forward in movie-making technology, used to further a story that wouldn't be possible without it.
Combine that cutting-edge visual effects with the Fresh Prince of Bel-Air star, now at the height of his powers as an actor, and the visionary style of Lee (Life of Pi, Brokeback Mountain), and you get an action-thriller unlike anything seen before.
Here's everything you need to know about Gemini Man, from its release date and all the latest trailers to how Ang Lee created an "avatar" of young Will Smith.
When did Gemini Man release in theaters?
Gemini Man was released on Friday, October 11, 2019.
How was Gemini Man filmed differently?
Gemini Man was shot on specially modified 3D cameras at 120 frames-per-second. (The industry standard is just 24 FPS.) The combination of 3D and 120 FPS brings an incredible amount of detail to each shot, along with some of the most vibrant colors I've ever seen in a movie. Don't expect the usual 3D gimmicks, just a beautiful movie that's worth seeing on the big screen.
As Brent Lang of Variety put it after seeing the movie: "Gemini Man makes a compelling case for 3D and high-frame rates, particularly when it comes to action sequences."
At a press event, producer Jerry Bruckheimer helped explain what sets Gemini Man apart from a visual perspective.
"Ang did it at 120 frames," Bruckheimer said. "So you see every little thing. When you see this film, it's lifelike."
Are there any behind-the-scenes videos for Gemini Man?
Paramount worked with the Gemini Man team to offer an inside look at the cutting-edge technology and filmmaking behind the new movie. First up, here's a seven-minute documentary from Will Smith that reveals how he worked with Ang Lee and WETA to create a realistic virtual version of his younger self.
We've also got a behind-the-scenes video featuring interviews with executive producer Jerry Bruckheimer, technical supervisor Ben Gervais, VFX supervisor Bill Westenhofer, and none other than Ang Lee himself. It's all about how the new technology developed for Gemini Man is pushing the industry forward and makes for a fascinating watch.
Finally, here's a third featurette from Paramount that includes interviews with Will Smith, Bruckheimer, and Lee all talking about how this new movie-making technology makes it possible to tell a story unlike anything seen before in cinema.
Is there a trailer for Gemini Man?
Yes! Check out an action-packed trailer presented from the older Will Smith's perspective. This 2-and-a-half minute video offers a taste of some of the movie's thrilling action and a close-up look at the cutting-edge tech used by director Ang Lee to create a younger Will Smith for Gemini Man.
What's the plot of Gemini Man?
Gemini Man stars Will Smith as Henry Brogan, a skilled assassin who's reached the end of his career. Henry soon learns that his old boss, Clay Verris (Clive Owen), has sent a younger assassin to retire his old student, permanently.
The big twist (or, at least, the first big twist) comes when Henry discovers that his would-be assassin is actually a younger clone of himself, called Junior. Trained by Verris, Junior is a faster, headstrong version of the original who can predict Henry's every move.
What happens next? We can't say for sure, but what we do know is that Gemini Man poses an age-old question in an innovative new way only made possible thanks to the latest filmmaking technology. At the end of the day, what wins out: youth or experience?
You'll have to watch the movie to find out.
Wait, how did they make Will Smith look so young?
De-aging is nothing new in big-budget blockbusters, but Gemini Man isn't utilizing the same tricks used by Marvel to make Samuel L. Jackson look young in Captain Marvel. Instead, Paramount worked with WETA to create an avatar of young Will Smith that looks way better than any of the de-aging we've seen before.
"It's not de-aging," Smith told the audience at a Gemini Man preview event attended by Inverse. "The young character is not me. That is a 100-percent digitally created character. They didn't take my image and stretch some of the lines. It's a completely CGI character the same way The Lion King is CGI. They're using my performance to create the CGI elements. The skin is CGI. That's not my skin."
To create this "avatar," as Smith calls it, VFX engineers at WETA analyzed countless hours of footage of the actor as a young man. This wasn't too difficult, considering Smith starred in 148 episodes of The Fresh Prince of Bel-Air between 1990 and '96 while also leading countless movies as a rising star in Hollywood.
However, Smith's early success also meant Junior has to look just right. Otherwise, audiences will spot any discrepancies from a mile away.
"It just made it much more difficult," said Bruckheimer at the same event. "A lot of you remember Will when he was 20 on Fresh Prince. You have a memory of what you're looking at."
To film the scenes with Junior, Smith wore a full-body mocap suit and had his face covered in a matrix of dots. This allowed Ang Lee to track every facial expression and transpose it onto Junior.
But that wasn't all; Lee also made sure that the two versions of Will Smith felt different by making sure the actor performed like his 20-year-old self while playing the younger clone character.
According to Smith, Lee demanded a "less good" performance. He would show Smith old footage of himself on set and say, "That's not good. I need you to do that."
What should I watch to prepare for Gemini Man?
If you're not acquainted with Ang Lee, well, you've got some catching up to do. Start with Life of Pi and work backward to Brokeback Mountain, Crouching Tiger, Hidden Dragon, and even Hulk (yes, the Eric Bana one; it's better, or at least more interesting than you remember.)
As for Will Smith, you could watch his old performances 24/7 from now until Gemini Man's October release and barely scratch the surface. For a refresher on young Smith, watch a few old episodes of The Fresh Prince of Bel-Air. Some personal favorites include "Papa's Got a Brand-New Excuse" (Season 4, Episode 24), "Banks Shot" (Season 1, Episode 22), and "Viva Lost Wages" (Season 6, Episode 8). Finally, if you're more in the mood for action movie Will Smith, check out Bad Boys, Men in Black, or Independence Day.
How did Gemini Man do at the box office?
Despite its technological achievements, Gemini Man was, for all intents and purposes, a box office bomb. It grossed 48.5 million in the United States and Canada, and $124.6 million in other territories, for a worldwide total of $173.2 million.
What did critics have to say about Gemini Man?
Gemini Man has a 26% rating on Rotten Tomatoes, a score of 38 on Metacritic, and a B+ on CinemaScore. Though critics enjoyed the performance(s) of Will Smith and impressive visuals, the script was near-universally panned.
Gemini Man hit theaters on October 11, 2019.
This article was originally published on