Building an American Sitcom-Style Writers' Room in Cardiff Could Save Doctor Who
New showrunner Chris Chinball is reportedly floating the idea of hiring a full time writing staff to pen the 2018 season.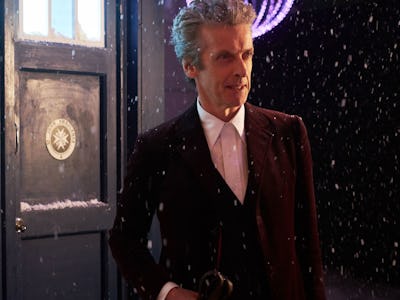 Digital Spy
Rumor has it that one of the biggest changes new Doctor Who showrunner Chris Chibnall plans to make will happen behind the camera. The former Broadchurch boss is apparently kicking around the idea of hiring a writing staff to pen the 2018 season. If that doesn't sound like apostasy to you, you're probably American. Doctor Who and many of Britain's most popular shows have traditionally followed a more auteur-centric one-writer model. Where Hollywood has writers' rooms, Cardiff has generally just had a Steven Moffatt type.
In the traditional British system, a head writer constructs the story arc, plots out the season's episodes, and then either writes the scripts him or herself, or delegates an episode or two to an individual writer of their choosing. In essence, a good chunk of British TV is done by freelancers and sub-contractors: Writers aren't employed by the network, but can be designated by the show-runner on a per-episode basis or pitch the episodes on a one-off basis.
For the BBC, hiring a full time staff of writers for any particular program has traditionally been seen as wasteful. But it also allows for longevity. For instance, Ricky Gervais's The Office ran for two six-episode seasons before Gervais stopped scribbling. Stateside, Jim and Pam stayed in Scranton for a robust 201 total episodes over nine seasons. The pay-per-episode model allows the networks to save on the costs of staffing, but also creates an situation where the best writers can juggle numerous projects at once instead of being locked into a series of exclusive short-term contracts.
For current Who show-runner Steven Moffat, the system is advantageous not only because it allows him complete autonomy to cherry-pick the episodes he wants to write, but also because it allows him to have rock star writers like Mark Gatiss, former Torchwood scribe Sarah Dollard, or even American Gods author Neil Gaiman, to come pitch hit. Many fans have grown to appreciate the unique styles the different writers bring to the Whoverse; over the past 10 seasons, the rotating roster of guest writers has become an appreciated part of the show's ethos.
Calling in a pro like Peter Harness can be the difference between a routine romp with otherwise mediocre villans, and a poignant 2 episode political manifesto. A mid-season Mark Gatiss-penned episode is always a welcome relief, not only because of the Sherlock star's story-telling prowess, but because it offers a break from Big Boss Moffat's often [over-the-top timey-wimey trolling] (https://www.inverse.com/article/6576-steven-moffat-trolls-dr-who-critics-for-all-the-best-reasons).
However, the move to a more Americanized full-time writing staff makes a lot of sense as the show heads into its 11th season. As ratings in Britain continue to slump, and there are even rumors of a bureaucratic push to bump the BBC's flagship sci-fi series out of it's Saturday night time slot, Doctor Who relies more and more on its popularity with American audiences. An American system of production may lead inevitably to a more American product. And maybe that's fine.
While die hard Who fans have come to appreciate guest writers, one-off episodes that don't fit in with a season's main story arc can feel a bit disjointed. Imagine if three or four episodes of every Breaking Bad season had been about skiing; people would have been pissed. The most popular shows in the U.S. typically have a core group of writers where every episode is created to further the central running narrative. Plus, at 12-15 episodes per season, Doctor Who already has a production schedule similar to many American shows; it makes sense that the writing process would start to follow suit.
Though not quite the control freak Steven Moffat could be at times, Chibnall has already committed to mapping out Season 11 and writing a good chunk of the episodes solo. Investing in a small, full-time writing staff could keep Chinball's overall narrative consistent and focused, while still offering enough varying styles to keep Doctor Who from feeling canned.