You're Missing Out if You Haven't Tried These Things People Call Their Most Amazing Finds of the Year
The sorts of products you'll wonder how you lived without.
by Christina X. Wood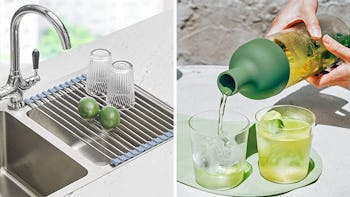 We may receive a portion of sales if you purchase a product through a link in this article.
You know that feeling when you order something from Amazon and receive an item that changes your world? Maybe it's a small thing to others. For example, perhaps you finally discovered the tool that makes it super fast and easy to remove pet hair from your couch, pants, and desk chair so you don't have to be that person that's always covered in fur. Or you bought some paint on a whim and — three hours later — are living in a beautiful home and you don't know how you got there.
I have selected some such stories from the commerce editors at Bustle and plucked some from the reviews on Amazon. Because, right after having a transformative experience with a product, you'll probably tell your coworkers (or everyone you know) about it. When they are tired of hearing it, you will tell your tale in the reviews, as many have done before you. That's how the cycle goes! So read on, and don't miss out on these fabulous things people call their most amazing finds of the year.
This article was originally published on