The Most Underrated Sci-Fi Show of the Decade Is About to Leave Streaming Forever
A cleverly written and beautifully shot sci-fi mystery is at your fingertips, but not for long.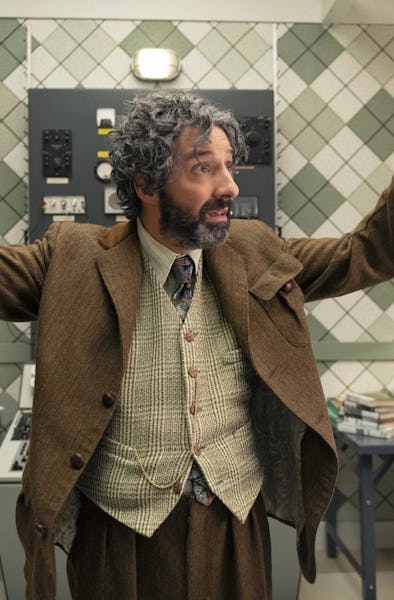 "Kids' shows" are often lumped together and deemed equally mindless, but that couldn't be further from the truth. Television needs to win over parents as much as children — just ask any parent for their opinion of Bluey vs. Cocomelon — and telling a story that's sophisticated enough to keep parents engaged yet simple enough for even the youngest kids is a balancing act that few shows can master.
One Disney+ series nailed this tightrope walk with some all-time comedy greats, a fascinating story akin to A Series of Unfortunate Events, candy-colored aesthetics, and beautifully composed cinematography that feels straight out of Moonrise Kingdom. Unfortunately, it's about to leave Disney+, but it's perfect for a last-minute binge.
The Mysterious Benedict Society, based on the book trilogy by Trenton Lee Stewart, follows Reynie (Mystic Inscho), a brilliant orphan who takes an admission test for a new academy. After a series of puzzles, self-referential tests, and logical conundrums, it's revealed the tests were set by Mr. Nicholas Benedict (Tony Hale), who's looking to stop a huge conspiracy known only as The Emergency.
Reynie is joined by George "Sticky" Washington (Seth Carr), who has an eidetic memory, Kate Wetherall (Emmy DeOliveira), a resourceful girl who carries a bucket of tools everywhere she goes, and Constance Contraire (Marta Kessler), a fellow orphan as brutally honest as she is smart.
The villain is Dr. L.D. Curtain, also played by Tony Hale, who's looking to control the world through hypnotism. Over the show's two seasons, the hunt to stop Curtain takes our heroes across the globe, where they meet interesting figures and come up with harebrained schemes using problem-solving and teamwork.
But this isn't a Saturday morning cartoon where the status quo is perpetually reset. Each chapter has huge reveals, plot twists, and strong jokes, and each episode shows off three elements that work together to create a crossover hit. First, there are the scripts, which never talk down to the audience and keep them involved in plots as complicated as any James Bond movie.
The cast, which boasts names like Kristen Schaal and Ryan Hurst, treat even the most contrived sci-fi terms with a delivery that acknowledges the whimsical environment but keeps the stakes high. Being hypnotized into sunny optimism could tempt actors to ham it up, but instead, Schaal and Hale deliver a rendition of Christopher Cross' "Sailing" like it's as serious as a monologue.
And then there's the aesthetic. This may be a children's drama, but it has the composition and color grading of Fantastic Mr. Fox. It's a show for the eclectic, precocious kid who stays in at recess to read books, and every production choice, from Reynie's sweater vest to a gadget-building montage where every element is laid out and labeled, echoes this.
Unfortunately, The Mysterious Benedict Society ends on a cliffhanger for a third season that will go unresolved, as the show was canceled in January and is now being erased from Disney+ altogether. That's a shame, because it's a fascinating glimpse of what happens when Disney throws away its kids' programming formula and tries to deliver something for the Letterboxd users of the future. And it's also entertaining for adults who may have outgrown their elementary school nerdiness, but want to capture the feeling of reading mystery novels and encyclopedias again.
The Mysterious Benedict Society is streaming on Disney+, for now.