Clever Things That Make Your Home & Car 10X More Organized With Almost No Effort
Streamlining made simple.
by Christina X. Wood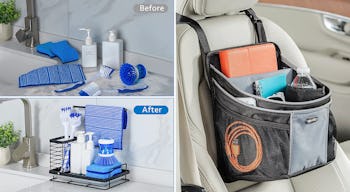 Amazon
We may receive a portion of sales if you purchase a product through a link in this article.
Walking into closet chaos is never a fun way to start the day. Neither is cooking in a disorganized kitchen or getting ready in a bathroom that's stuffed with clutter. I mean, even a messy car can make giving someone a ride a moment to avoid. Fixing this level of messiness can seem overwhelming, but creating order from chaos is often a simple matter of owning the proper storage solutions so that your space begins to become decluttered and streamlined as you use it.
To help you achieve this, here are a bunch of clever things that make your home and car 10 times more organized with almost no effort.
This article was originally published on