50 cheap ways to upgrade your home you'll wish you knew about sooner
Quick, affordable fixes that make your home a lot nicer.
by Christina X. Wood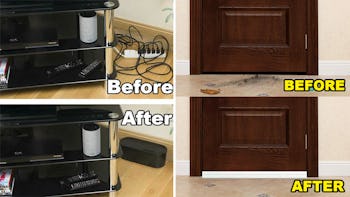 We may receive a portion of sales if you purchase a product through a link in this article.
I've been doing small weekend projects on my house lately, and they have transformed the place. I haven't spent much time or money, but it's easier to cook in my kitchen, my stairs are no longer dangerous, there is less clutter, and my once-crappy shower is suddenly amazing. I don't have the money or patience at the moment for tearing out walls or upgrading appliances, but these little improvements have had a huge impact. And along the way, I discovered 50 cheap ways to upgrade your home you'll wish you knew about sooner.
There are dozens of these tips, and none of them cost much money or take much time. Check them out.
1. This draft stopper that keeps out bugs & noise
When noise and bugs come into your house because there's a gap under the door, heat and air conditioning are getting out the same way. For an easy fix, just peel and stick this insulated and soundproofed silicone weather stripping to the bottom of the door to close up that gap. You cut it to fit with scissors, so installation just takes a few minutes.
2. These covers that catch hair before it goes down the drain
Drop one of these five hair-catching drain covers over your drain and it will let water through but stop hair and less fluid items that clog pipes. When it gets full or unsightly, pick it up, wipe it clean, and put it back. The cute colors look pretty in the shower and they are large enough — with a diameter over 5 inches — to cover most drains.
3. A paper towel holder that saves counter space
If you're tight on counter space, this stainless steel paper towel holder is a great option for your kitchen or bathroom. It can be installed under a cabinet or against a wall using an adhesive backing on the mounting plate; there's also a separate option to use screws for extra security. Just note that it's not compatible with wallpaper or painted walls — stick to tiled surfaces or wood cabinets for the best results.
4. This little light that helps you get in the door
Life is too full of irritants and dangers to struggle at the front door trying to fit a key into a lock in the dark, especially when the solution is $10 and takes two minutes to install. Just stick this battery-powered light to the door above the lock and it will light up if it's dark when you reach with your key, making that daily task much easier. It turns off when you get in the house, so the batteries last for ages.
5. This 8-pack of rubber pads that keep furniture from moving
When you want your couch, the ottoman, the bed, or even a small appliance to stay where you put it, cut these pre-scored furniture pads to size and set them under its feet. When you sit on your favorite chair, the double-sided, grippy rubber pads will grip both the furniture leg and the floor so your chair doesn't slide out of place. And the felt center of the pads adds a sound-dampening cushion to the room.
6. This clear wall protector that cleans up easily
If you have a spot that tends to get dirty, like near a trash can, where people tend to kick off their shoes, or behind a workspace, this clear wall covering is a quick and simple solution. Cut it to fit your space and it sticks on firmly and wipes clean. Forevermore that spot will clean up easily.
7. These bulbs for easy motion-triggered lighting
How great would it be if the garage light — or the laundry room, basement, or closet lights — only came on when you entered the room and turned off again when you left? These light bulbs will do just that and you don't have to call an electrician. Just screw one into the bulb socket. It will turn off again 45 seconds after it stops sensing motion.
8. These clear covers that protect floors from chair legs
Do your chairs and small tables make a loud scraping sound every time you move them? Pull these clear, silicone leg covers over the bottom of each chair leg and the soft fabric on the bottom will stop the noise and protect your floors from scratches. There are 32 covers, which is probably enough to do all the furniture in your house.
9. The marker set that fixes scratches on wood furniture and floors
Not every scratch or scrape spells the end for your fine wood furniture. In fact, they can be easily disguised with this furniture repair set. Just use the wax crayons to fill deeper scratches, and the markers will hide scrapes like magic. The set comes with colors including maple, oak, cherry, walnut, mahogany and black — you can even layer them for a perfect match.
10. This reversible comforter for any season
Upgrade your sleep by putting this gorgeous, reversible down-alternative comforter on your bed. It will keep you warm in the winter and won't make you overheat in the summer and changing the look of your bed is an easy matter of flipping it over. There are three color options and each one has a different, coordinating color on each side. Flip it over or just fold it down to create an interesting bed. It comes in twin/twin XL, queen/full, or king/california King.
11. This beautiful set of solar-powered string lights
Hang these solar-powered string lights in a tree, on a patio, or anywhere your outdoor décor could use some illumination. The charging station pulls power from the sun all day so the lights come on automatically at dusk. You can choose from eight lighting modes for constant, flashing, twinkling, or fading light.
12. This genius fix for holes in the walls
The brilliant packaging on this primer-enhanced spackle makes fixing wall holes something you can easily do with this alone. Squeeze some spackle onto the wall, use the putty-knife-shaped butt end of the bottle to smooth it down, and sand it with the pad on the cap.
13. This expandable bamboo drawer organizer that is a perfect fit for any drawer
This expanding bamboo drawer organizer will keep your cutlery neat and orderly. At 13 inches wide, it had three slots available, and when expanded to 20 inches wide, there are five. It's designed to fit in standard drawers that are two inches deep and can be wiped clean.
14. This self-adhesive light strip for a more vivid & comfortable TV-watching experience
Attach this LED light strip to the back of your TV (using the included 3M adhesive) to make the images on the screen richer — plus, it helps to reduce eye strain. The light strip's brightness and color can easily be tweaked as desired. And there are various size options to fit on practically any TV.
15. This shelf that puts your gadget near an outlet
Now, if all you need is a convenient shelf, check out this slightly different pick. Your new Amazon Echo, Google Home, or electric toothbrush (and many other things) all have one need in common: a surface that's near an outlet. You don't have to rearrange the furniture to achieve this. Just replace the outlet cover with this one that has a shelf on top. It even has a channel to run the cords through so everything looks tidy.
16. This coffee canister that keeps the beans fresh
Store your coffee beans right out in plain sight without worrying that you will lose flavor by the time you brew your coffee. This attractive canister seals out air while venting Co2 for the freshest possible beans. It also has a holster for the included scoop and a quick close clasp that makes it easy to open and close. It comes in four colors that will look great on the counter.
17. The cord organizers that solve so many wire hassles
This three-pack of cable organizers will turn your bedside table cable chaos into an orderly solution and your in-car cable hassles into something that makes sense. Just peel-and-stick the organizer to your desk, the back of your bedside table, the dash, or the kitchen wall, and snap cords into the slots. No more cord chasing.
18. This shower head that boosts pressure & pleasure
Switching out a boring shower head for this AquaStar hand-held model with six luxurious settings is the huge bathroom upgrade your daily ritual needs. There are six water modes so you can get a pulsing massage, heavy rain, a soothing mist, and more. And the anti-microbial and anti-clog jets keep the water pressure coming because they won't clog up like the old one did.
19. These silicone oven rack protectors that prevent burns
If you tend to burn yourself getting cookies and other just-baked treats out of the oven, these silicone protectors will prevent that. They wrap around the edge of the oven rack and don't get burning hot, so if do come in contact with the rack, you will be warned but not scorched. Just cut them to size and snap them on.
20. A bamboo bath mat that makes your bathroom feel like a spa
Add some zen vibes to your bathroom with this bamboo bath mat. The sturdy slats are elevated and separated to promote air flow and inhibit mildew growth. The mat also has nonslip grips and a water-resistant finish, making it as functional as it is stylish.
21. The battery tester that saves you so much hassle
It is so irritating to load the remote — or the flashlights or kid toys — with batteries only discover it still doesn't work because you used dead batteries. Keep this battery tester in your battery drawer and test the batteries before you use them. A quick glance at the dial will tell you how much power is left in just about any battery.
22. A pair of gap covers to prevent food from getting stuck between your stove & counters
Once food, dust, and other debris gets wedged between your stove and countertops, it's nearly impossible to clean. Luckily, this pair of gap covers ensures that doesn't happen. It's made from flexible silicone to conform to the shape of your stove. And it can be trimmed down to the exact size needed. It's heat-resistant up to 446 degrees Fahrenheit, so you don't have to worry about it accidentally melting. They come in several lengths and colors in the listing.
23. The stick-on bumpers that silence doors & drawers
If the sound of people slamming cupboards and drawers has you on edge, run through the house with this package of sound-dampening bumpers — there are 100 of them — and put a permanent end to it. Just stick them on where the door or drawer meets the frame when slammed, and the jelly-like button on them will soften the landing and stop the noise.
24. This sturdy rack that can hold up to 36 cans
If you have a lot of cans in your pantry or kitchen, this adjustable rack is a must-buy. It can accommodate up to 36 cans — though you can use the plastic dividers to adjust the rack for different-sized cans, jars, and bottles — and it's made from a combination of metal and plastic for stability. Rubber pads on the bottom prevent it from sliding around during use.
25. This plush, quick-dry bath mat
With a velvet material and cushy memory foam, this bath mat will keep you comfortable and slip-free getting in and out of the bath or shower. The mat absorbs moisture quickly and is machine washable to stay funk-free. It's available in 22 colors ranging from eggplant purple and fuschia to neutrals like beige and gray.
26. The slim hangers that maximize closet space
These velvet no-slip hangers are a great way to keep your closet neat and in order. With cutout notches to keep clothing from slipping off and surprisingly grippy velvet material, they keep clothing from slipping off to the floor. This set of 50 hangers runs on the slim side, letting you fit even more in your closet. Your closet will have a tidy look thanks to the uniformity of the hangers. They are available in seven colors.
27. The oven liners that keep spills from wreaking havoc
Before you put that lasagna or casserole that's likely to bubble over and spill onto the bottom of oven, put one of these two non-stick oven liners on the rack below to catch those spills. That way, you can just toss the food-safe, BPA-free liner into the dishwasher to clean up instead of scrubbing the oven. You can also set foods like kabobs and pizza on the liner when you grill to keep the grates clean.
28. A cable box to clean up that mess of wires
When you have a snarl of plugs, power strips, and cords creating an ugly — and dangerous to pets and small children — mess near your desk or entertainment center, this cable management box is the right tool to rein that in. Just drop it all in the box, run the cords out the back, and pop on the lid to keep out curious paws and hands.
29. The fabric shower curtain liner with a cult following
This fabric shower curtain liner has hordes of fans because it does the job of a shower curtain liner without smelling or feeling like plastic, collecting a disgusting hem of soap scum and weirdness, or billowing up onto you when you shower. The hem is weighted perfectly and the fabric has a protective coating so water rolls off, giving yucky buildup no purchase or room to grow.
30. This mesh curtain that keeps bugs out of the house
Want to let some air into the house without inviting every bug that's flying by to live with you? Hang this mesh screen door, and the breeze will come in without the bugs. You can also walk easily through this curtain, even with your hands full, and it will close behind you due to a panel of magnets down the center seam. Well over 40,000 people love this solution and give it five stars.
31. A coloring pen so you can restore the grout
If you have been struggling to get the grout in your tile floors or shower clean, it might be hopeless. Try this white grout pen instead. It colors right over the grey grout and turns it back into its original bright white to make your room look clean and fresh. Reviewers love the results and give this solution 6,600 five-star ratings.
32. This sleek stainless steel holder for storing grocery bags
Keep all of your plastic grocery bags to reuse later with this stainless steel bag dispenser. It's compact in size and simple to mount on the wall (or even inside of your cabinets), yet it can hold a lot of plastic bags at once. The wide dispensing slot at the bottom allows you to easily pull the bags out when the time comes.
33. A pair of steel racks to hold pot lids, cutting boards, pans, & more
These steel racks can be used to organize basically anything that's stored in your kitchen cabinets — they're great for pot lids, bakeware, cutting boards, pans, and more... the sky is the limit. The racks are made from sturdy steel to not bend or warp even when supporting heavier items. And the rubber feet ensure they don't move around. The set comes with two of them for just $20.
34. These shelf liners that decorate & organize the fridge
Color code your fridge while hardening it against spills with this five-pack of shelf mats that slide in easily. They soften the landing for glass jars and produce, and they wipe up easily if something spills. They also work well in drawers and for lining cabinet shelves.
35. This cooling memory foam pillow that supports your neck
Hot sleepers may find relief with this popular cooling memory foam pillow. Shredded foam provides support for your neck while a trademarked Kool-Flow cover is made with a bamboo blend for softness and breathability. The pillow is also GreenGuard Gold Certified, which means that it's been screened for 10,000 chemicals and is deemed a low-VOC product.
36. The vacuum for everything from floors to counters
This clever stick vacuum converts easily from a floor vacuum to a dust buster, so you can use it to clean the floors, couch, stairs, and counters as you whip through the house. Pop off the swiveling floor head when you encounter a big spill or crumbs on the couch to use the precise capture nozzle. It weights only four pounds, so it won't wear you out, and it plugs in so it won't run out of power when you are on a roll.
37. These cozy throw blankets that come in 22 colors
A home upgrade you can snuggle up under, this lightweight, breathable throw blanket come in a ton of colors ranging from saturated like mango, olive green, and golden yellow to neutrals like silver gray, milky white, and navy blue. The waffle texture adds visual interest and the plush fleece material is machine washable.
38. These cooling microfiber sheets in gorgeous colors
If you are looking for soft, delicious, luxurious sheets for your bed but hate to pay hundreds of dollars for them, these cooling microfiber sheets are it. The breathable and deliciously soft microfiber fabric gives your bed a luxuriously soft feel that is also cool, wrinkle-resistant, and more durable than cotton. You can throw them in the washer and dryer without a problem. And the color choices — there are 13 of them — are gorgeous.
39. This expandable bamboo tray to organize utensils & silverware
If you utensil drawer is a bit of a mess, use this bamboo tray for better organization. It expands in size to fit perfectly in nearly any drawer. And this feature means you'll end up with six to eight individual compartments to hold silverware, tongs, measuring spoons, and other kitchen tools. It looks expensive but costs just $20.
40. This big assortment of cedar closet fresheners
This handy mix of 10 cedar balls and 30 rings is everything you need to freshen the scent of your closet and drawers while keeping moths away. Toss a few balls into drawers and shoes and hang the rings from hangers and your closets will smell woodsy like cedar, which is a scent we humans love but that many bugs — especially the moths that eat fabrics — can't stand.
41. The odor eliminator that gets rid of pet smells
When your fur baby has been naughty on the carpet, that can create a lingering smell that will encourage future misdeeds. Fortunately, this Angry Orange odor eliminator gets rid of the smell — and the stain — completely. Just spray it on and let it work its magic. All that will be left is the delightful smell of citrus.
42. This weird fix for your sagging couch
When the seat of your favorite couch or loveseat begins to sag, you don't have to say goodbye to that piece of furniture. Just pull out the cushions and install this supportive insert under them. Then put the couch cushions back. Your couch will have stamina and firmness again because the support redistributes weight over the springs so the couch no longer sags. Almost 7,000 people say, "Five stars!"
43. This splatter screen so you don't have to clean the stove
Tired of cleaning the stove every time you fry eggs, chicken, or bacon? There is no need to do that if you set this splatter screen over the pan while your food spits and splatters. It won't change anything about the cooking process — and you can still see into the pan — but the grease will stay in the pan and your stovetop will stay clean. Over 25,000 people give it five stars.
44. The motion-sensing strip lights you can stick anywhere
It's super easy to add lighting to places that need it with these stick-on strip lights that are battery-operated. Peel and stick them right where you need light in your dark closet, under the cabinets, or along the edge of a dark flight of stairs. You set them to turn on automatically when they sense motion or by touching the on switch.
45. This wall-mountable tool holder that can hold 38 pounds
Mount this tool holder to the wall in your garage, laundry room, pantry, or wherever else desired, then use the grippy slots and sturdy hooks (there are 11 in total) to organize brooms, rakes, shovels, mops, and other various tools. It can support up to 38 pounds' worth of items. And all of the pieces required for installation are included.
46. A vacuum attachment that does dryer maintenance
Every time you dry a load, your clothes and towels leave lint behind in the dryer. You remove some of it when you clean the lint trap but, over time, what isn't trapped accumulates in hard-to-reach places in the dryer and its vents. This vacuum cleaner attachment gets deep into the dryer and vents to clean them thoroughly, which can save money on repairs, make your dryer run more efficiently, and prevent fires.
47. These nesting mixing bowl set with lids to make it easy to prep & store food
This set of glass mixing bowls nicely nests to take up minimal cabinet spaces. The best part? They come with matching transparent, BPA-free lids that have an airtight seal to keep foods fresh and your fridge leak-free. The glass bowls are dishwasher safe and come in 4-quart, 2.5-quart, 1.5-quart, and 27-fluid-ounce sizes.
48. This drying rack that fits in the corner of your sink
This triangle-shaped dish drying rack sits on the corner of your kitchen sink to provide extra space during cleaning and prep. Stainless steel bars provide a sturdy base while silicone edges prevent slipping on a wet surface. Use it to dry just-rinsed produce and dishware, or let it work as a sponge and bar soap holder.
49. This pack of portable, motion-sensing lights
These stick-on lights are so versatile you will want to stick them everywhere — under the kitchen cabinets, in the closet, in a scary corner of the attic, in the bathroom, and on the stairs. They cling magnetically to a mount that sticks to your surface so you can pull them off anytime you want a portable light or to recharge them. An easy three-way switch determines if they are on, off, or motion-sensing.
50. The insect trap that looks like sci-fi décor
When you experience an invasion of fruit flies, gnats, or flies, you want an effective solution quickly. Katchy is here for you. The glowing light tempts the flying devils close, a fan encourages them to enter, and a sticky pad ends them. All you do is replace the pad when it's full. No one will suspect that the device glowing on the counter has evil intentions toward bugs. But nearly 26,000 people give it five stars for how well it works.