45 cheap, clever things that'll make your home way more impressive
We only recommend products we love and that we think you will, too. We may receive a portion of sales from products purchased from this article, which was written by our Commerce team.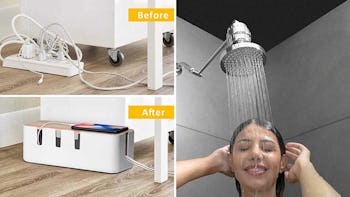 A neighbor stepped into my kitchen recently and said, "This is why I've been hankering for color in my house!" (I'll admit that I went full force with some red.) I did not point out that my lovely kitchen is a masterpiece of thrift more than of color — but cost-effectiveness is the element of its design that I'm most proud of. I have a high-end kitchen for what this neighbor paid for a single appliance. And it's not just my kitchen. My whole house is a study in making impressive home upgrades using very little money. Some of it I repurposed or found thrifting, but much of it I got on Amazon and installed myself. And I'm now sharing that part of my secret: Here are 45 cheap, clever things that'll make your home way more impressive.
The colorful elements in my kitchen include some stick-on subway tile that was so easy to put up, and so inexpensive that I don't tell people the details anymore. They just end up mad that they spent so much installing tile. But the thing that impresses people the most was even cheaper and easier than that. When I leave the house, I say, "Alexa, I'm going out," and my artificially-intelligent assistant turns off all the lights, the coffee machine, the music, and any fans that are running. When I get home, I say, "It's dark in here!" and she turns all the lights on, just the way I like it. All I needed for this bit of magic was an inexpensive Echo Dot and a few smart plugs.
Read on. I'm sure you'll find a few clever ways to make your house more impressive. You only need to keep them a secret if you want.
1. These light stakes to add aesthetic twinkly lights to your yard
Adding those aesthetic Edison bulb string lights to your yard or patio is easy with this pack of 10-inch lawn stakes. The durable design holds each bulb upright, so you can stick them in your planters or string twinkly lights down your walkway. They have a low-profile design, plus they're already put together and ready to hold your favorite twinkling bulbs.
2. These lights that transform your TV into a movie theater experience
Peel and stick these TV backlights to the back of your set and turn it into a lamp when it's off, and a home theater when it's turned on. Use the in-line controls or remote control to choose 10 levels of brightness and to select from 15 colors. It comes in three sizes to suit a monitor, large TV, or even a huge TV.
3. An oversized knife organizer designed for your kitchen drawer or countertop
This oversized knife organizer fits 16 knives neatly inside your kitchen drawer. It has an angled base, and it's even long enough to store a few knives that are up to 16-inches long, including their handles. There's also a spot for your knife sharpener. The best part about this bamboo storage setup is that it's easy to pull out of your drawer and place it on your countertop. That way, you have all of your knives out and ready for meal prep.
4. This set of mini ice trays that make so many tiny frozen balls
This set of four mini-ice cube trays makes 416 tiny little frozen balls that are perfect for cocktails and that blend much faster for smoothies and frozen drinks. Releasing the balls is easy. Just twist the trays and they pop right out. They come with an ice bin that holds 1248 of these little frozen balls and a scoop to get them in your drink.
5. The clever tiebacks that create elegant curtains
When you want the light or air to pour in, these eight clever, magnetic curtain tiebacks turn your open curtains into a decorative element and help them stay put. Just pull the curtain to the middle or side of the window, wrap the cord around it, and let the ends of the tieback snap together magnetically. They are super versatile and come in 10 color combinations.
6. These cabinet pulls for a dramatic kitchen upgrade
Ready to up-level your kitchen? You need not undertake a full-blown cabinet replacement, because changing the cabinet hardware can have a dramatic effect on the aesthetics of a kitchen — and it's so easy to do. This 30-pack of elegant, minimalist cabinet pulls is available in black, nickel, or brass, creating a modern look while being super functional. It takes only minutes to unscrew your old ones and screw these in.
7. This chalkboard stick-on wallpaper that's way less messy than paint
Instead of trying to paint on a flawlessly smooth chalkboard wall, apply this stick-on vinyl wallpaper. The matte finish not only looks like a chalkboard — you can actually draw and write on it with chalk. This odor-free wallpaper kit even comes with five chalks in different colors. Plus, this wall upgrade can even stick to glass or tiles.
8. This fiddle leaf fig that you can't kill
For quick greenery that will pass most casual inspections, this 30-inch tall artificial Fiddle Leaf Fig tree is perfect. There's no need to water it, worry that it won't get enough light, or know the first thing about growing a tree because it is ready to make your space — even if it's too dark to support life — homey and welcoming.
9. The quick way to make your garage door look fancy
This set of magnetic door hardware for your garage door is like stick-on tromp-l'oeil. It looks like you have carriage-door style handles and hinges even though your garage is plain and you use a remote to open and close it. Super-strong neodymium magnets hold these four hinges and two handles to your metal door but they are easy to remove and leave no marks on the door. Presto, change-o.
10. This jumbo box of velvet coat hangers
Bring next-level order and tidiness to your closet by standardizing your hangers with this 50-pack of slender, velvet-flocked ones. The hook spins 360 degrees so you can't hang your clothes in the wrong direction. The thin size — they are half the width of plastic hangers — means clothes take up less space, so you can fit more items. The notches and grippy texture keep clothes from sliding off.
11. A clever 3-tiered glass rimmer for craft cocktails
This three-tiered glass rimmer is the secret trick for easily making the best margarita and craft cocktails. Each labeled layer holds your necessary ingredients. One level is for salt, another for sugar, and the third level has a sponge that holds lime juice. It makes it easy to wet the rim and dip it in the spice you want.
12. The genius solution for a mess of power strips & wires
No one wants to look at a power strip and its inevitable snarl of wires and power bricks except the pets who want to chew it, and the children who might play with it. Tuck it all safely out of sight in this clean-looking white organizer box with a decorative wooden lid. There are slots to run the cords to their destinations and the tight-fitting lid becomes a useful surface.
13. A spice rack you can stick magnetically to the fridge
Put your most used spices, oil bottles, or condiments where you can reach for them easily by setting them in this magnetic spice rack organizer and sticking them to the side of the fridge. It takes advantage of underutilized space and makes cooking more convenient. There is a rack on the bottom for a roll of paper towels, too.
14. This bamboo bathmat for a clean & minimalist vibe
Create a modern and minimalist vibe in your bathroom by using this bamboo bath mat instead of a rug. It's easy to wipe clean, has grippy pads on the bottom so it stays put, and keeps your wet feet away from the slippery floor. Its elevated design allows airflow so that it dries quickly.
15. The fluffy hand towels that look super luxe
Choose a color — there are 15 to pick from — and adorn your bathroom with these fluffy, absorbent, cotton hand towels. They are large enough to be versatile and useful, pretty enough to set out on the counter or display on a shelf, and there are six of them so the look of your room will always be consistent.
16. An amazing high-pressure shower that feels like rain
If your shower currently disappoints, this rain-style showerhead will fix that. It improves water pressure, is easy to keep clean of hard-water deposits so pressure doesn't diminish with time, and it douses you in a wide, powerful, rain-like shower that makes getting clean an absolute pleasure.
17. This touchless soap dispenser for easier washing
Get rid of the tiny dish soap bottles, bars of soap, and everything else that clutters up your sink area and replace it all with this elegant touchless soap dispenser. Instead of lifting a bottle or bar (so old-school) just wave your hand or dish sponge in front of the IR sensor and it releases the amount of soap you prefer — there are three settings — onto it. A transparent soap tank lets you know when it's time to refill.
18. A pair of velvet pillow covers for a quick couch makeover
You can completely change the look of your couch or bed by recovering your throw pillows with these soft, velvet pillow covers that come in 10 colors and eight sizes. The hidden zipper matches the color of the fabric and you can use them to standardize mismatched throw pillows, create a fun color palette on the couch, or refresh worn or stained pillows. Almost 45,000 people give them a perfect five stars.
19. This folding leather tray for your keys, phone, or dice
This handsome leather tray snaps at the corners to create a rustic catch-all for your keys, wallet, glasses, and coins when you unload your pockets. It comes in several colors, including a blue velvet0lined brown leather that would make a great place for dice to land or to store jewelry or small office supplies.
20. A decorative organizer & charger for your electronics
This handy bamboo organizer and charger has a place for all your electronics, including your smartwatch and rechargeable earbuds. Put your own power brick inside, connect your phones and tablets with the five included short cables, and it becomes a neat place to store and recharge several tablets, phones, laptops, accessories, or whatever gear you have.
21. This colorful desk mat that's also a mouse pad
Bring a bit of color to your workspace by setting this PU leather desk blotter down on the surface. The texture is pleasant for writing on with a pen or pencil and works as a terrific mouse pad, too. Each of the nine colors is reversible so you can change your mind and redecorate at will. And nearly 18,000 people love theirs and give it five stars.
22. A roll-up dish drying mat that's super versatile
When you are washing pans and need more space to let them air dry or if your kitchen is too small to forfeit counter space to a dish drying rack, this roll-up dish drying rack is a lifesaver. It stores in a drawer but unroll it over the sink and it becomes the perfect drying rack. It's also a great place to set a pan while you fill it or to wash vegetables. It comes in four sizes so one will fit your sink.
23. This cream whipper & dispenser because life is short
Maybe you know how to make whipped cream with nothing more than cream, a bowl, and a whisk. But you will never do it again because you can just pour heavy cream, flavorings, and sweetener into this professional cream whipper and dispense it right into your beverage or onto your deserts. It comes with three plastic and three stainless nozzles that pipe different shapes.
24. A motion-sensitive light that doubles as a flashlight
This rechargeable motion sensor night light sits in a base that you can set on a table or mount to the wall so it provides light when you need it in the room. But you can also pick it up and use it as an always-ready flashlight. The light is adjustable, it remembers the setting you like, and serves as a great bathroom light, stairway light, or kids' room nightlight that anyone can also use if the power goes out.
25. The pre-seasoned cast-iron pan that's like barbecuing
If you like your food with a crispy exterior and grill lines as if it just came off the BBQ, this pre-season cast-iron grill pan will let you have that, indoors, anytime you want. The cast iron can tolerate high heat and it holds that heat for a long time. The grill lines are designed to get those yummy crispy lines in your steak or chicken. It's great for making grilled cheese, too.
26. This cocktail set with granite whisky stones & serving accessories
Not only does this whisky set make your cocktails taste better, but it also makes your drink presentation way nicer. It comes with classic Old Fashioned glasses, slate coasters, aesthetic recipe cards, and more. The granite whisky stones really make this kit stand out, and they even come with a pretty wooden tray to store them. Plus, all of your new cocktail supplies fit inside the included wooden box.
27. A slim toilet-paper dispensing cabinet that fits anywhere
This tall, slim cabinet looks perfect in a bathroom and brings much-needed storage to even the tightest corner. It's just under six inches wide, but tall enough to hold cleaning supplies and rolls of toilet paper. A dispenser handles TP distribution and the flat top is a great place to set a plant, a phone, or wipes.
28. The toilet paper holder that has a shelf for your phone
Welcome to modern times, where going to the bathroom means taking an expensive phone out of a pocket so it doesn't fall into the bowl — then discovering there's nowhere dry to set it down. This toilet paper holder brings your bathroom into the information age with a flat shelf for your phone, complete with a safety lip, conveniently above the TP roll. It also installs easily; the back has an adhesive pad preinstalled.
29. This lamp with a built-in charging station
What two things does every desk or bedside table need? A light and a phone charger, right? And this lamp is both of those in an elegant package. The refined-looking lamp takes a standard bulb, and you simply touch the base to turn it on or off. It dims, too, by touch. There are two USB ports on the side as well.
30. A slick, mirrored digital alarm clock
Dress up your bedside table with this flashy mirror-finish alarm clock. The numbers are big and clear so you can see them from anywhere in the room and you can set the brightness to one of three levels. There are two USB charging ports on the side, the snooze button is big and easy to find, it comes in seven colors, and you can click off the display so it actually functions as a mirror.
31. These glass cookie jars to put all your treats on display
When you bake cookies, bring home a haul of candy, or even just have pretzels to store, these two glass jars with airtight lids are the perfect place to keep them. When you pull them out of the pantry, they already look like a display in a candy store. You can use them to store anything, even bathroom or craft supplies, and they require no labels because you can see what's in them.
32. A phone stand that's also a Bluetooth speaker
When you set your phone on this phone stand to watch a video or chat on the phone, you can listen to the audio through the built-in Bluetooth speaker instead of the little ones on your phone. The base is heavy so it won't tip over, it folds for portability, and it's compatible with most phones. Choose from four colors.
33. This expandable bamboo spice rack that fits most cabinets
Set this bamboo spice rack and cabinet organizer into a cupboard or set it on a counter so you can put your bottles, jars, and cans on raised shelves and see them all at once — even the ones in the back. It expands horizontally to fit your space and works well for medicines, oil bottles, or cosmetics. It comes in three finishes.
34. These Art Deco-Style house numbers with street appeal
Mount these big, five-inch-tall house numbers at the front door or on your mailbox so that visitors can find your address easily. The font is slender and simple and you can install them flush or use the included spacers to create a drop shadow effect. They are made from a durable zinc alloy, coated in glossy black, and come with templates that make installation super easy.
35. A storage solution for your coffee pods
If you love your Keurig coffee maker but struggle to store the K-cups in a small kitchen, this under-cabinet coffee pod holder is a brilliant solution. It mounts under a cabinet and pulls down revealing all your brew options at once. Your coffee pods are within easy reach but completely off the counters and out of sight when you aren't looking for one.
36. An expandable rack for lids & plates
Bring order to your cabinets with this pot lid and plate holder that unfolds like an accordion to fit neatly in a cupboard and stand lids, pans, plates, and trivets on end so you don't have to stack them. It makes them easy to grab and put away. The rack is adjustable to fit your space and gear and has bumpers on the bottom so it's quiet and stays put.
37. This knife set with a matching holder & cutting board
Set this slick set of knives on your counter and always have the perfect tool for the job right at hand. The five knives are stainless steel and come in a matching holder that not only matches them but also keeps them upright and separated and has a second holder for the (included) sharpener and sheers. The cutting board not only complements the set but has a built-in knife sharpener.
38. The easy subway tile that transforms a kitchen or bath
Instead of painting, tiling, or wallpapering the wall behind your sink, peel-and-stick this realistic-looking vinyl subway tile to the wall. The result will look like you spent money on tile but it takes very little time, a fraction of the cost, and there's no messy remodel. The tiles are easy to clean, create a water barrier, and look terrific in any of the eight color choices.
39. This wall mount for your iPad
Turn your iPad into a control center for your smart home, a viewer for movies in your home gym, or for watching cooking shows in the kitchen with this tablet wall mount. It holds it securely with silicone grips so your tablet is safe and won't get scratched and it installs easily into any wall with the included mounting hardware.
40. This glass decanter that makes even budget whiskey look posh
If you buy those giant whiskey bottles at Costco or have found an economical source of wine in a box, this glass decanter will class up the serving part of your clever acquisition. It will beautiful on your bar or table, has an airtight, glass stopper to preserve your liquids, and makes pouring easy.
41. This beautiful French press coffee maker
If you love the brew that comes from a French press, you will love this gorgeous French press coffee maker rendered in a copper finish with a borosilicate glass carafe. Just scoop in the grounds, add hot water, wait a few minutes, and press the plunger. It is a kit so pretty that you can serve the coffee at a fine meal right from it. It comes with a coffee scoop and a replacement filter.
42. This expanding bamboo drawer organizer
This bamboo drawer organizer is so versatile you can move it from drawer to drawer and it will change its size for each spot. The sides open outward — creating additional storage spots — for wide drawers and slide closed for narrower drawers. The water-resistant bamboo looks great, too, and is quieter than metal organizers.
43. A set of Salt & Pepper Grinders in a handy stand
Set this pretty glass and chrome salt and pepper grinder set on your table filled with peppercorns, salt crystals, or whatever spice you like and your table will be prettier and your food tastier. It's easy to refill them just by screwing off the tops. And they won't leave a mess on your table because the grinder is on the top. Just turn them over and twist to add flavor to your food.
44. These whiskey stones to chill your drink without diluting it
Pull a handful of these whiskey stones from the freezer — where they have been absorbing the cold — and drop them into your glass. Then drizzle a fine bourbon over them for a chilled drink that keeps all of its bite and isn't diluted with water. The polished natural granite cubes look terrific in your glass and come in a wooden tray that slides into your freezer or looks classy on your bar.
45. A caddy that keeps all the water & soap in the sink
This clever sink caddy suctions to the inside of your sink to keep sponges and dish brushes where water and soap belong. There are lots of drain holes so everything stays dry and mildew-free, and the brush holder has a pop-out bottom to accommodate longer dish brushes. It looks stylish and reviewers love it, giving it close to 17,000 five-star ratings.