Amazon keeps selling out of these genius things that you've probably never heard of
And they'll make your life so much easier.
by Christina X. Wood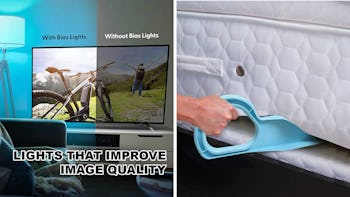 We may receive a portion of sales if you purchase a product through a link in this article.
The internet is a wonderful invention. Aside from work and socialization, it's also a great way to learn how to get through life easier. Apparently, everyone on the internet has discovered a better way to de-fur the couch, a brilliant way to take notes, and so much more.
In fact, Amazon is full of so many genius products that achieve tasks like those, and you might not have ever heard of them. Take, for instance, the blanket that's designed to cool you down — and even the mini vacuum for your desk. And did I mention the alarm clock that projects the time on your wall? Because that's out there, too. Genius.
So when I tell you that Amazon keeps selling out of these products, I am also telling you that these are those solutions. Hurry while they are still in stock.
This article was originally published on