Amazon is selling a ton of these cheap products with near-perfect reviews
Helpful for the house and easy on the bank.
by Christina X. Wood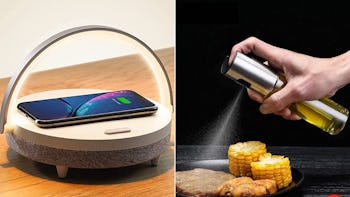 Sometimes, you find a product that's cheap and you don't care because it fills a need so trivial you can put up with flimsiness and low quality. And other times (like right now), you find a product that's inexpensive but also well made, beautiful, and functional. When I stumble upon one of those latter beauties, I find myself sharing the link to it, telling people they need it, and generally bragging on my luck. If you're wondering what kind of items I'm talking about, keep scrolling. But don't wait — these products are selling fast.
From phone-charging stations to theater-style TV backlights, this roundup is packed with cool products that customers seemingly can't get enough of. How can I tell? Because most of these items have near-perfect reviews full of four- and five-star ratings. Go ahead and add them to your own cart before they sell out.
We only recommend products we love and that we think you will, too. We may receive a portion of sales from products purchased from this article, which was written by our Commerce team.
1. These chopsticks that keep snack dust off your keyboard
Snacking and gaming go together. But there is one problem. The salt from your chips or nuts — and the orange cheese of some tasty snacks — gets all over the place. So the necessary but annoying routine is typically snack, wipe fingers, then touch the thing. Eliminate that middle step with these simple finger chopsticks that let you grab a mouthful without using your fingers. The screen stays cleaner, your game goes better, and you don't miss out on yumminess.
2. This adjustable, lightweight neck fan with LED lights
When it's hot outside, don this clever neck fan and bring your own cool breeze wherever you go. It's wearably light and has two mini-fans that rotate 360 degrees. They adjust on bendy arms so you can point the breeze where you want it. It has seven speeds, comes in five colors, lights up for fun at night, and is USB rechargeable. Over 8,000 people say, "Five stars!"
3. This high-tech wine opener that does all the work
Don't struggle to get the cork out of your wine bottle. This rechargeable, automatic wine opener is here to do all the work for you, fast. Just use the included foil cutter to remove the outer wrapper and then set the opener over the top of the bottle. Push one button to lower the cork and remove it. Then push the other button to release the cork. It looks cool on the bar, too. You know it's good when almost 25,000 people give it all the stars they can.
4. The clever rotating spice rack that keeps everything in reach
Keep 12 of your favorite spices within easy reach at all times by mounting this spice carousel under a cabinet. It holds 12 specialized spice bottles, rotates so you can easily grab the one you like, and shows you the spice through a little window. The bottles each deliver a precise amount of spice with no need for measuring spoons. Just click the dial to the amount you want and pour. If you love it, you can come back for more and stack the carousels to create a rack of 48.
5. An ergonomic can opener that leaves no sharp edges
This oversize can opener removes lids without exposing a sharp edge for you to get cut on. In fact, you never have to touch the lid at all. The opener snaps onto the can while you turn the handle, cutting through the side. Then it grabs the cut lid and removes it so you can drop it in the trash. It's easier on your hands, cleaner, and safer than a traditional can opener. With over 8,00 five-star ratings, people said things like, "engineering masterpiece," and "a deceptively beautiful product."
6. This silicone spoon rest that can handle all your tools
If you cook with a tasting spoon, whisk, turner, and sauce brush, the standard spoon rest is little more than a decorative item that gets in your way. This advanced silicone utensil rest is helpful, can handle four tools at once, holds your utensils above the fray to avoid cross-contamination, and looks like a serious cook's tool on the counter. It's easy to wash, comes in 34 colors, and gets five stars from nearly 21,000 people.
7. The oil sprayer that lets you use better oils with precision
Instead of buying prepackaged spray to mist food before it goes into the air fryer or pan, fill this oil mister with your favorite cooking oil and spray your choice instead. A wide mouth makes the bottle easy to fill, a big button on the top requires little energy to spray, and the glass body and stainless steel top are attractive and easy to clean. It works well for lemon juice, vinegar, or other light condiments.
8. The strange knife that makes fast work of watermelon
If you want to quickly turn a watermelon into bite-sized pieces, this weird watermelon slicer is the secret. Just push the blade into the watermelon and it automatically turns the fruit into cubes you can toss into a salad or serve in a bowl. "This tool is so handy!" said one reviewer. "I hate cutting watermelon and this makes it so fast and easy that I cut a watermelon in less than 5 minutes."
9. This big box of slender hangers that cleans up the closet
Make putting laundry away easier and keep your closet tidy by loading up on good hangers. These 50 velvet hangers hold more clothes in less space because they are so slender. They also have a notch to keep those the slippery shirts from falling to the floor and a hook that rotates 360 degrees so you can easily line your clothes up in the direction you want. Close to 49,000 reviewers love these and give them five stars.
10. A pair of colorful pillowcases to punch up the bedroom
If your bedroom needs a pop of color, there is no easier or cheaper way to accomplish it than to dress your pillows in something bold. Choose from 12 bright, neutral, or dark colors in this affordable and super soft collection of microfiber pillowcases. At $12 a pair, you can change the look of your room whenever the mood strikes. They are super soft on your skin and reviewers love them, bestowing them with almost 16,000 five-star reviews.
11. This Italian-made glass pitcher for cold beverages at the ready
Make it easy and delicious to stay hydrated — and away from sugary sodas — by mixing up a big batch of cold-brew iced tea, infused water, or lemonade so you can easily sip on something healthier. This is easy with a handsome glass pitcher with a big handle. The wide mouth makes it easy to fill with big pieces of fruit and water, the lid locks closed so it won't spill, and it fits neatly in the fridge door.
12. A set of nesting mixing bowls with lids to match
This set of nesting, stainless-steel mixing bowls will be super useful in your kitchen. The smallest of the five holds less than a quart and the largest holds five quarts. Each one has a tight-sealing lid to match so you can use them to mix as well as to store. The flat bottoms make them easy to work with and the deep rims make them easy to hold. Plus, the bowls and lids nest together in one small footprint so storage is easy.
13. This complete bartender kit with pro-level tools
Make sure you have every tool you need to make cocktails for your next gathering with this 14-piece cocktail toolkit. You won't have to makeshift a shaker from your own glassware because you will have two sizes of shaker, a strainer, two 2-ounce measures, a flat bottle opener, a jigger, a long stirring spoon, and pouring spouts so you can convert all your booze bottles to bar-style pourers. There are directions and recipes included to jumpstart your home bartending.
14. An easy TV backlight kit for a more theatrical viewing experience
Transform the way your TV looks with this clever backlighting hack. Just stick the tape of LED strip lights to the back of your TV and plug it into a USB port and it will throw light on the wall behind your screen, which helps reduce eye strain, and makes the colors on the screen pop and blacks look deeper for more vibrant viewing. You can choose the color, effect, and brightness of the lights with the remote. Installation is so easy to do and the effect is incredible.
15. A whiskey-drinking set with 6 high-end glasses & decanter
Decant your whiskey into this beautiful glass decanter and glass set and imagine you just parked the yacht at the club and are enjoying an evening with friends before starting your assignment as an international spy in the morning. The glasses are substantial and hold nearly 10 ounces. The decanter has a glass stopper, holds one liter, and looks amazing. All of it was crafted in Parma, Italy.
16. This set of affordable luxury sheets to upgrade the bedscape
Made from rayon that's derived from bamboo and mixed with brushed microfiber, these luxury sheets offer a silky smooth and breathable bedding set at an affordable price. And there are plenty of colors to choose from, whether you want to go neutral or bold. "These are just as soft and cool as my set of $120 Egyptian cotton sheets!" said one reviewer. "The first night sleeping in them I got in bed and they felt so cool and soft, but not like sateen or brushed microfiber, more like cotton sheets that have been washed many times."
17. This soft & velvety rug for a cushy landing for your feet
Give small children a cushioned place to play or your feet a soft landing at the start of the day with this lush, velvety shag rug. It comes in lots of colors so you can match it to whatever decor you are building. There are non-stick dots on the bottom so it won't slide around, and you can pick the size that best suits your space. It's easy to clean and works on top of carpet or hard floors.
18. These tools that make it easy to remove your car's trim for upgrades
If you are installing your own car stereo, making small repairs to doors, or for whatever reason need to remove a door panel or dash cover, these auto trim removal tools will do it easily, quickly, and without damaging the finish. There are four pieces and they can handle just about every challenge you face as you remove any piece of trim from the interior.
19. This infuser teapot that can go in the microwave
This glass teapot is definitely something you want to add to your kitchen, if you enjoy the occasional cup of tea. You can microwave the water right in the pot (just the glass pot on its own, please). Then slip in the stainless steel sleeve that fits perfectly for brewing loose-leaf tea. It pours nicely. And it comes with an adorable black, zip-up cozy that looks like a jacket and keeps brewed tea warm longer.
20. A soft bathtub pillow so you can fully relax during bath time
This comfy bath pillow is a must-have for anyone who enjoys a good bath. It suctions onto the tub so it stays put, has no problem getting wet, but is covered in a breathable, quilted fabric that feels great against your skin. It even comes with a washing bag so you can throw it into the washer for cleanup without worry.
21. This hanging closet organizer that's like a full-on dresser
You can configure this deluxe hanging closet organizer however you like. It has nine shelves and five drawer organizers that you can install in whatever way suits your stuff. There's a large drawer, two small ones, a bin with six divided sections, and one with eight sections. There are also mesh pockets on both sides for your small sundries and none of this takes up any floor space. It will quickly bring order to your closet.
22. These unique salt & pepper shakers with adjustable pour spouts
These salt and pepper shakers are the perfect way to deliver spices onto foods, even if the spice is not salt or pepper. They hold a half-cup of spice and you can dial the pour opening to suit the spice you put in them. Put oregano and red pepper for pizza, if that's what you like to have on the table. Or use them to dispense ground parmesan. They are versatile, easy to clean and fill, close tight, and look good on the table or counter.
23. A complete table setting of elegant flatware for $19
If your silverware drawer is a mismatched mess, you want some inexpensive flatware you can use for your lunch kit, or you are just moving into a new kitchen and need something now and on a budget, this 20-piece stainless steel silverware set hits the mark. In fact, you might never feel the need to upgrade to something fancy because, while the pattern is simple, they feel good in the hand and are solid. They are "easy to hold, not heavy, and very durable," said one reviewer, and "clean up very easily. I like the simplicity and at such a great price."
24. The red wine stain remover that will save your wardrobe
If you love red wine, prepare for the inevitable collision of the same with your favorite white shirt by stocking this red wine stain remover. A little spill on your shirt, couch, or rug will not be a tragedy. Just get the stain wet, spray it with this stain remover, blot and go on about your life. The stain will be gone faster than your hangover.
25. A weekly planner to help keep you & the family on task
Sometimes productivity requires a step back so you can see the big picture. And this magnetic weekly dry-erase calendar is an ideal place to start. Stick it to the fridge, a filing cabinet, or a bulletin board and plan your week out so everyone knows when things are scheduled, nothing gets forgotten, and you don't get to the end of the week regretting unfocused chaos. You can color code with the four included markers and there is space at the bottom for notes, a shopping list, or things to keep in mind for next week.
26. These clear & decorative signals that the dishes are clean or dirty
How many times have you peered into the dishwasher and questioned, "Are the dishes in here clean or dirty?" You need a sign that tells you so you can stop wasting gray matter on that! This decorative clean or dirty magnet is that sign. It looks ornamental on the front of the dishwasher while clearly signaling the state of the dishes within. If your dishwasher isn't magnetic, apply the peel-and-stick magnetic square first.
27. This big 10-pack of reusable silicone straws & cleaning brush
Straws make all beverages special, but the disposable ones have a dark side that none of us want to embrace. This set of 10 silicone straws is the solution. The texture is perfect for sipping. The size fits neatly in your 20-ounce travel tumbler. They don't melt like the paper ones. And not only are there 10 of them, but they also come with a cleaning brush and a travel bag so you can sip in peace on the go.
28. An organized charging station for your gadgets
This compact charging station turns a mess of wires, tablets, power banks, and phones into one neat and orderly center where the gear all stands on end — held up by moveable dividers. There are six slots, the short cables make it easy to connect and charge them, and an indicator light tells you when each device is fully charged. It comes with seven short cables of three types. All it needs from you is to be plugged into an outlet.
29. A set of floating shelves to turn blank walls into display and/or storage
If you have a storage problem and also need art for your walls, look upon that as opportunity. Using nothing more complicated than this set of three floating shelves, you can transform your hard-to-store items — vinyl, books, toys, D&D characters, photos — from a storage problem to a decorative display. Two problems, brilliantly solved together. These shelves come in nine colors to suit whatever room you want to employ this in.
30. This futuristic desk lamp that charges your phone
Form meets function in this space-ship style touch lamp with a wireless charging station built-in. Set your phone on it at night so it can juice up. You can also connect your phone to it using Bluetooth and play music through the lamp's built-in speakers. Touch the top to turn on the gentle light bar, which adjusts to serve as a phone stand. This is the desk accessory or bedside table lamp the future is waiting for.
31. An easy-to-install wireless doorbell with a choice of 52 chimes
Update your doorbell in just a few minutes with this wireless doorbell system that gets over 10,000 five-star reviews and lets you choose from 52 chimes. Just stick the bell at your entry — or wherever your guests are likely to encounter it — and plug the receiver into an indoor outlet. The two pieces can be as much as 1,300 feet apart. The bell is waterproof and you can adjust the volume of the receiver, which also illuminates when the bell rings. There is even a silent mode so you won't be disturbed by people ringing the bell while you nap.
32. The simple box that tidies up your cable mess
That snarl of power strips, cables, and plugs is not only ugly, it's also a hazard to pets and children. But it's easy to fix. Just drop it all into this minimalist cable management box and snap on the lid. There are ports in the back so wires and heat can get out and the lid lifts off easily if you need to plug something in. Now that mess is a simple white and bamboo element that disappears into the decor and offers no temptations to the littles.
33. This long-lasting aromatherapy diffuser to set the mood
Change the mood in the room by loading this essential oil diffuser with water and essential oils. The scented cool mist it emits at the push of a button will make you feel calm, energized, focused, or whatever mood you are looking for. Just choose the appropriate essential oil to match your goals. You can set this diffuser to run for one, three or six hours or let it go for up to 13 hours. The large 400mL tank will last all night or day.
34. The huge shower head that creates a rain-like deluge
The boosted water pressure and expanded diameter of this rainfall shower head create a downpour in your shower that feels amazing, and quickly washes away soap, shampoo, and conditioner residue so you get out of the shower happy and clean. It's super easy to install, too. Just unscrew the old one and screw this on in. The shower head rotates easily so you can position the rainfall just where you want it. You will wonder why you waited so long to do this.
35. This touchless soap dispenser for cleaner hand-washing
Set up a clean hand station in your home that doesn't have a cross contamination point everyone has to touch — just set up this high-capacity touchless soap dispenser. Fill it with your favorite hand soap, load it with batteries, and it will sense when someone is waiting for a dollop of soap and deliver it right to their hand. The clear tank makes it easy to see when this dispenser needs filling but, since it holds 400mL, that won't happen very often.
36. A handsome pair of wine stoppers that keeps your vino fresh
Go ahead and open that bottle (or two) of wine, even if you are sure you won't be able to finish. This pair of wine-bottle stoppers makes it easy to keep the rest of the bottle(s) on hand for another night. Just press the stopper into the bottle opening and close the lever to seal out the air and prevent the wine from degrading.
37. These 2 motion-sensing nightlights that are great for the bathroom
Plug these two motion-sensing nightlights into a spare outlet in your bathroom and they will emit a warm and soft light automatically when you go in there in the night. You don't have to turn on harsh overhead lighting or fumble around in the dark. You don't even have to locate the light switch. They turn off 30 seconds after you leave. You can use them as a steady-on nightlight, too, just by changing the setting.
38. An adjustable lap desk so you can comfortably work in any chair
With this adjustable lap desk at hand, you can work in your comfy living room chair, in the car, on a plane, in bed, or in any other setting that life throws at you. The angle adjusts to eight positions so you can tilt the screen and keyboard to the angle that's best for the task you are doing. There are two cushions on the bottom that hold it in your lap. And there is even a handle to make toting it to the next workstation easy.
39. This plug that makes any outlet smart-home capable
If you have a lamp, coffee maker, fan, or other appliance you would like to include in smart home routines, schedules, or voice commands, this easy-to-install smart plug is a great way to do it. All you do is plug it in, follow the in-app directions, and connect it to your AI. Even if you don't have a smart home system like Amazon Alexa or Google Home, you can control the plug by using the Kasa app on your phone.
40. These under-cabinet LEDs that provide precise spotlighting
Overhead lighting is so over. Get a luxe glow just where you need it with these under-cabinet LED lights — just peel and stick (or use the included screws) to install them under stairs for a lit path at night, in the closet, garage, or anywhere that can use illuminating. Tap to turn on and off or use the included remote, or set on a timer. Long-lasting LEDs run on batteries so don't drain electricity.
41. A portable white noise machine with 30 sleepy soundscapes
Whether you prefer drifting off to the sound of a forest, thunderstorm, summer cricket chirps, pure white noise, or many more, this portable white noise machine has you well covered. It powers up via plugging in or with batteries. Set it for a 30, 60, or 120 minute timer or let it go all night. Recalls your last settings. It's small enough to bring when traveling for peaceful nights away.
42. A charging stand that turns an Apple Watch into a real clock
Whether on your work desk or nightstand, this precisely-designed Apple Watch charger stand holds the thing securely in place, while a cutout lends a smooth pathway for the charging cable. It's coated in silicone, which prevents it from moving around the surface and keeps your watch safe and scratch-free. It's rated a perfect five stars from nearly 25,000 happy buyers.
43. This sleek coffee canister that helps keep dry goods fresher for longer
Stuff it with coffee beans, or use for flour, sugar, or tea — any item that can benefit from a rust-proof, airtight interior can sit pretty inside this stainless steel coffee canister. It has a silicone base to keep it in place, and comes with a scoop that lives on the side for added convenience. The whole thing is nice enough to live on the countertop, too.
44. The generously-sized mousepad with performance-tuned surface friction
Not all mouse-surfing surfaces are created equal. This waterproof mouse pad is just 3 millimeters thick including its durable rubber base, and is designed with a precise amount of surface friction to provide peak accuracy & consistency. It's optimized for all types of mice, whether you go wired, wireless, optical, or mechanical.
45. These sturdy, reusable food storage bags at a super price
Some reusable storage bags seem to have the price point of a fine purse. This set of 10 assorted reusable food storage bags, however, is extremely reasonably priced at 15 bucks, without sacrificing quality. Food-grade material is freezer safe and the double-closure is easy to open while being leakproof and secure.