Inverse Daily: Put the Juul Down
A growing body of evidence suggests the potential harm of vaping electronic cigarettes has been underestimated.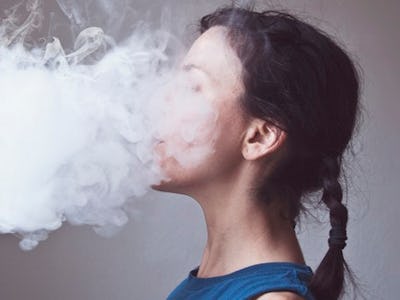 What it do, Inverse Daily fam? Welcome to the last week of the month:
While I'm here spinning around in ecstatic circles to Taylor Swift's Lover (she's back, baby!), let's get you ready for the week ahead.
You're reading an adapted version of the Inverse Daily newsletter. Subscribe for free and earn rewards for reading every day.
INVERSE QUOTE OF THE DAY
"Essentially, we can create something that makes it feel like butter."
— Assistant professor of food chemistry Alireza Abbaspourrad, Ph.D., on the spreadable, butter-like substance that's actually 80 percent water.
Fire Fighters
Violent fires continue to rage in the Amazon jungle as Brazilian President Jair Bolsonaro refuses to back down on his plan to use slash-and-burn techniques to clear land for agriculture, in particular beef. Though the media has only recently taken note of the travesty, there have been over 72,000 fires in the region since January of this year, according to satellite data. A significant amount of damage has been done, but it isn't too late to try to help.
The fires may seem unfathomably far away if you're reading this from anywhere outside of South America. But as Sarah Sloat tells me, there's one thing you can do to help: Donate to organizations battling the problem at the source. The Rainforest Alliance supports local groups fighting against deforestation at the frontlines and puts pressure on the public and private sectors to "eliminate deforestation from their supply chains." Junglekeepers, meanwhile, collaborates with local partners to protect the Amazon's Las Piedras river corridor.
You can also consider the potency of your own purchasing power. A big part of the reason the Amazon is being cleared is to make room for giant farms for beef and soy production. The next time you're at the grocery store, take a second to Google where the product in your hand actually came from.
Here's how you can fight fires in the Amazon.
The more you know:
All the Same In Here
Sorry, vapers: The bad news keeps on coming. You've heard about the issues with black-market Dank Vapes and the potential consequences of smoking e-liquids, whether they're nicotine-laced or not. Scientists are now finding that the entire raison d'être for e-cigarettes — providing an alternative to traditional ciggies that might help smokers quit — might be moot, at least when it comes to lung health.
One of the classic illnesses to develop from a long-term cigarette smoking habit is emphysema, a condition where damage to the lungs' air sacs makes it difficult to breathe and causes shortness of breath. Cigarettes cause this by elevating levels of lung enzymes known as proteases, which can be destructive when left unchecked. Now it appears that e-cigarette use is also linked to a surge in protease levels, suggesting that "vaping may not be safer than cigarette smoking," as one expert put it.
Find out why researchers increasingly think it's time to put the Juul down.
The more you know:
Musk Reads
Elon Musk is pushing the boundaries of where we can go and what we can do. Don't miss a beat by signing up for Musk Reads, our newsletter about all things SpaceX, Tesla, and The Boring Company.
Fitness Finance
The movie 300 came out when I was in high school, prompting dozens of my friends to try the Spartan workout, inspired by the ripped bodies of Gerard Butler and his bros. I was less impressed; if someone gave me a fat paycheck to spend all my time working out (and occasionally yelling battle cries), I, too, would have a body that could send Xerxes running. Emma Betuel tells me it's true that you can pay people to exercise more, but you have to be careful with how to do it.
Researchers experimenting with financial schemes to motivate people to work out more have found that those given a constant payout of about $0.00020 per step (about $2 per 10,000 steps) walked about 306 steps more than a control group. Sounds promising, but there's one big problem: People didn't keep up their more active habits when the payouts ended. In other words, people can be motivated to exercise for money, but creating long-term habits will cost a whole lot extra. (This isn't Sparta.)
Here's why it's so hard to keep people motivated.
The more you know:
Dairy Ferry
The Dutch are widely renowned for their water-engineering prowess. The Netherlands, after all, lies smack in the middle of a low delta and mostly consists of land reclaimed from swamps and marshes. As the climate crisis causes the sea level to creep higher and higher, there's a lot we can learn from them. Fortunately, Dutch engineers are already applying their expertise to future problems.
Foreseeing more than a few issues with coastal living in the coming decades, an engineer named Peter van Wingerden has developed and launched the world's first floating dairy farm. Creatively named "Floating Farm," the solar-powered agricultural island, which uses electric vehicles to transport cattle feed, bobs in the water near the heart of Rotterdam. As Mike Brown tells me, a floating egg-laying unit and vegetable farm are already in the works.
Here's how Floating Farm's ingenious design is a climate crisis breakthrough.
The more you know:
Today's Good Thing
Today, that's the team of veterinarians who successfully collected eggs from the last two northern white rhinos on Earth, increasing the chances that the nearly extinct animals won't be lost forever.
Meanwhile …
Inverse Loot
Subscribe to Inverse Loot and learn about these deals first.
As always, thanks for reading, fam. It is with a heavy heart that I must announce this is my last Inverse Daily newsletter. After four long years at this wonderful company, I'm stepping down as senior science editor and moving on to a new chapter (you can still find me on Twitter!), but I couldn't be more thankful you came along for the ride.
I hope you'll stay curious about the future and the possibilities that science can bring. The decades to come will definitely be weird, but with your support of the people out there creating and innovating, we just might also be able to make them good.
— Yasmin