Inverse Daily: Will NASA Fall Behind in the New Space Race?
Officials are reportedly urging President Donald Trump to set up a race to establish a base on the moon, replete with a $2 billion prize.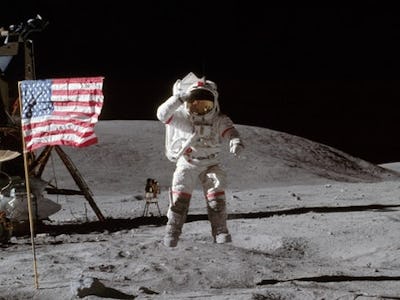 What's good, Inverse Daily fam? While I'm reeling from the sheer force of grown man Harry Styles on the cover of September's Rolling Stone, let's get you caught up on today's news.
You're reading an adapted version of the Inverse Daily newsletter. Subscribe for free and earn rewards for reading every day.
INVERSE QUOTE OF THE DAY
"Any intervention that targets the individual is going to be like paddling upstream."
— Applied psychology professor emeritus Cary Cherniss, Ph.D., on why an anti-burnout pill wouldn't work.
Dental Damage
Trace amounts of fluoride have been added to American drinking water since the mid-1940s, when scientists determined that it could lead to stronger teeth and fewer cavities. But the practice has been contentious since it began. Some have argued that it doesn't really prevent cavities (it does, at the right levels), that it causes discolored stains on teeth (it does, if there's too much), or that allowing the state to do so cedes too much control from citizens (that's a matter of perspective). Recently, the controversial "raw water" craze capitalized on lingering fears of fluoridation to peddle water that was completely (and sometimes dangerously) unfiltered.
The CDC maintains that fluoride protects teeth from decay and is completely devoid of health-related side effects, barring the harmless dental stains. The old debate may soon be reopened, however, thanks to a new study on fluoridated water in Canada. As Peter Hess reports, the study shows a link between moms exposed to fluoridated water and lower IQs in their children, but because it's limited by its observational design, the conclusions must be taken with a grain of salt.
Read up on the long-simmering fluoride debate.
The more you know:
Estate Planning Made Easy
Here's a serious task you've probably been putting off: estate planning.
Luckily, Trust & Will is here to make things simple, affordable, and accessible, so you can live comfortably knowing your affairs are in order, in case something happens.
All documents have been built by an experienced legal team.
Complete everything in less than 15 minutes and update any time.
Instantly talk to an expert team of real humans if you have questions.
30-day money back guarantee.
You're only 10 minutes away from a customized, state-specific, and legally valid Estate Plan. See what's right for you.
Healthy Competition
In an attempt to apply the concept of "healthy competition," a motley crew involving Newt Gingrich, an Air Force lieutenant general, and Michael Jackson's publicist is reportedly urging President Donald Trump to consider setting up a race to establish a base on the moon, replete with a $2 billion prize. (Whew! What a sentence.) Using competition to drive innovation is not the worst idea, and this particular enterprise seems to be based on the fear that NASA can't pull off its own lunar plan on its own.
NASA's current plan involves reaching the moon by 2024 (just five years) at a cost of $50 billion. If Gingrich's competition comes to light, Mike Brown tells me, it may make a near-future lunar landing more feasible by opening up even more room for private companies to participate in the space race. SpaceX, Blue Origin, and Virgin Galactic, seem like the contest's natural first contestants, but a $2 billion prize could stir up the competitive spirit in yet-unknown contenders.
Here's why NASA may actually fall behind in the space race.
The more you know:
Spider Storm
The consequences of the climate crisis are too devastating and interconnected to rank, but the one Emma Betuel told me about gave me a superlative kind of chill. The uptick in intense hurricanes, a new study reports, is making at least one spider species more aggressive. Yes, colonies of the "super abundant" Anelosimus studiosus spider are losing their docile members because the aggressive individuals are the only ones that seem to survive said hurricanes.
You may be wondering what an aggressive spider looks like: In this species, they're the ones that swiftly attack in large numbers, kill their mates, waste their prey, fight among themselves, and successfully forage when resources are scarce. Because personality type seems to have a genetic basis in this species, the death of docile members means that "aggressive" genes are the ones left in the gene pool. This isn't much of an issue for humans (for now), but experts are worried that this shift will make it harder for the spiders to peacefully co-exist like they used to.
Here's how huge shifts in climate can have powerful effects on tiny creatures.
The more you know:
Musk Reads
Elon Musk is pushing the boundaries of where we can go and what we can do. Don't miss a beat by signing up for Musk Reads, our newsletter about all things SpaceX, Tesla, and The Boring Company.
Do Not DIY
Summer and sunscreen go hand in hand, and longtime Inverse Daily readers will know there's been a lot of chatter over the beach bag standard this past year. Concerns have been raised over sunscreen's effect on marine ecosystems when it washes into the sea, and a preliminary FDA report in June showed that some ingredients can wind up in the human bloodstream when sunscreen is used in very high amounts. But as it stands, sunscreen remains safe — and one of the best forms of protection we've got against harmful UV rays.
But as Ali Pattillo tells me, some sunscreen skeptics are taking matters into their own hands and making their own DIY sunscreens or just not using it altogether. Dermatologists confirm this is a dangerous practice that does not prevent burns or, even worse, the skin cancer caused by UV exposure. One expert asks: "Would you go to your kitchen and make a medicine to treat your blood pressure if it's high because you read that online?"
Find out why DIY sunscreen is a dangerous thing to try at home.
The more you know:
Panic Prehistory
I can't think about the Netflix hit Mindhunter without thinking of leading man Jonathan Groff's foppish turn in the musical Hamilton as King George III, but the stories couldn't be farther apart. Now in its second season, Mindhunter tells the tale of FBI agents who get to know serial killers in an effort to understand how they think. In turn, viewers get to know how the agents think — along with all the mental obstacles they face.
Holden Ford, the FBI agent played by Groff, is particularly prone to panic attacks, which were a little-understood thing in the late '70s, when season one took place. The year is 1977 when Ford is diagnosed with "panic disorder," and in real life, scientists were only beginning to understand the condition. Prior to the pioneering work of "father of psychopharmacology" Dr. Donald Klein, researchers didn't recognize it as a unique disorder; they treated it as schizophrenia, only to discover that the go-to drug thorazine was only making matters worse. It would be a few years before scientists discovered Valium, which Ford is eventually prescribed.
Find out how closely fact meets fiction in the hit show.
The more you know:
Can't Hear You
This week, we're sending one lucky reader a new set of Apple AirPods. All you have to do is invite your friends to read Inverse Daily.
How it works:
Use your personal referral code to enter our raffle.
Each time you refer a friend to Inverse Daily, you get a ticket entered. 1 referral = 1 ticket.
We'll accept entries for the rest of the week and announce the winner in our Friday newsletter. Good luck!
Today's Good Thing
Today, that's the team of Canadian scientists who figured out how to extract pure hydrogen from oil sands in a cheap and effective way. Burning hydrogen can power engines, just like fossil fuels, but with one key difference: It doesn't produce any pollution, just pure H2O, baby.
Meanwhile …
Marvel's five-year plan for the MCU may have just been destroyed thanks to an ongoing disagreement between Disney and Sony about sharing the Spider-Man character.
Mindhunter Season 2 finally uncovers the sinister true story of the BTK killer.
Keanu Reeves will return as "The One" in a new Matrix film. Here's everything else we know.
Inverse Loot
Subscribe to Inverse Loot and learn about these deals first.
Thanks for reading, gang!
Thoughts on what to do about sunblock? Let me know at yasmin@inverse.com.
But trust me on the sunscreen,
— Yasmin