Google Fi Is Now Available on 84 Additional Phones
Tired of overpaying for data? This might be the move.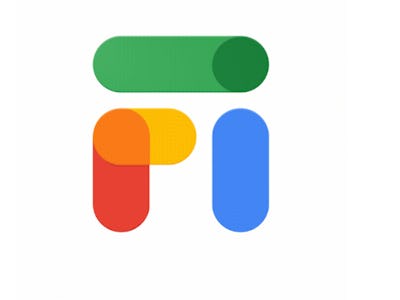 Google
Google's wireless network service has changed its name and expanded its horizons. What was known as "Project Fi" since 2015 is now Google Fi, the company announced this week, pairing the name change with a greatly expanded list of phones on which the service is available, including iPhones as old as the SE.
Starting Wednesday, Google Fi is available on a total of 84 new phones including Apple, Samsung, LG, Motorola, and many more. (Full list below.)
What is Google Fi?
The plan starts at $20/month for unlimited calls and texts. "Get exactly how much data you need for just $10/GB until 6 GB. After that, Google Fi's Bill Protection caps your bill and data is free for the rest of the month," Google's official language declares. Users can connect to millions of wifi hotspots if they don't want to use the 4G LTE offered by the plan. If you're traveling outside the US, calls are 20 cents a minute but — crucially — data is the same, $10/GB, in more than 170 of the world's 195 countries.
Google Fi's new availability on dozens of phone models opens it up to compete with the major telecommunications firms in the world, including AT&T, Verizon, T-Mobile, and Sprint. Google likely hopes it can differentiate itself with a service offers that offers more privacy options, no contracts, and an easily digestible pricing plan plan.
The pricing and ability to travel are arguably the most attractive qualities to consumers used to paying far more than $60 per month for data plans and international data packages when they travel.
New Phones Eligible for Google Fi
Google Fi has opened up for the majority of popular smartphones available today. If you own any of the following phones, you can switch to Fi.
Google Phones: Pixel 3, 3 XL, 2 XL, 2, Pixel Model G-2PW4100, Pixel XL Model G-2PW2100.
Apple Phones: iPhone XS, XS Max, XR, X, 8, 8 Plus, 7, 7 Plus, 6S, 6S Plus, 6, 6 Plus, 5S, SE. All of these must be running iOS 11.0 or later.
Samsung Phones: Galaxy S9, S9+, S8, S8+, S8 Active, S7, S7 Edge, S7 Active, S6, S6 Edge, S6 Edge+, S6 Active, Note 9, Note 8, J7, J3. All of these must be running at least Android 7.0 and have LTE bands 2 and 4.
LG Phones: V20, V30, V30S, V35 ThinQ, V40, G7 ThinQ, G6, G7 One, Stylo 4, Stylo 3, X Venture, X Charge, X Power, K20 Plus, K30, Aristo 2, Artisto 2 Plus. All of these must be running at least Android 7.0 and have LTE bands 2 and 4.
Motorola Phones: Z3, Z3 Play, Z2, Z3 Play, Z3 Force, Moto Z, G6 Plus, G6 Play, G5S, G5S+, G5, G5 Plus, E5, E5 Plus, E5 Play, E4 Plus, Motorola One, Motorola One Power. All of these must be running at least Android 8.0 and have LTE bands 2 and 4.
Huawei Phones: Mate 10 Pro, Mate 20 Pro, Mate 20 Life, P20, P20 Pro. All of these must be running Android 7.0 or higher and have LTE bands 2 and 4.
OnePlus Phones: One Plus 6T, 6, 5T, 5, 3T, 3. All of these must be running at least Android 7.0 and have LTE bands 2 and 4.
Everything Else: Nokia 8 Sirocco, Nokia 7.1, Essential PH-1. All of these must be running Android 7.0 or higher and have LTE bands 2 and 4.
Google Fi will also let you sign up for a data-only SIM plan, meaning you won't have a phone number but you can still use apps like Whatsapp or Viber to make calls via data. The most that will cost you is $60 a month.
Google Fi isn't exactly its own mobile service provider, it's a mobile virtual network operator (MVNO) run on Sprint, T-Mobile, and U.S. Cellular. Fi users will actually be connected via those three big companies, depending on which signal is strongest in their location. This feature is only available for smartphones that are specifically designed for Fi. These include:
Pixel 3
Pixel 3 XL
Pixel 2
Pixel 2 XL
Pixel Model G-2PW4100
Pixel XL Model G-2PW2100
LG G7 ThinQ
LG V35 ThinQ
Moto G6
Android One Moto X4
Nexus 5X Model LGH790
Nexus 6_ Model H1511
Nexus 6 Model XT1103
Google Fi: Android 9.0 Privacy Features
Google Fi will route data from any phone running Android 9.0 through its own VPN. This means all of the information your phone receives and sends will be encrypted, keeping Sprint, T-Mobile, and U.S. Cellular from seeing what you're browsing.
Your phone data will instead be managed by Google servers, so it will technically be able to see how you're using your phone. However, Google told The Verge Fi will "not store the traffic coming through the VPN."
Google Fi: Why The Name Change?
Before Wednesday's announcement, Google's mobile service was known as Project Fi. It was experimentally launched in April 2015 and could only be joined by invitation. The name change cements that the idea is no longer a trial and is a shrewd marketing move by Google — especially for people who sign up with their iPhones. One can see Google offering discounts to Google Fi users who want to make switch to a Google Pixel. (Google Fi is still in beta for the iPhone.) This deal could be a way to get Apple users hooked on the budget-friendly plan and then fully convert them over to a Pixel phone to make the most out of Fi's features.
Google Fi: Reactions
Reactions to Google Fi have been largely positive since the news broke Wednesday. Even iPhone user seem to be ecstatic about leaving their previous service providers.
This is exactly what Google wants, every iPhone users that signs up could be converted to a Pixel person. However, some Apple customers aren't keen on signing up because of some of the beat's limitations.
The plan could prove more tantalizing to iPhone users once the beta is over and all the kinks are worked out. But Google Fi has sparked a lot of interested for those disgruntled with their current cell phone plan.
Related Video: Opening Up the Google Pixel 3