A Hive Mind of NFL Geeks Answer the Biggest Fantasy Football Questions
Using "swarm intelligence," 30 NFL experts have made their fantasy predictions.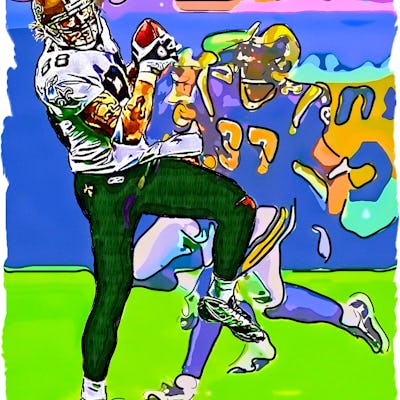 Flickr / Jack Kurzenknabe
Ahead of the 2018 NFL season, fantasy football managers are building out their teams, hoping to find the best players for the money. But instead of relying on the individual opinions of experts on blogs, Twitter, and YouTube, what if those fantasy managers could harness the collective intelligence of 30 fantasy experts — journalists, stat-heads, NFL geeks — who acted as a hive mind? That's what Inverse attempted this past week, partnering with Unanimous A..I., a San Francisco-based technology firm, to put 15 big draft questions to a swarm of experts.
Here's how it works: To make a decision, each swarm participant controls a magnet and uses it to drag a glassy puck toward an answer they think is the most likely outcome for each situation. Things get interesting when a user sees the puck being dragged in a different direction by other members of the swarm: It seems to trigger a psychological response, and the user readjusts their decision. As people adjust their pull in real-time, A.I. algorithms monitor their behaviors, optimizing their combined sentiment. Within a matter of seconds, the swarm builds toward a consensus.
Unanimous A.I. has made scarily accurate predictions for the Oscars, for the Kentucky Derby, and the World Cup.
With that said, who comprised this hive mind that will take your team to fantasy glory? In addition to NFL enthusiasts, Inverse added a few big brains for the group effort, including sports writers from Bleacher Report, The Athletic, Sports Bet Collective, and independent fantasy analysts. Among our experts are Will Carroll, a writer for Motus; Josh Zerkle, Sports Bet Collective; Matt Faulconer, an analyst for Bleacher Report; Kyle Vassalo, an editor for Bleacher Report; Timothy Rapp, a writer for Bleacher Report; Pat Emmel, a former analyst for CBS Local; Fernando Di Fino, managing editor for fantasy at The Athletic; Renee Miller, a fantasy writer for The Athletic and ESPN; Brandon Marianne Lee, a fantasy writer at The Athletic; Sam Westmoreland, an editor at Bleacher Report; Tyler Conway, a writer at Bleacher Report; Adam Wells, a writer at Bleacher Report; Daniel Ferrara, the former New York Giants writer for Bleacher Report; and Mitchell Renz, a fantasy football writer.
A word for a couple of our awesome partners for the experiment:
The Athletic: Subscribe with this special Inverse link for 40 percent off a year's subscription to quality, ad-free sports coverage.
Special thanks to our friends at SportsBetCollective.com for coordinating a couple of the experts. Check them out for professional sports betting picks and analysis, customized to your favorite teams, sports, experts and types of wagers.
I'm Kendall Lewis, a sports journalist who took part in this fantasy football hive mind. My comments are next to each of the swarm's picks. Without further ado, onto the picks! 🏈🏈🏈
Which rookie QB will have the biggest impact this season?
Lamar Jackson (Baltimore Ravens)
Josh Allen (Buffalo Bills)
Josh Rosen (Arizona Cardinals)
Sam Darnold (New York Jets)
Baker Mayfield (Cleveland Browns)
Why the swarm chose Josh Rosen:
The former UCLA Bruin was labeled as the next "Peyton Manning," coming coming out of high school, and showcased so-called franchise quarterback intangibles in college for three years.
Many within the organization believe Rosen will eventually take the starting spot sooner than later, as he possesses the poise, mechanics, and accuracy that Arizona receivers have needed. He's going to be one of the most important rookies from this years draft class.
The opportunity stands out for Rosen. He'd be a great player to consider playing by Week 9.
Which player who changed teams will benefit most from his new team?
Jerick McKinnon (San Francisco 49ers)
Martavis Bryant (Oakland Raiders)
Jarvis Landry (Cleveland Browns)
Allen Hurns (Dallas Cowboys)
Why the swarm chose Jerick McKinnon: He has been a fantasy football mid-round favorite the last few seasons. The numbers might not be too appealing, but he's always been a consistent player for fantasy playoff teams the last four years.
He averages three touchdowns per season and tallies 154 total touches in the running/passing game. 49ers head coach Kyle Shanahan should be thrilled to pair McKinnon with quarterback Jimmy Garoppolo in this offense.
He's finally going to be a primary option as the starter, so look for those numbers to steadily increase each week.
Which QB is set to have the biggest fantasy impact this season?
Jared Goff (Los Angeles Rams)
Andrew Luck (Indianapolis Colts)
Kirk Cousins (Minnesota Vikings)
Dak Prescott (Dallas Cowboys)
Why the swarm chose Jared Goff: He excelled under head coach Sean McVay's offense in 2017, and certainly took a step forward in the right direction after a solid season.
His feel for the game impressed many throughout the league, and he will continue to improve under center in the Rams prolific offense.
He tallied 3,804 passing yards in 2017 and accounted for a total of 28 touchdowns,, while only throwing 7 interceptions.
Which WR is set to have the biggest fantasy impact this season?
Why the swarm chose Jarvis Landry: He was rated as the number one rated wide receiver in the league last year, per the brains at NFL dot com, showing he could move past never getting a chance play with a talented quarterback during his days in Miami.
As the Cleveland Browns have signed Tyrod Taylor, and drafted the Number 1 overall pick Baker Mayfield, he's expected to be a highly touted pickup in various leagues. He had 8+ catches in 6 games, while being targeted more than 10 times in 10 games last year.
Landry continues to get better every off-season, and he should finally eclipse the 1,000 receiving yard mark in 2018.
Which RB will have the biggest fantasy impact this season?
Kenyan Drake (Miami Dolphins)
Alex Collins (Baltimore Ravens)
Derrick Henry (Tennessee Titans)
Lamar Miller (Houston Texans)
Why the swarm chose Alex Collins: He stepped into a tough situation with the Baltimore Ravens, and took advantage of his opportunity to become the lead back for an offense that drastically depends on his services.
Pro-Football Reference rated Collins as the 15th best rushing and receiving back in the league last year. He almost ran for 1,000 yards (earned 973) but averaged 8.1 yards per catch (23 receptions).
Teams won't let quarterback Joe Flacco attack with deep passes, so Collins might be a safe bet for some teams in Fantasy leagues.
Which 2017 fantasy star is least likely to replicate his production?
Le'Sean McCoy (Buffalo Bills)
Blake Bortles (Jacksonville Jaguars)
Tyreek Hill (Kansas City Chiefs)
Why the swarm chose Alex Smith: He might have been the most unappreciated player in the NFL last year. The Kansas City Chiefs had their fair share of early-round playoff exits with him as the starter, but it wasn't his fault.
Smith was a very productive player under Andy Reid's system, and it'll be interesting to see how he performs with Washington head coach Jay Gruden. He's always showcased the ability to escape the pocket, and rush for quality gains, but he's improved his accuracy.
Washington rewarded him with a humongous contract, but he might be thankful for those tremendously athletic receivers he'll be throwing to.
Which 2017 fantasy dud is poised to bounce back?
Why the swarm chose T.Y. Hilton: This seemed like an obvious choice. Colts franchise quarterback, Andrew Luck, will finally be back on the field as the starter this season, and his presence should pay high dividends for his favorite target.
Hilton might not have produced at a high rate in 2017, but fans should expect an absolute turnaround this season. He's averaged 1,138 receiving yards, and 5.6 touchdowns every season during his six-year tenure with the Colts.
He's going to be the go-to receiver for Luck, and individuals might need to consider selecting Hilton because he's a top-15 rated receiver.
Which one of these WR's is this year's biggest fantasy sleeper?
Geronimo Allison (GreenBay Packers)
Eric Decker (New England Patriots)
Cody Latimer (New York Giants)
Calvin Ridley (Atlanta Falcons
Which rookie WR will have the most impactful fantasy season?
Calvin Ridley (Atlant Falcons)
D.J. Moore (Carolina Panthers)
Courtland Sutton (Denver Broncos)
Christian Kirk (Arizona Cardinals)
Why the swarm chose Calvin Ridley for both questions above: He hasn't even stepped on the field for his first game against the Philadelphia Eagles on opening night but is already pushing Mohamed Sanu for the second wide receiver spot.
Imagine quarterback Matt Ryan deferring to an exceptional rookie wide receiver like Ridley because Julio Jones is double-teamed… That's scary.
It'd be smart to pick him up late in drafts. He's struggling to find his stride in training camp, but we'll put up some surprisingly impressive stats towards the end of the year once the game begins to slow down.
Which of these RB's is this year's biggest fantasy sleeper?
D'Onta Foreman (Houston Texans)
Jeremy Hill (New England Patriots)
Ronald Jones II (Tampa Bay Buccaneers)
Nick Chubb (Cleveland Browns)
Why the swarm chose Ronald Jones: Jameis Winston is suspended for the first four games of the regular season, and Ryan Fitzpatrick will replace him as the starting quarterback for the time being.
He'll definitely receive his weekly dosage of reps on Sunday's, so expect him to produce in Todd Monken's offense. Don't wait to steal an up-and-coming player like Jones on waivers, snag him during the draft if wide receivers are on the top of the priority list.
He might not have gotten too many passes, and blocking attempts, at USC, but there's potential for him to become a team's second running back option in some leagues.
Which of these QB's is this year's biggest fantasy sleeper?
Eli Manning (New York Giants)
Tyrod Taylor (Cleveland Browns)
Mitchell Trubisky (Chicago Bears)
Lamar Jackson (Baltimore Ravens)
Why the swarm chose Eli Manning: This selection might seem like a surprise to some, but Eli Manning has a chance to prove people wrong this season.
The Giants are placing a heavy emphasis on offense line protection during training camp, and first-year head coach Pat Shurmur wants to make Manning's job easier by simply getting the ball out of his hands.
Odell Beckham, Sterling Shepard, Evan Ingram and Saquon Barkley form a powerful unit that's capable of making big plays in space. Eli's numbers will increase in 2018, and he'd be a good selection for those that wait 'til the last minute to select a quarterback.
Which of these 2017 injured players will have the biggest impact this season?
David Johnson (Arizona Cardinals)
Andrew Luck (Indianapolis Colts)
Odell Beckham Jr. (New York Giants)
Dalvin Cook (Minnesota Vikings)
Why the swarm chose David Johnson: A wrist injury caused David Johnson's season to come to an end in Week 1 a year ago. However, he's healthy now. He was selected as the top pick in many a fantasy league a year ago, and will be a top pick again because of the situation in Arizona.
The Cardinals are installing a new system this year, but one thing remains the same: Johnson will continue to get a majority of the touches on offense. Don't forget what he did in 2016: 283 carries for 1,293 rushing yards, 80 receptions for 879 passing yards, and 32 total touchdowns.
It's a new year; he's healthy. The Cardinals are going to feature him in a massive number of plays during drives, and go to him in the red zone.
He's a for sure top-three pick in any fantasy draft.
Which rookie RB will have the best fantasy season?
Saquon Barkley (New York Giants)
Sony Michel (New England Patriots)
Rashaad Penny (Seattle Seahawks)
Derrius Guice (Washington)
Why the swarm chose Saquon Barkley: The second overall pick in the 2018 NFL draft is the most polarizing member in the rookie class, and he continues to impress with his outstanding work ethic.
Barkley isn't a prototypical running back. He has the vision, can run for whopping gains in the backfield, make defenders miss tackles on the run, and create for an offense by catching exceptionally well out the backfield. The sky's the limit for Saquon, seriously. This guy can do anything.
If the Giants are going to be successful, then they're going to have to make sure he's productive for four quarters every week. Barkley is certainly the fifth- or sixth-best running back on the board in fantasy drafts.
Which TE will have the biggest fantasy season?
David Njokou (Cleveland Browns)
Trey Burton (Chicago Bears)
O.J. Howard (Tamba Bay Buccaneers)
George Kittle (San Francisco 49ers)
Why the swarm chose Trey Burton: He's the guy that executed the famous "Philly Special," in Super Bowl LII. Trey Burton is known for throwing Nick Foles that touchdown pass against the New England Patriots last year. However, Chicago didn't sign him to throw to quarterback Mitchell Trubisky.
He'll be involved in plenty of plays for the Bears offense. Head coach Matt Nagy has made it clear that Burton is expected to excel in their new-revamped structure.
Definitely a top-ten tight end in fantasy drafts this year.
Which TE will be the biggest fantasy sleeper?
Austin Hooper (Atlanta Falcons)
Austin Seferian-Jenkins (Jacksonville Jaguars)
Vance McDonald (Pittsburgh Steelers)
Ricky Seals-Jones (Arizona Cardinals)
Why the swarm chose Ricky Seals-Jones: Arizona will feature a two tight ends on the field during offense drives this season. Running back David Johnson will attract more than enough attention when defenses load up the box.
Larry Fitzgerald is paired with Brice Butler on the outside, and Seals-Jones' counterpart (Jermaine Gresham) is the other tight end. There will be plenty of chances for Seals-Jones to bring havoc on opponents in 2018.
The 6'5", 243-pound player used to be a wide receiver at Texas A&M and his position at at tight end will prove to be a wise choice, only if he can become a consistent safety net for the quarterback — especially if it's rookie Josh Rosen.