MLB Opening Day: How Technology Will Change Baseball in 2018 
From biometrics to digitally printed beer foam.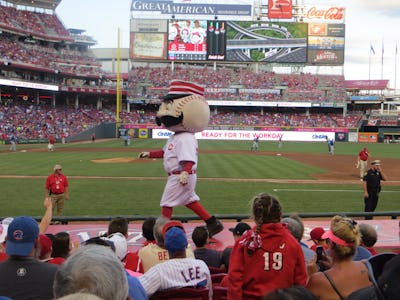 Flickr / davidwilson1949
Baseball can have a reputation as the most old-fashioned of America's sports, with its stodgy adherence to unwritten rules, a dress sense that has seen little reason to update itself since the 19th century, and a longtime reluctance to change its deliberate, unhurried pace to bring it in line with the modern attention span.
Yet as much as baseball can seem all too eager to put the "past" in "national pastime," it also has often led the way among sports in technological innovation. Advanced stats in baseball are nearly 50 years old, and every serious club in Major League Baseball now leans heavily on analytics. The fact that every play in baseball can be broken down to a set of discrete actions — a pitch, a swing, a catch — offers unique opportunities to tweak and tinker with how the game works in search of more data and potential competitive advantages.
As Thursday's Opening Day approaches, with all 30 teams kicking off the season simultaneously for the first time since 1968, here's the latest round of tech upgrades to America's oldest obsession and what they mean for teams and fans alike.
5. Facebook Will Stream 25 Games This Season
The embattled social media giant has long wanted to compete in the video space with the likes of YouTube and Amazon. Its recently announced deal for the exclusive streaming rights for 25 regular season games is a step in that direction, echoing Twitter and Amazon's past streams of NFL games. Though 25 isn't that much in a regular season that includes 2,430 total games, it's another sign of the shift away from traditional broadcast providers. If you want to watch those 25 games, most of which are Wednesday afternoon tilts, the only way to do so is through Facebook.
4. Three More Ballparks Will Offer "Biometric-Powered Stadium Experience"
The Atlanta Braves, Oakland Athletics, and Seattle Mariners have all announced their stadiums have joined the CLEAR network, a subscription-based service that lets participating fans enter the stadium using biometric identification like fingerprints or retinal scans. It's also designed to let people purchase concessions without having to get out their wallet, with the Mariners even working to make biometric age verification possible for alcohol purchases. Handing over that kind of identifying information to enable what CLEAR calls a "frictionless experience" probably isn't for everyone, but it's now available at nearly a third of major league ballparks.
3. Introducing a Smart Baseball
For all the hundreds of millions of pitches that have been thrown in major league games — to say nothing of the billions more thrown in the minors and elsewhere — it's amazing how much of a baseball's movement remains a mystery. Case in point: It wasn't actually known for sure whether curveballs actually even curve for roughly the first century of the sport's existence until an aeronautical engineer in 1949 used a wind tunnel to prove it wasn't just an optical illusion. Even seven decades later, there's still plenty more to learn, which is why the Pittsburgh-based startup Diamond Kinetics has introduced PitchTracker, a "smart baseball" the company says can track "velocity, spin rate, extension, time-to-the-plate, timing delivery and reach back to release."
The ball, which is meant to feel and move exactly the same as a regulation ball, won't be used in major league games, but some teams are reportedly going to use it in scouting and talent evaluation. It will also pop up in the minors.
2. Souped-up Instant Replay
Baseball is entering its fifth season using instant replay. As part of its annual revisions to the rules, most of which this year are focused on speeding up the pace of play, MLB has announced that each team will immediately receive access to slow-motion camera angles to make it easier and quicker for the clubs to determine whether they actually want to challenge a call. The league is also adding phone lines between the teams' review centers and the dugouts, again to speed up communication, though the ever wary MLB stressed in the announcement that these "will be monitored to prevent their use for sign stealing."
1. Digitally Printed Beer Foam
In what is inarguably the greatest technological innovation of the 2018 baseball season — scratch that, of the 21st century, nothing is topping this — the New York Yankees will sell beer with players' faces printed on top of the foam. It's one of the first booze-based applications of tech from the Internet of Things company Ripples Inc, which had previously made a similar machine for putting images in coffee foam.
Fans will be able to choose among the likes of Aaron Judge, Giancarlo Stanton, Gary Sánchez, and Aroldis Chapman as players to stare at as they go to take that first gulp of beer.