March Madness: Will Kansas or Duke Make the Final Four? A.I. Predicts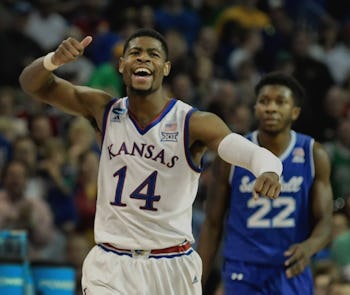 Kansas Men's Basketball on Facebook
Amid all the chaos and carnage of the rest of this year's March Madness, the Midwest Regional has been almost all chalk, with the top two seeds facing off for a Final Four berth in the Kansas Jayhawks and the Duke Blue Devils.
Kansas has had to gut out victories to make it this far, while Duke followed blowouts of Iona and Rhode Island with a tight victory over the upset-minded Syracuse Orange. A hive mind of fans predicts who will move on to the next round.
To predict the result of this and other games, Unanimous A.I. used what's known as swarm intelligence to forecast the week's slate. About 50 college basketball fans worked together as a hive mind to make picks. As you can see in the animation below, each participant controlled a little golden magnet and used it to drag the puck toward the answer they thought was the most likely outcome. As the users saw the puck move toward a particular outcome, it triggers a psychological response. They readjust their decision-making, building toward a consensus. 
The hive mind takes a little time to make its pick, but it seems fairly good about Duke one way or the other. It ends up picking the Blue Devils with low confidence and 76 percent brainpower, but most of the dissent is in favor of picking Duke with high confidence.
Read more from Inverse: The Perfect NCAA Bracket Is A.I.'s Biggest Sports Challenge Yet
Unanimous A.I. has made some scarily accurate predictions in the past using swarm intelligence, as our previous article explains. For instance, the swarm picked this year's Oscar winners with 94 percent accuracy. Here's Unanimous A.I. founder Louis Rosenberg explaining swarm intelligence at a recent TEDx Talk.
The game tips off Sunday at 5:05 p.m. on CBS.