Can DC Superheroes Make the UAE a Major Theme Park Destination?
Will Warner Bros. World be able to save the day?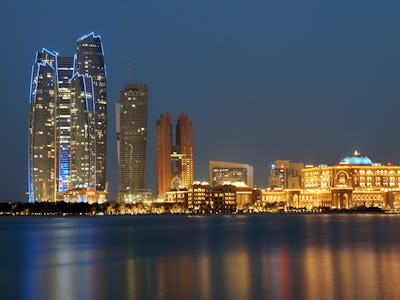 Flickr / Mathias Apitz (München)
This summer, the United Arab Emirates will get its sixth theme park with the opening of Warner Bros. World on Yas Island in Abu Dhabi. The 1.65 million square foot indoor park will offer six different themed areas, including two dedicated to superheroes — Metropolis and Gotham City.
It's location right next to Ferrari World — home of the world's fastest roller coaster, the Formula Rossa — and the popular Yas Waterworld waterpark puts Warner Bros. World in a prime location to attract visitors, which has been a problem of theme parks in the UAE thus far. Despite having a large variety of parks — Legoland, Bollywood Parks, and IMG Adventure Land (the largest indoor theme park in the world), for example — none have cracked the top 20 in attendance numbers, according to the Themed Entertainment Association's report for the Europe and the Middle East region.
In order to be in the running, they'd need at least 1.5 million visitors. Since the UAE's population is just over nine million, the parks strive to bring in visitors from Asia and Europe. But so far, they haven't been able to draw park-goers from places like Universal Studios in Osaka for their superhero fix.
So what about Warner Bros. World gives it the potential to finally put the UAE on the map for theme parks?
While other theme parks boast superhero-themed rides, Warner Bros. World takes it to another level. A first look at the rides offered in Metropolis, one of six "immersive lands" besides Warner Bros. Plaza, Gotham City, Cartoon Junction, Bedrock, and Dynamite Gulch, were revealed this week look to have potential to draw DC comic fans from all over.
The "City of Tomorrow" is protected by the likes of Wonder Woman, Superman, The Flash, and more and is laid out with skyscraper scenery and a Hall of Justice that transports you to the frontlines of the battle between good and evil. Featured attractions include the 3D Superman 360: Battle for Metropolis, 4D Green Lantern: Galactic Odyssey flying theater, and the 5D dark ride Justice League: Warworld Attacks. There's even an Ace O' Clubs restaurant based on the establishment owned by Bibbo Bibbowski, Superman's biggest fan.
While we haven't gotten to see what Gotham City has to offer yet, the park's website promises visitors will be "thrust into the middle of a good-versus-evil battle on Gotham City's awe-inspiring rides."
Once it's finally open later this year, Warner Bros. World won't have much time to play the "newest attraction in town" card. There's already plans for a Six Flags Dubai for a 2019 opening, a second IMG Worlds in 2020, and a SeaWorld planned for 2022.