The Mount Mayon Volcano in the Philippines Is Ready to Erupt Any Day Now
More than 40,000 people have been evacuated from the surrounding area.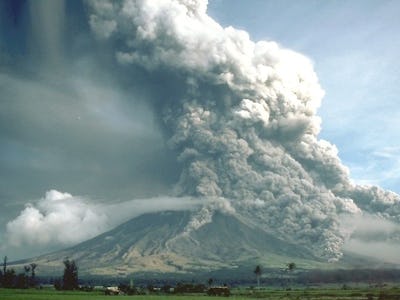 C.G. Newhall
The government of the Philippines has evacuated more than 40,000 locals residing near Mount Mayon, following a stream of recent seismic and geological activity that suggests the volcano may be close to erupting any day now, the BBC reports. The Philippine Institute of Volcanology and Seismology raised its alert on Mayon from level three to level four on Monday. Lava has been flowing from down the volcano since last weeks and new photos depict fresh ash spewing out into the sky.
Mayon is the most active of the 22 active volcanos sitting in the Philippines, located in the Albay province in southeastern Luzon, about 200 miles southeast of the country's capital of Manila.
The Filipino government moved to create a danger zone that covers a five mile radius of the volcano's peak, and advised pilots to avoid flying close to the ash being tossed into the atmosphere. Those plumes are reaching heights of more than six miles into altitude. Many of those displaced have been moved over to evacuations centers across the Albay province.
Mayon has actually been spewing lava and ash since January 13, but the continued escalation of seismic and volcanic activity means authorities expect a violent eruption to occur imminently. Ash and sand have been falling on Legazpi, a nearby city of 200,000, with sporadic explosions from Mayon covering up the daylight and forcing motorists to turn their headlights on.
The last time Mayon erupted was in 2014 — the latest of nearly 50 eruptions in the last 500 years — but authorities actually expect the new eruption to hew closer to what was experienced in 2001, when pyroclastic flow was produced. Pyroclastic flow is an ultra-fast, ultra-hot current of hot gas and volcanic matter, capable of streaming down a volcano's sides at 430 miles per hour, reaching temperatures of over 1,830 degrees Fahrenheit.
If this latest eruption creates pyroclastic flow, the surrounding area will be completely devastated in just a matter of moments. Pyroclastic flow is what did in Pompeii during Mount Vesuvius' eruption in 79 A.D. The speedy avalanche fo volcanic matter is accompanied by a wave of hot gas that causes people to suffocate before they are inundated with rock and ash.
In this instance, pyroclastic flow could cover up to 1.8 miles of the region around the volcano. Given the frequency of Mayon's eruptions, the Philippines is well-prepared to manage whatever comes next. But that certainly doesn't mean the government is taking things lightly. Mayon's most destructive eruption on record was in 1814, when around 1,200 people were killed.
If you're feeling lucky, you might want to take this opportunity to venture out to Legazpi and see if you can catch a view of the volcano when it finally blows. Or you can just wait for the drones to take in the action.