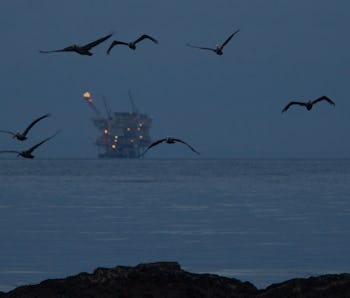 Culture
Trump Administration Proposes Opening Nearly All U.S. Waters for Drilling
States, however, are saying no. 
Getty Images / David McNew
The Trump administration announced new plans Thursday to allow drilling for natural gas and oil in 90 percent of the nation's offshore reserves, paving the way for conflict with state officials and environmental protection groups.
The five year plan would open up 47 sites for gas and oil production, and roll back Obama-era bans of offshore drilling near the coasts of Florida, California, and in the Arctic. If the plan moves forward, it would be the first time that offshore drilling would be allowed off of California since 1984.
The proposed plan would also increase the number of drilling sites off of Alaska and the Gulf of Mexico, and reinstate leasing sites, canceled under President Obama, in both the Pacific and the Atlantic.
"This is a start on looking at American energy dominance and looking at our offshore assets and beginning a dialog of when, how, where and how fast those offshore assets could be or should be developed," said Secretary Ryan Zinke of the Department of the Interior in a call with reporters.
The plan drew immediate pushback, even from fellow Republicans.
Rick Scott, the Republican governor from Florida, released a statement asking to have Florida's coasts removed from the list of potential leasing sites, citing environmental concerns. "My top priority is to ensure that Florida's natural resources are protected," he said.
Nancy Pelosi, the current House Democratic Leader, released a statement Thursday condemning the plan. "The American people deserve smart, strong action to keep our communities healthy, clean and safe. Yet the Trump administration is racing forward with its increasingly brazen attempts to loot our environment and our planet," she said.
Meanwhile, North Carolina's governor Roy Cooper said in a press release, "I can sum it up in four words: not off our coast."
This is the second time in recent months that the Trump administration has surged forward with plans to industrialize the wilderness, despite environmental concerns. When the GOP's tax bill passed the Senate in December, it included an authorization for oil and gas drilling in the Arctic National Wildlife Refuge, or ANWR for short. A cluster of protected wildlife areas in Alaska, the refuge has been called "one of planet Earth's own works of art," by biologists.
Obama's efforts to end oil drilling started on the heels of the devastating Deepwater Horizon Spill in the Gulf of Mexico in April 2010, when he let current leases expire in some areas and banned drilling in others, before rescinding leases in the Atlantic and then withdrawing leasing plans for the Arctic in 2017.
It could take up to 18 months before the plan goes into effect, giving its opponents a chance to challenge it in court, as they likely will.