The Best 'Me in My State' Memes for All 50 States in the USA
Here's the best tweet out of each of the 50 states.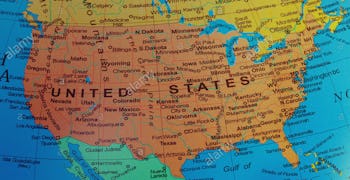 One of the more amusing memes to surface recently on Twitter involves something a bit more wholesome than the toxicity of politics. Instead of the latest insult hurled by President Donald Trump taking over your timeline it was instead state pride — sort of.
The "me in my state" vs. "me anywhere else" tweets had people across America revealing how they felt about their home state while there, and how those feelings change once they stepped outside state boundaries.
Reflecting the old adage, "you don't know what you've got till it's gone," a pattern emerged among the tweets: People hate their home state while actually there, but then rush to the defense of their native land state while away. It could just be a coincidence that these tweets started to appear right around the Thanksgiving holiday, when millions returned home to their birthplace, after all.
Without further to do, here are the best "me in my state" tweets from all 50 states. They're absurd, heartwarming, and funny.
Alabama
Alaska
Arizona
Arkansas
California
Colorado
Connecticut
Delaware
Florida
Georgia
Idaho
## Illinois
Indiana
Iowa
## Kansas
## Kentucky
Louisiana
Maine
Maryland
Massachusetts
## Michigan
Minnesota
Mississippi
Missouri
Montana
Nebraska
## Nevada
## New Hampshire
## New Jersey
New Mexico
New York
## North Carolina
North Dakota
Ohio
Oklahoma
Oregon
Pennsylvania
Rhode Island
South Carolina
South Dakota
## Tennessee
Texas
Utah
Vermont
## Virginia
Washington
Wisconsin
West Virginia
Wyoming