Gamers Are Making Insane Cults and Prisons in 'Animal Crossing: Pocket Camp'
Does this remind anyone else of the messed up things they did to their Sims?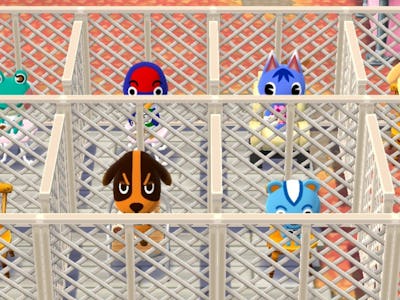 Nintendo
The popular mobile version of Nintendo's Animal Crossing has been out for less than a week, and users have already found out how to harness it for their own deranged purposes.
Since Animal Crossing: Pocket Camp was released in app stores on November 22, the game has been downloaded at least 15 million times on iOS and Android devices, app insight provider Sensor Tower says. But it seems that many of the users who have re-discovered their childhood obsession (it was first released in 2001) have also reignited their taste for depravity and immorality. Across social media, people have been posting screenshots and videos of camps they've found — and created — that depict some pretty creepy scenes, as Kotaku has pointed out.
It seems that people have figured out how to use the game's features to form odd cults and imprison a bunch of animals. If you're unfamiliar with the game, the intention is that you manage your own campsite and help animals you meet as your explore the campground.
If it doesn't make sense to you why players are doing these things in Animal Crossing: Pocket Camp, think about the sadistic and perverted things that people once did to their Sims — admit it, you did this too — like kill children and murder people so your character could befriend the Grim Reaper.
Animal Crossing: Pocket Camp is already Nintendo's second-most popular mobile app behind Super Mario Run, which took the world by storm last year with 32 million downloads in the first six days. After years of disappointing profits and results, Nintendo has seen immense growth in 2017 thanks to its Switch console. It's helped the Japanese-based company net $3.3 billion in sales over a six-month period that capped off at the end of September. Compared with the same time last year, Nintendo's sales are up a staggering 173 percent.