The 8 Biggest Video Games Coming to the Nintendo Switch in 2017
There's a lot to love for Nintendo's console this fall.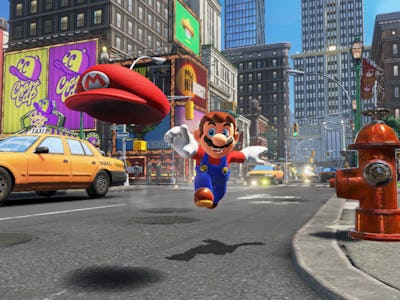 Nintendo
The Nintendo Switch, a groundbreaking console-handheld hybrid, has been widely received as one of the most impressive pieces of hardware in the gaming industry. Although the Switch is a huge success for the gaming giant, the console has experienced its fair share of issues in the first couple months past launch, with the biggest problem for many prospective fans being a relatively small library of games for the platform. Luckily, that library has slowly started to expand as the year continues forward.
While it's true that The Legend of Zelda: Breath of the Wild, Mario Kart 8 Deluxe, and Nintendo's latest release ARMS certainly make the Switch a console worth purchasing, there's plenty left in store for it coming in the second half of 2017. Here's a look at every major video game release coming to the Switch before the end of the year, along with when you can expect to pick them up yourself.
Splatoon 2
While Splatoon's universe isn't widely known in the gaming community, Splatoon 2 is set to be Nintendo's biggest competitive multiplayer game coming out for the Switch this summer — bringing ink-based combat and map traversal to the console. With both cooperative and single player modes for players to dive into as well, Splatoon 2 is shaping up to be a great shooter for Nintendo's newest console.
Release date: Friday, July 21.
Mario + Rabbids Kingdom Battle
Ubisoft and Nintendo announced this surprising join production during Ubisoft's E3 press conference this June, and all signs point to Mario + Rabbids Kingdom Battle is a crossover for the ages. When the Mushroom Kingdom is torn apart by a mysterious vortex, you'll have to build a team of Mario characters and Rabbid doppelgangers to fight through a series of dynamic turn-based battles with your friends. It's a wild but promising idea, filled with plenty of witty Nintendo humor.
Pokkén Tournament DX
The complete version of the Wii U Pokémon arena fighter has been remastered and packed with new content for the Switch. While it isn't as great as say, a standalone Pokémon role-playing game, Pokkén Tournament DX is an experience perfect for the Switch that's a ton of fun to play with friends. (And, don't forget, Nintendo is making a proper Pokémon role-playing game for the Switch, but it won't be out for a while.)
Release date: Friday, September 22.
Super Mario Odyssey
If you liked Super Mario Galaxy but missed the pure joy of exploration that 3D Mario adventures like 2002's Super Mario Sunshine, offered, you're in luck. Super Mario Odyssey takes players on a massive journey across the world to rescue Princess Peach from Bowser's wedding plans. Designed as a sandbox game, Super Mario Odyssey will have you jumping, controlling, and capturing your way to victory with Mario's new pal Cappy.
Release date: Friday, October 27.
Fire Emblem Warriors
Like Hyrule Warriors for the Wii U and Nintendo 3DS, Fire Emblem Warriors is a hack and slash game all about utilizing the powers of well-known Fire Emblem heroes to fight hordes of enemies. Instead of using the same core elements you'd expect from a warriors-style game however, Fire Emblem Warriors features gameplay systems from the Fire Emblem series into the experience like leveling up, ordering your party around the battlefield, and the game's infamous weapon triangle.
Release date: Fall, 2017.
Stardew Valley
Originally released in February of 2016, Stardew Valley is an indie farming simulator built into a role-playing experience where you move from your office job to take over your grandfather's farm. Instead of fighting your way through enemies, you'll be developing relationships and building your own farm while participating in various social events within the game's community – all of which take heavy inspiration from the Harvest Moon series.
The Elder Scrolls V: Skyrim
Although 2011's The Elder Scrolls V: Skyrim has been re-released a lot, Bethesda is bringing a version of the game to the Nintendo Switch this fall — complete with motion controls courtesy of the Joy-Cons, exclusive Zelda-themed content, and all of the game's DLC. It may be an old title, but it's one you'll now be able to play on the go with your Switch.
Xenoblade Chronicles 2
An extremely popular Japanese role-playing game, Xenoblade Chronicles 2 is a sequel to 2012's Xenoblade Chronicles for the Wii U. This time there's a whole new world and cast of characters, who are searching for the world of Elysium, which is also known as the ultimate paradise for humanity. To do so, you'll be fighting with your party of characters in real time, while making sure to strategically approach each situation with the power of the mysterious blade known as Pyra.